Annual Robot Rodeo offers bomb squads an unbeatable experience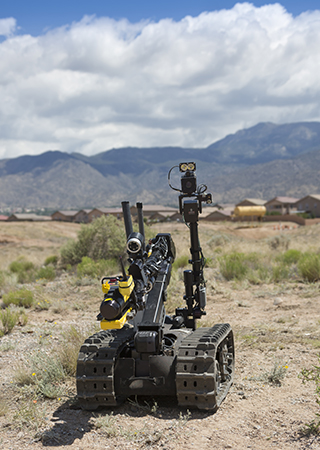 Stopping a hazardous leak in an area too dangerous for humans to enter, climbing flights of stairs and solving dexterity challenges on each level, and defusing a suicide bomb.
These were just a few of the challenges bomb squads from around the region completed during the 11th annual Western National Robot Rodeo last month.
During this thrilling four-day event civilian and military bomb squad teams got practice using robots to defuse diverse, dangerous situations. Robots are life-saving tools for these emergency response teams, providing them a buffer from danger.
The 21st Explosive Ordnance Disposal Company (Weapons of Mass Destruction) team based on Kirtland Air Force Base beat nine other teams from around the region by completing 10 events the quickest and safest. These events ranged from realistic, yet simulated scenarios like stopping a "hazardous" liquid leak to less realistic but tricky scenarios like untying a rope with a robot arm. Though the 21st EOD team received a trophy, says Jake Deuel, Robot Rodeo coordinator and manager of Advanced Field Operations and Robotics Dept. 6532, bomb squads are mostly after the bragging rights.
"The teams are usually frustrated with us by the second scenario, and that's a good sign that we've developed challenging scenarios. If it's easy, it's a waste of their time," says Jake. "The whole point of the Robot Rodeo is to help these guys and gals understand where the operational edge of their equipment and procedures are, so that they don't go over that edge during a real life call."
'What a Mess' and 'Stairway to Heaven'
During the "What a Mess" scenario, bomb squads had to use their robots to contain a "hazardous" liquid with a bucket, turn three valves to stop the leak while maneuvering around debris, and then move the bucket to a containment area. The scenario simulated a leak in a legacy nuclear production facility or chemical plant where the liquid would be too hazardous for a person to handle safely. Part of the challenge for the squads during this scenario was to manage their time and determine priorities to best mitigate the spill.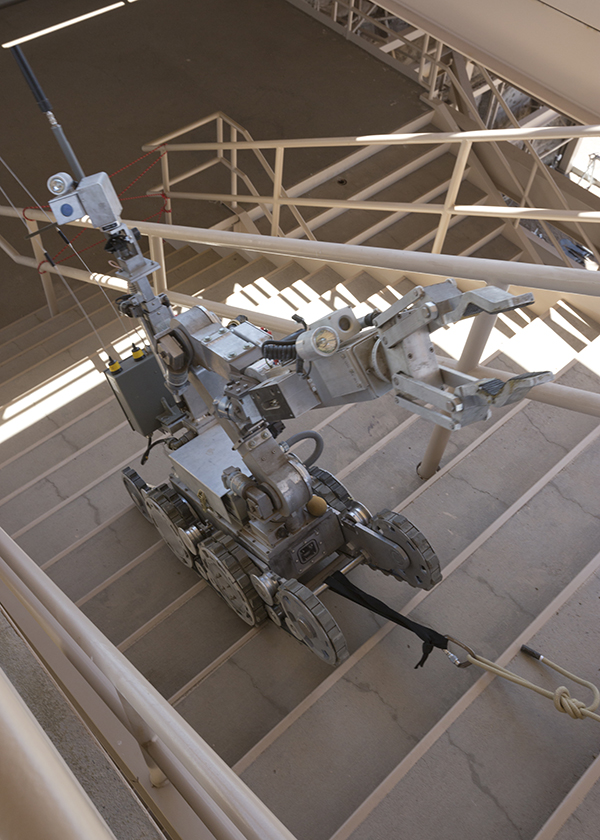 For the "Stairway to Heaven" scenario, the robots needed to go up three flights of stairs, which isn't a walk in the park in and of itself, and solve challenging manual dexterity problems on each level. On the first level, the robot needed to untie a rope. On the second level, the challenge was to hook three clothes hangers onto a dangling ring. However, the first challenge was finding their instructions — printed on a florescent green sign hidden high in the rafters. Commercially available bomb squad robots have a small, flat field of view provided by one camera, says Jake, an operational limitation the squads need understand.
On the third level of "Stairway to Heaven," the robots needed to unstack six labeled orange cones and then arrange them to spell out heaven. Traffic cones are hard for robot grippers to grab, requiring just the right amount of strength and finesse, says Tech. Sgt. Joshua Rickert of Kirtland Air Force Base 377th Explosive Ordnance Disposal Flight and an evaluator for the scenario. Though it is unlikely bomb squads will encounter this exact situation, the dexterity tested will be helpful in whatever they do have to handle, he says.
Other scenarios included working with another team to get an X-ray of a hard-to-reach suspicious package, removing a "hazardous" package from a helicopter, and defusing a suicide bomb by hand.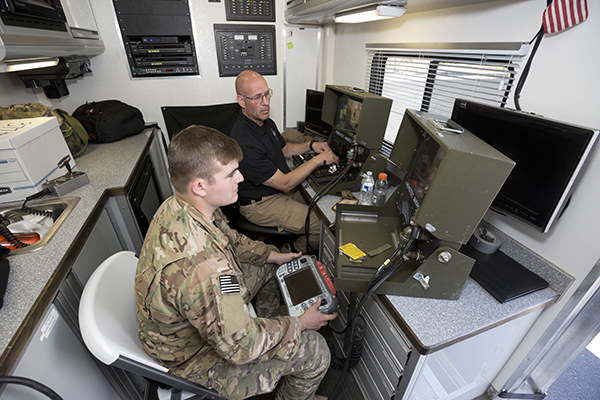 Challenging scenarios test robots and squads
"We keep coming back to the Robot Rodeo because it's a training opportunity that really pushes our skill set with the robots," says Sgt. Carlos Gallegos, commander of the Albuquerque Police Department's bomb squad, whose team has attended the rodeo every year and won twice. "We appreciate Sandia and Los Alamos national laboratories for taking the time to put on such a beneficial week for the local bomb squads."
Sandia works with Los Alamos National Laboratory to host the annual competition. This year instructors from the FBI's Hazardous Devices School also ran several of the training sessions and events.
John Lee, program manager in the DOE Office of Environmental Management's Technology Development Office, attended and observed this year's Robot Rodeo. "It was a great event, well organized and implemented extremely well," John says. "Many of the rodeo's scenarios were applicable to the varied DOE EM missions and the lessons learned were extremely important. This was quite apparent with the two scenarios designed with the assistance of expert workers from our DOE EM Portsmouth, Ohio, site. It was also a very valuable learning experience for them. We look forward to continuing this valuable collaboration with Sandia, Jake, and his expert team in bringing the best of robotic technologies and training to our DOE EM sites and mission."
The other New Mexico bomb squads that participated this year included Kirtland Air Force Base 377th Explosive Ordnance Disposal Team — the 2016 champions, Albuquerque Police Department, Doña Ana County Sheriff's Office, Los Alamos Police Department, New Mexico State Police, and Farmington Police Department. Out-of-state bomb squads that participated included Davis-Monthan Air Force Base EOD Team; Fort Carson Army Base EOD Battalion; Dallas/Fort Worth International Airport Police; and Riverside, California, County Sheriff's Office.
Event judges included experts from Sandia, Kirtland Air Force Base EOD, New Mexico National Guard's Civil Support Team, and the FBI.