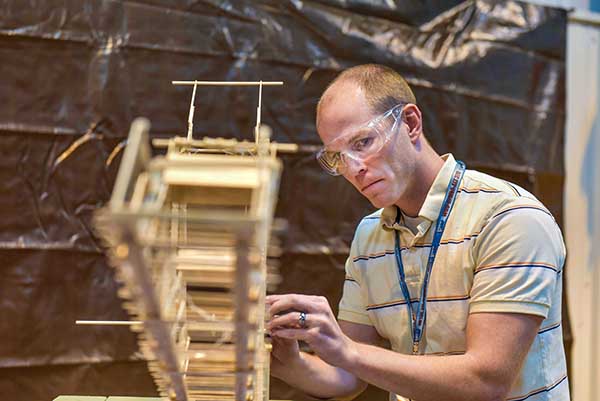 You could say water sank the bridges of Sandia.
The Labs' first Shoe Box Challenge handed out (what else?) plastic shoe boxes full of supplies to registered teams on Monday of Engineers Week in February. Teams could use only what was in the box to build a bridge — an engineering challenge kept secret until teams picked up their kit of 400 popsicle sticks, rubber bands, kite string, capacitors and resistors, 9-volt battery, and the like.
Working on their own time, teams had until judgment day on Thursday of Engineers Week to build their creation and decide whether to compete in the technical or creative category. All bridges had to go from spanning a 36-inch wide "river" painted on a test stand to moving to allow an 18-inch cube "ship" to slide by. Technical bridges then converted back to spanning the river and were weighed down until they failed. Creative bridges had to support at least 8 ounces in the center while spanning the river.
Popular vote determined the creative winner, and 24 teams posted videos for Sandians to choose their favorites. One video copied a newscast format. Another rolled credits with the notice, "No Sandians were harmed in the construction or filming of this bridge." The winning entry's announcer intoned, "The carnage of American bridge-making stops right here."
Judges tested 20 technical entries on the spot Thursday, three at a time on separate stands, timing how long each bridge took to get out of the way of the ship, then adding weight in the form of small water bottles until the bridge snapped or sagged into the river.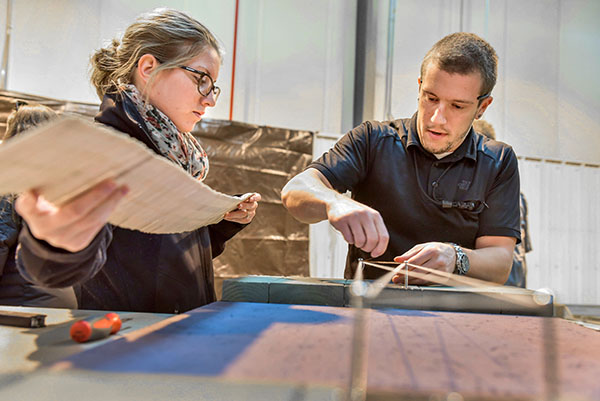 'A graceful failure'
Teams added weight by suspending the bottles from plastic bags beneath the bridge. Watching one team stuff bag after bag, a bystander remarked, "If I were the Department of Transportation, I'd hire you guys." When two exceptionally strong bridges tested at the same time used up all 240 bottles of water, judges scrounged up metal to add weight. When teams packed so many bottles into bags that the bags failed before the bridges, judges found stronger bags.
One bridge was pronounced "a graceful failure" as it slowly sagged. Another buckled sideways instead of cracking.
Teams tweaked bridges even as they set up for judging. "Every time we do it, it changes because the rubber bands keep stretching," one team member complained while readying a bridge to raise. "No one brought a Phillips?" a member of another team asked as a colleague laboriously hooked the bridge to the stand with the wrong screwdriver. One team disqualified itself after realizing its elegant solution — a long row of popsicle sticks taped together with weight borne on strings and copper wire — didn't meet a requirement for distance to the water.
Being engineers, many teams conducted post mortems to figure out why their bridges collapsed. One group pointed out the glue failed, not the structure. When another post-failure review hit upon the probable weakness, a team member responded, "At midnight, that didn't seem so important."
"Midnight?" asked a bystander. "Really?"
"We're like college kids," the team member replied. "Wrinkly, old college kids."