Researchers who leave Sandia to start a company can now be joined by non-R&D staff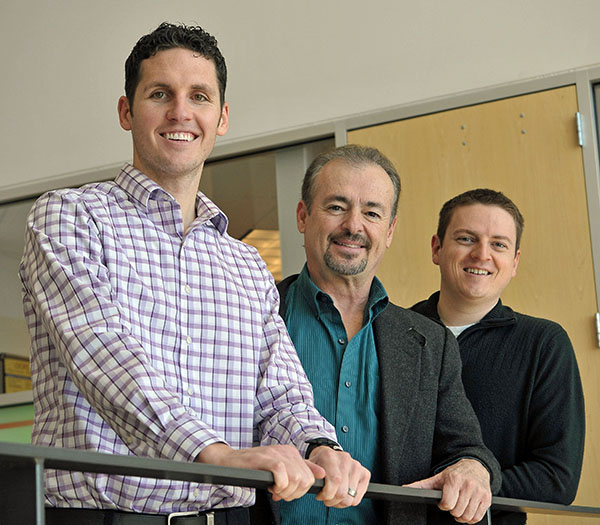 Over the years, Genaro Montoya was asked every now and then why the entrepreneurial separation program he runs allowed only technical staff to leave the Labs to go into business. James Brimhall and Austin Trent wondered, too, and took the next step.
A grassroots effort by James (10248) and Austin (10656) has led to Sandia's Entrepreneurial Separation to Transfer Technology (ESTT) program being expanded to include staff in business or non-research and development (R&D) positions such as project management, accounting, and procurement. "I've always thought it was a good idea, that business people can help transfer technology to the private sector," Genaro (1933) says. "James and Austin were the first to take aggressive action to make the change."
For more than two decades, ESTT has let researchers take technology out of the Labs by leaving to start or join small companies with their Sandia jobs guaranteed for up to two years. The program has brought Sandia expertise into the private sector, created jobs, and contributed to economic development.
Genaro says the policy was limited to R&D staff because the intent is to transfer Sandia-developed technology. "Business people generally don't have enough knowledge around the technology to take it out and help commercialize it," he says.
But he points out that many small technology-based companies fail because the founders lack business acumen around acquiring venture capital funding, legal requirements, and how to build a business structure. "There is a lot of expertise that business people bring to the table, so pairing them with inventors is smart," he says. "Successful startups in the private sector have a team with a strong business element, not just a technical person. Now that element can be found within Sandia."
Good business ideas
The new policy allows non R&D staff to partner with researchers who obtain a license from Sandia to patents or copyrights to start their own company. "A business person could not go start an accounting firm," Genaro says. "The policy is specifically intended to transfer Sandia technology into the private sector."
James says he began thinking about ESTT about a year ago as he met Sandia business colleagues who wanted to be entrepreneurs. "They have good business ideas," he says. "In a startup, you need business background behind the technology. I felt strongly that business people should be part of ESTT and have more opportunities to meet and brainstorm with scientists and engineers."
We are a team here; we need to be a team out there.
The idea resonated with Austin, whose father was a successful technology entrepreneur. "Eighty percent of startups fail in the first 18 months," he says. "I work with tech people whose projects have application in industry. We can help. I talked to a lot of different people who said it was a good idea to open ESTT to the business community, but they didn't think to try to change the policy."
James joined forces with Austin to submit the idea last fall to the SPARCK (Sharing Perspectives and Rethinking Common Knowledge) initiative run by iSOLVE, a Div. 10000 program to promote esprit de corps in the Sandia business community. It won the support of Div. 10000 management up through VP Jennifer Plummer. "It takes many skills to make a business work," Jennifer says. "Sandia's workforce is richly talented in countless areas of science, engineering, and business. By opening ESTT to non R&D staff, technical and business professionals can form productive partnerships. It's a common-sense expansion of the policy."
James and Austin took it to Genaro. "It was a solid proposal, and the environment around entrepreneurial activity is at a peak," says Genaro, who shepherded the change through Sandia's upper management. "The timing was good."
Bring people together
Genaro says he and others are looking into ways to bring business and technical people together to network and explore partnerships. One option is through Sandia's Entrepreneur Exploration (EEx) events.
"By extending ESTT to business as well as technical staff, a wider group of people can explore entrepreneurial opportunities related to Sandia technologies," says Andy McIlroy, director of Research Strategy and Partnerships Org. 1900. "Our business professionals can provide valuable complementary expertise to a team leaving on ESTT. And those who ultimately elect to return to Sandia bring new perspectives and methods that will enrich the Labs."
James and Austin are happy to have been the catalysts. "Anybody can be an innovator," James says. "We all have ideas and this policy change now gives us the ability to act on them. Having business and technical professionals work together will give startups a greater chance at success. We are a team here; we need to be a team out there."