Sandia tapped again to lead nationwide solar evaluation centers
Sandia won a three-year DOE contract to continue managing the US Regional Test Centers (RTCs), a network of five sites across the country where industry can assess the performance, reliability, and bankability of solar photovoltaic (PV) technologies.
The program currently has more than 12 industry partners and 300 kilowatts of PV installed in different stages of development.
"These centers are helping demonstrate that products perform as predicted over time and in different climates, strengthening the bankability of emerging technologies and driving the market penetration of smarter, more efficient solar systems," says Joshua Stein (6112), who heads the RTC program.
The program was launched at Sandia and at the National Renewable Energy Laboratory in Denver in fiscal year 2012 and is funded by the DOE SunShot Initiative, which seeks to make solar energy cost-competitive with other forms of electricity by the end of the decade. The number of sites has grown from three to five, in New Mexico, Colorado, Nevada, Florida, and Vermont.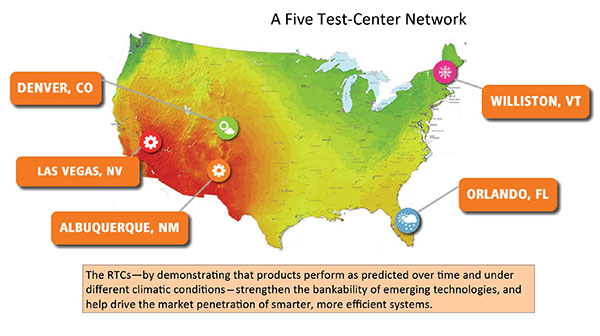 The RTCs collect data — managed through a common database — from PV and concentrated PV systems installed on site to develop a comprehensive set of processes, standards, and guidelines to validate performance and reliability; demonstrate the investment-worthiness of new products and accelerate their adoption; and establish a technical basis for bankability. Bankability is a measure of a project's risk to an investor; the lower the risk the more bankable it is, resulting in lower cost of capital for new projects.
The centers also quantify the impact of climate on PV technologies and systems, and provide a research platform for emerging technologies, spurring technical innovation in the solar industry. "We provide advanced monitoring and improved performance prediction capabilities for new technologies being introduced to the market," Joshua says.
Standardized, system-level protocols
The RTCs bring a system-level approach to the PV evaluation landscape, unlike more typical testing that assesses a single solar module, or panel. The RTCs study groups of panels that make up the PV arrays that generate solar electricity. "The lack of consistent methods and equipment at different labs increases uncertainty," Joshua says. "We're developing standardized system-level protocols. We do everything the same at each of the sites in a range of climates. Very few can evaluate at the system level across climates with such consistency. That's one of the gaps we're trying to fill with the RTCs."
The centers use national laboratory expertise in performance modeling, systems reliability, and data analysis. Sandia has a history of measuring and modeling performance of PV systems at levels from about 100 watts to 50 kilowatts, the kinds of systems found on residential rooftops and small businesses.
Approach customized for each partner
The centers are designed to help mainly US industry partners, ranging from module and inverter manufacturers to balance-of-system innovators, improve their technologies and carve out an advantage in the PV marketplace. Partners, who are selected through a proposal process, use their own equipment and contribute cost-sharing for the testing and analysis services.
The approach is customized for each partner and typically involves a three- to five-year field study at multiple sites with quarterly or semiannual reports. Partners receive valuable performance and reliability data for PV products collected from a range of climates and produced and analyzed by national labs.
The program is evaluating cutting-edge and prototype technologies including:
• High-efficiency c-Si PV solar cells and modules for such companies as SolarWorld of Hillsboro, Oregon; Silevo of Fremont, California; and SunPower of San Jose, California
• Module and submodule power electronics, which can increase energy production under partially shaded conditions, for Maxim Integrated of San Jose and Chilicon Power of Los Angeles
• Bifacial modules that allow light to enter from both sides, for Prism Solar of Highland, New York; SolarWorld; Silevo; and SunPower
• Thin-film PV technologies that can be produced at very low cost, for Stion of Menlo Park, California
• Module coatings for antireflection and self-cleaning, for ENKI Technology of San Jose
• Solar resource assessment technology, for Renewable NRG Systems of Hinesburg, Vermont
Pre-assembled PV systems
The RTCs are also looking into ease of installation. "We've done time and motion studies during installation to quantify how new designs can be implemented more quickly or with less skilled labor, thereby saving money," Joshua says. "What if we did PV the same way a manufactured home is built in a factory and shipped? A PV system could be assembled on racks off site with just two wires sticking out, driven on a truck, put on the roof, screwed in, and you're done." He says RTC partner Norwich Technologies of White River Junction, Vermont, is doing just that, building a PV system in a factory and delivering it to the installation site, aiming to increase quality and lower costs.
"Very few programs like the RTCs exist, allowing manufacturers to test their product and models under such a wide variety of climate and location conditions, and at the same time provide access to an institution like Sandia that has literally written many of the world's most adopted solar models," says Randy Stewart, CEO of Prism Solar. "We are very positive about the current work and the far-reaching goals the collaboration will bring."
Mukesh Dulani, US president of SolarWorld, says the program supports manufacturers who want to provide "exactly the renewable-energy products that consumers want."