Sandia innovator named Most Promising Asian American Engineer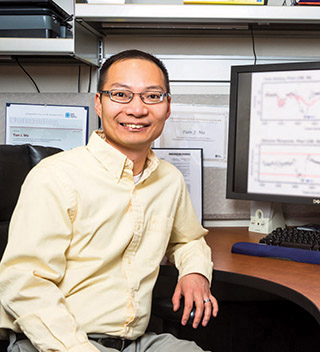 Sandia engineer Tian Ma (5521) immigrated to the US at age 11, not knowing English and unaware of the significant cultural challenges he would face. "In China I was outgoing, and I had a lot of friends. But when I came to the US, I did not know how to talk to people. I became more quiet and reserved," Tian says.
Meet Tian today, and he is all smiles. In fact, his cheerful nature and passion for engineering are contagious.
Tian is the 2016 Most Promising Asian American Engineer of the Year (AAEOY) and will be honored in a ceremony on March 12 at the Hyatt Regency Hotel in New Brunswick, New Jersey. The prestigious AAEOY awards are a National Engineers Week program hosted by the Chinese Institute of Engineers-USA (CIE-USA) to salute Asian American professionals who demonstrate exceptional leadership, technical achievements, and public service in science, technology, engineering, and math. Past winners have included astronauts, key corporate executives, and Nobel Laureates. Nominees come from a range of corporations, academia, government, and scientific institutions.
"I am delighted, deeply humbled, and honored," says Tian. "It is motivating to gain recognition considering that there are so many talented Asian American engineers across the country."
Detecting and tracking movement of objects
Tian is a principal member of technical staff. Over the past 12 years he has developed many detection and tracking algorithms for remote sensing systems under Sandia's nuclear non-proliferation program. His work focuses on designing algorithms to better detect and track the movement of objects. At Sandia Tian has served as the technical lead on several multiyear projects. His advancements in multiple hypothesis tracking and jitter suppression algorithms have enabled US government agencies to pursue entirely new remote sensing missions.
"Tian's work is highly regarded in the remote sensing community," says John Vonderheide, senior manager of Decision Support Systems Org. 5520. "Tian has combined his tremendous insight and creativity with a strong personal commitment in such a way that he has continually solved very complex problems within very rigid constraints."
Tian's expertise has led to one issued patent and three patents pending, along with three technical advances and multiple publications. Tian enjoys the challenges that come from being an innovator. "For me it is gratifying to solve a problem that no one has solved before. The moment that it hits you when you realize you may have a solution is very exciting," he says.
Bridging research and reality
What makes Tian stand out is his uncommon ability to innovate from research through to real-world application, says Tian's manager, John Feddema (5521). "Tian is one of those individuals who make the entire team better by being a role model for creating new technical innovations and ensuring that these technologies transition into applications," he says.
Tian recently completed an MBA in Management of Technology from the University of New Mexico with an A+ grade point average (GPA: 4.14). This builds upon his credentials from the University of Illinois at Chicago, a bachelor's degree in computer engineering and a master's degree in electrical and computer engineering.
"At Sandia I developed a lot of technologies, and I wanted to learn how to commercialize them. My motivation to get my MBA was to learn the business side of how to extend our technology into the commercial world," Tian says.
Tian was hired into the Labs in 2003 through Sandia's highly selective Master's Fellowship Program, which paid for his full graduate tuition and provided a salary. "I am very grateful for what Sandia has done for my education," Tian says.
Inspiring minds through STEM
Serving the community is a strong part of Tian's character and another reason for his AAEOY award. As co-chair of the mentor committee for the Future City Competition Project in New Mexico, he pairs Sandia technical mentors with local 6th- and 7th-grade students to help them imagine, design, and build cities of the future.
"I like to give back because I personally benefitted from my community. When I first came to the US, I really struggled with language. Fortunately there was a church located right across the street from my elementary school, and they had an after-school education program that offered free tutoring."
Tian is the former co-chair of Sandia's Asian Leadership Outreach Committee (ALOC), and he is highly involved with the Albuquerque Chinese Baptist Church.
Tian credits his personal success to his parents for the sacrifices they made for his education. Immigrating from Guangzhou, China, to a poor area of Chicago, they left their own careers behind so Tian would have better educational opportunities in the United States. Tian says his biggest inspiration is his dad.
"My dad is the smartest person that I've encountered in my life. He has a much higher IQ than me. I've witnessed him solving many complex problems in our daily lives. However, he grew up during China's Cultural Revolution where he wasn't presented with opportunities for higher education. I want to make sure I put into good use the opportunities that my parents helped create," Tian says.
Tian and his wife Valerie, a special education teacher, are parents to a 2-year-old daughter, Vania. "I love being a father. Seeing her curiosity inspires me every day," Tian says.