Annual Sandia event highlights work of next-generation researchers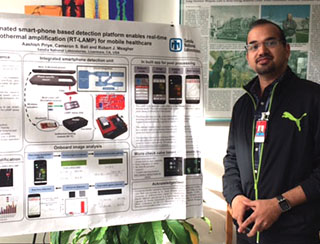 Sandia's annual Postdoctoral Technical Showcase offers postdoctoral employees the chance to meet the Labs' decision-makers and gives Sandia a close look at the upcoming generation of scientists and engineers.
The 9th annual showcase in December drew a dozen posters for the California event and 32 posters for the New Mexico event, including seven from postdocs at Los Alamos National Laboratory, invited to present for the first time. Posters fell under the categories of biology, chemistry, computer science, energy, geosciences, material sciences, robotics, metamaterials, optics, plasma physics, and semiconductor science.
Sandia's Postdoctoral Professional Development Program (PD2P) sponsors the showcase to highlight postdocs' work, give them opportunities to advance professional skills, and help them move into research careers. Sandia has about 180 postdocs divided between California and New Mexico.
Judges evaluated each poster's scientific content and quality and the author's oral presentation. Christopher Lino took first place in New Mexico for "Rapid Selection of Nipah and Hendra Virus Vaccine Candidates from a Complex, Random Peptide Library Displayed on Virus-Like Particles of MS2 Bacteriophage." The California winner was Aashish Priye for "An Automated Smartphone-Based Detection Platform that Enables Real-time Isothermal Amplification (RT-lamp) for Mobile Healthcare."
Event also recognized distinguished mentors
New Mexico runners-up were Diane Oyen, Los Alamos, "Analyzing ChemCam Spectroscopy with Graphical Model Structural Learning," and, tied, Kirsten Chojnicki, "Understanding Pore-Scale Chemo-Physical Coupling for Carbon Storage Applications" and Alessandro Cattaneo, Los Alamos, "Microgrid Transient Dynamics for the Development of Survivability Constraints in the Economic Dispatch Problem." California's runner-up was Kan Zha, "Piston Geometry Effects on In-cylinder Swirl Asymmetry in a Light-Duty Optical Diesel Engine."
Amanda Dodd received PD2P's Distinguished Mentor Award for the California site and John Ihlefeld received the award in New Mexico. The honor acknowledges the value of mentoring postdoctoral employees. A certificate to mentor nominees recognizes their outstanding mentorship and guidance in "providing postdocs with experience and opportunities to prepare them for the next stage of their career."
Steve Rottler, deputy Laboratories director and executive VP of National Security Programs, told the Albuquerque showcase the posters demonstrate that postdocs understand the deep connection between the science and engineering in their work and its application to national security. Postdoctoral employees contribute to the national labs but also allow the labs to create a talent pipeline, he said, and encouraged the crowd "to get around the room and see the fantastic work that's going on."
Marianne Walck, Div. 8000 VP, addressing California's showcase, talked about her personal history with hiring postdocs as a department manager in the 1990s. Marianne emphasized that postdocs enable Sandia to develop new technical capabilities at the same time the postdocs benefit from tackling national security challenges. She mentioned the importance of Sandia management engaging with postdocs on their career trajectories, and noted that PD2P provides valuable support to postdocs in California through brown-bag sessions and resume-writing workshops.