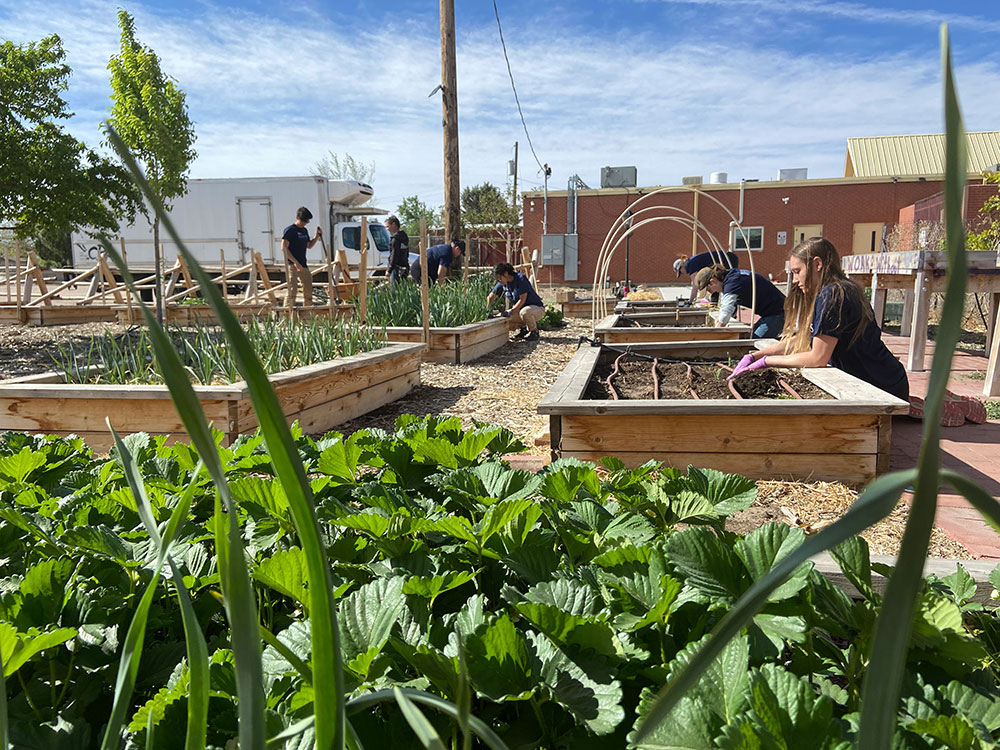 As part of National Volunteer Month in April, groups of Sandia volunteers helped their communities by packaging and distributing boxes of food and preparing garden beds for vegetables.
Sandia partnered with Roadrunner Food Bank to host a mobile food pantry at an AMC movie theater on April 22. Families waited in a line of cars to pick up food while volunteers loaded boxes into vehicles. By the end of the morning, Sandia distributed groceries to nearly 200 families. On April 30, a group of 20 volunteers from Sandia helped Roadrunner sort and package enough cereal at their warehouse to feed more than 800 families.
As the largest food bank in New Mexico, Roadrunner plays a major role in distributing food to people facing food insecurity. The nonprofit feeds an average of 70,000 people per week throughout the year.
On April 23, 15 Sandia employees and their family members helped the Rio Grande Food Project pull weeds, prime plant beds, transplant sunflowers, turn the compost and plant onions, beets, arugula, kale, lettuce, asparagus and basil in their urban garden.
Since 1989, the Rio Grande Food Project has worked to prevent and alleviate hunger throughout the Albuquerque metro area. The food pantry feeds more than 775 people each week and teaches the community how to grow fresh produce.
In California, 16 Sandia volunteers spent a Saturday morning at the Fertile GroundWorks garden in Livermore. The group dug ditches to support the garden's irrigation system, prepared plant beds, planted cucumbers and tomatoes and harvested more than 70 pounds of fresh onions.
Fertile GroundWorks produces and distributes more than 20,000 pounds of fresh produce per year.