Sandia equips New Mexico and California students with backpacks, mentoring and more
Students, parents and teachers are preparing to start another school year, with both anticipation and uncertainty. In keeping with our culture, Sandia and our employees are generously providing resources to better prepare underserved students to achieve academic success in the upcoming school year.
School supplies
Children need school supplies, and many families struggle to purchase the needed backpacks, notebooks, pens and calculators. As of Aug. 10, the annual Stuff the Bus Back to School supply drive raised $10,000 to support the Albuquerque Public Schools Clothing Bank and School Supply Barn. Sandia is a longtime partner with APS, and Stuff the Bus is part of APS's citywide drive to support Albuquerque students.
Academic enrichment programs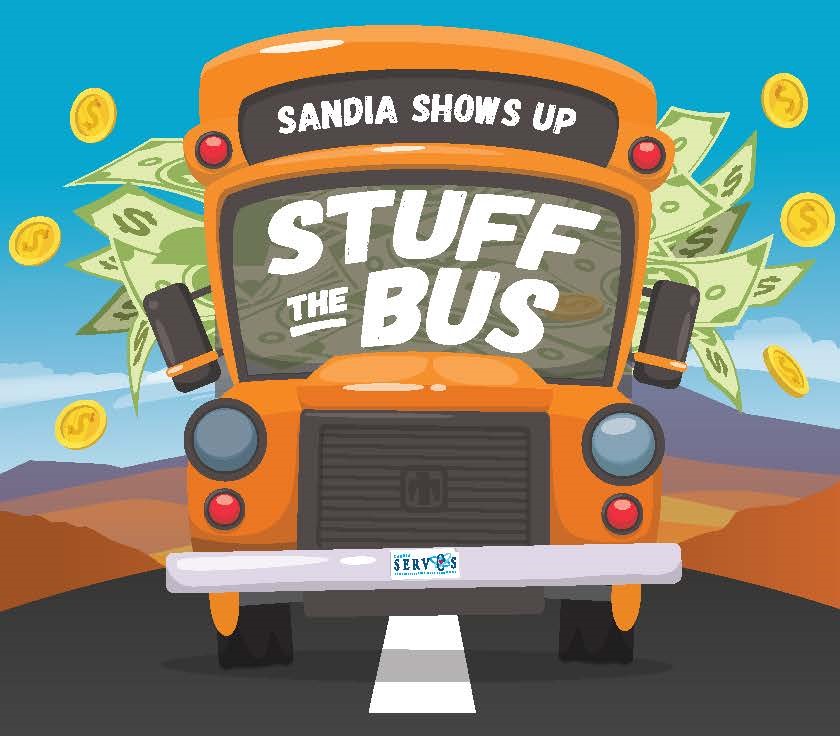 Kids need basic needs met to be able to learn. NTESS, on behalf of Sandia, gave more than $400,000 in grant awards this summer as part of its corporate contributions program. Sandia's grants to nonprofits focus on improving family stability and educational success. Family stability grants fund food insecurity, housing, workforce development and services for families in temporary crisis.
Educational success programs support the academic achievement of underserved K-12 students. With uncertainty about in-person volunteering, some grant recipients plan to continue successful virtual programs that they developed last year.
One organization that benefitted, the Oasis Intergenerational Tutoring Program in New Mexico, received a $10,000 grant. Last year, they pivoted to provide training, support sessions and mentoring sessions online. Anne Marie Strangio, principal of Lew Wallace Elementary, thanked Oasis and shared several heartfelt stories of students who struggled to stay connected to school through online learning but found connection with their reading mentors.
During the program, one student, who previously kept his camera off and mumbled, asked to skip the fifth-grade water balloon party to say goodbye to his mentor. Another student said coming to school in the spring was the second-best thing about school that happened all year — the first was time with his reading mentor. The Oasis program was a true bright spot for many kids and mentors.
Scientific Adventures for Girls, a California nonprofit, received a grant for $22,000 and is partnering with Sandia to sponsor eight upcoming virtual Family STEAM Nights. The STEAM nights will be available to families in California and New Mexico and designed around a fun theme. Families will have the opportunity to do STEM projects and watch an exciting demo at each event. Event information will be available in September on the Sandia Daily News, California Daily Announcements and the Community Involvement website.
Volunteer Opportunities
If you are interested in helping underserved students make the most of this school year, here are a few organizations that are currently recruiting volunteers. Some volunteer opportunities are eligible for paid time off.
New Mexico
California