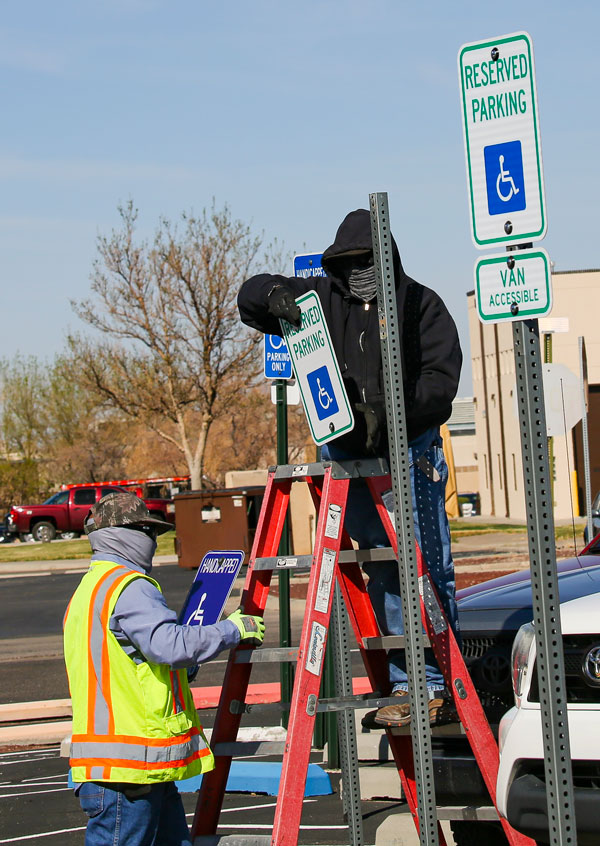 A project to replace accessible parking signs around the Labs is finished, thanks to the efforts of security professional Mike Kline and Human Resources Executive Director John Myers, along with the Labs' facilities organizations and the Abilities Champions of Sandia.
Mike, a military veteran, proposed changing the signs from handicapped parking to reserved parking, with the traditional symbol.
"Handicapped is a negative word that makes me feel less than," Mike said. "People say it's only a word, but the word hurts. It's negative. The International Symbol of Access, also known as the Wheelchair Symbol, makes no mention of handicapped or disabled and it's recognized as a place for people who may need special access. It doesn't need to say disabled — we all understand the meaning."
John is executive champion for the Abilities Champions, Sandia's Employee Resource Group that advocates for and supports individuals with disabilities. He eagerly awaited completion of the project.
"Although changing the parking signs may appear to be trivial, I would argue that for employees who use these spaces, this type of nuanced action is the foundation to becoming what we as a Lab aspire to be — a place where everyone is and feels valued, has confidence that their differences are appreciated and treasured and for job candidates to see Sandia as a unique and refreshing employer of choice," John said.
Hidden disabilities recognized
Completion of the project he proposed also was important to Mike, who has hidden disabilities.
"People may not actually know I have challenges, unless I choose to share them," he said. "As I operate as an able-bodied individual 100% of the time, I have learned to overcompensate for my disabilities for the most part."
Members of the Abilities Champions praised the change, commenting that removing the stigma associated with the term "handicapped" leads to greater acceptance of limitations. They said people shouldn't judge those who use the accessible parking spaces and instead seek to understand their challenges.
To obtain an accessible parking permit, which are valid only on Sandia-controlled premises, review the medical restrictions section of the Onsite Medical Services Policy, EHS002. The permits typically are limited to 60 days, but for an extended need, state-issued permits can be obtained through the New Mexico Motor Vehicle Department. Sandia/California already uses the accessible parking signs as the word "handicapped" is not included on accessible parking signs per California law.
"When we holistically focus our attention on the details of mission problems, we successfully find and deliver unbelievable outcomes for the nation," John said. "When we pay attention to the details of inclusion, we will do the same for our people. We unleash the power of Sandia, literally and figuratively."