New Labs Director addresses workforce in New Mexico, California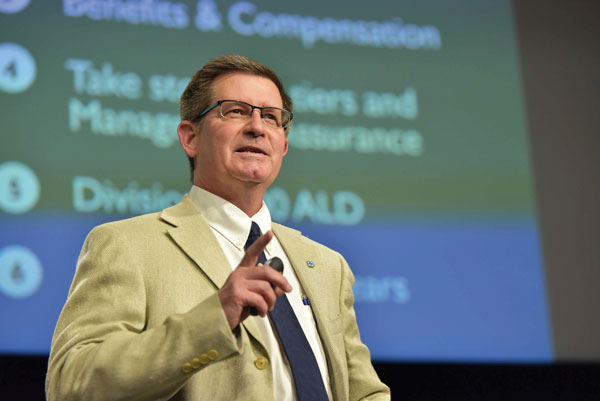 See also: New Sandia Labs Director named
In his first week on the job, Labs Director James S. Peery told all-hands meetings in New Mexico and California about his initial priorities, "enormous passion" for national security and commitment to a diverse, inclusive workforce.
"I am a Sandian. I think I know what makes this laboratory tick," he told the crowd in California. "I want to thank you and your families for all the sacrifices you make to keep this nation secure."
James called inclusion and diversity a business imperative. He told the audiences that studies show diverse teams are more innovative and higher performing. "We're in the innovation business. Why wouldn't we want diverse teams?" he said.
He asked his audiences to cast aside the traditional distinction between mission enabling and mission delivery organizations, which can create barriers and make people believe they aren't contributing equally to Sandia's mission. He said his goal is to remove barriers. "We're all in the fight together," he said.
Innovation race
James in both talks pointed to a variety of global threats, saying that the U.S. is in an innovation race with many countries, but significantly with China, to advance technology. He said bureaucracy in research and development has grown and is creating real hurdles to discovery. Sandia's leaders must not be afraid to dive into the crucible of scientific discovery and take technical risks, he said.
"Another angle of this that really worries me is our fear of failure," James said. "Today, there is little tolerance with failure. One of the ways we learn is through making mistakes. Much of science progresses through trial and error."
That fear of failure was one issue James said he raised when he was interviewed for the Labs' top spot. He told the panel he would try to change some of the institutional impediments to risk and innovation.
Top priorities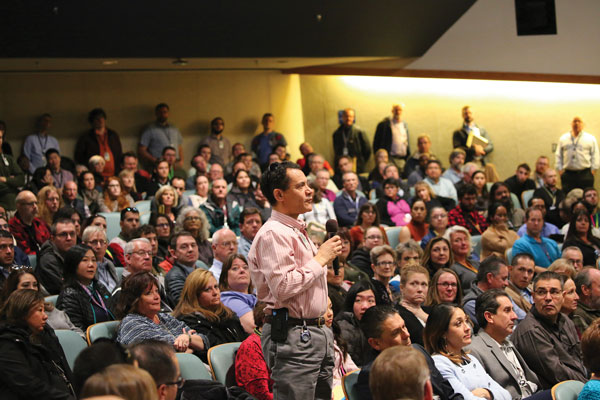 James said he is joining the existing leadership team and looking ahead, not back. "Based on my experiences at Sandia and other national labs, I want to apply best practices to key areas," he said.
In addition to accelerating innovation, creating more inclusion and advancing operational excellence, James said his top six priorities for the next three months are the W80-4 schedule, increasing trust across the Labs, benefits and compensation, the efficacy of tier accountability, hiring the new associate Labs director for Infrastructure Operations, and listening and learning from the workforce.
James took time in both addresses to encourage everyone to feel pride in the accomplishments of all Sandians. "I think that's something we need to work on at Sandia. I think we need to celebrate our innovation," he told both audiences. "I'm really excited to be here. What you're doing is absolutely amazing and I am glad to be a part of it again."
James joined Sandia as a researcher in 1990, worked at Los Alamos National Laboratory from 2002 to 2007, returned to Sandia until 2017 and spent the past two and a half years as associate director for national security programs at Oak Ridge National Laboratory. His complete biography is available at Sandia's Leadership website.
Employees can watch the recorded New Mexico or California all-hands meetings on Sandia's internal digital streaming library.