Labs hosts its first participant from U.S. Air Force program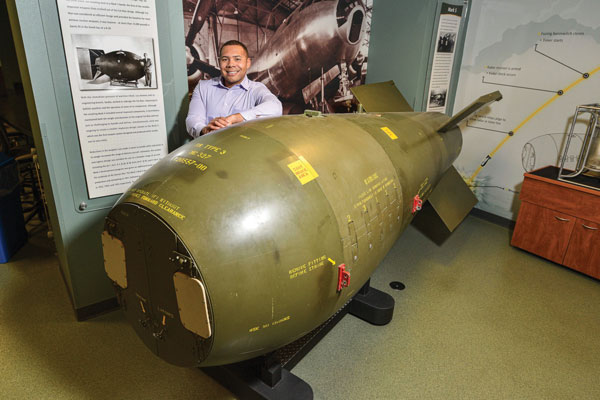 For the first time, Sandia is hosting a student in the prestigious U.S. Air Force Education With Industry program, a highly selective program that pairs participants with industry leaders in their career field.
Sandia's Military Liaison group is sponsoring Capt. Antonio Gallop, also the Air Force's first 21M Munitions Missile Maintenance officer ever selected for the program.
"Understanding the Department of Energy acquisition and the lifecycle management process of the deterrence mission of the nuclear weapons enterprise is phenomenal," Antonio said. "It's invaluable to understand how the industry works and how I can bring that knowledge back to the Air Force."
Antonio has led logistics and maintenance technicians on three different continents, with assignments in North Dakota, South Korea and the United Kingdom. His last assignment before joining Sandia was as a Major Command-level evaluator on the United States Air Forces in Europe Inspector General team stationed in Germany.
"We are very fortunate to have Capt. Gallop and want to welcome him to the Sandia team," said systems engineer Mark Meyer with Sandia's Military Liaison group.
Antonio has been in the Air Force for just over eight years, joining after graduating from the University of Florida with a history degree and commissioning in 2011.
"I was in ROTC at UF, then went active duty a couple months later after graduation," said Antonio, who grew up in Durham, North Carolina.
Understanding industry
Education With Industry is administered by the Air Force Institute of Technology on behalf of the Secretary of the Air Force, Acquisition. The program sends Air Force officers and enlisted personnel on a 10-month career-broadening tour with a selected company to learn leading-edge technology and innovative management processes. The program started in 1947, the same year the Air Force was established.
In this 72nd Education With Industry class, 45 companies — including Boeing Co., Delta Air Lines Inc. and Google — will support 74 students selected by a personnel board in a competitive process. Through the program, participants develop a more thorough understanding of commercial industry and are better able to interpret Air Force needs in industry terms. The intent is to broaden and expose selected personnel to the commercial logistics, system design, engineering and industrial maintenance experience. Graduates will return to the Air Force and provide first-hand knowledge of how leading firms are accomplishing best commercial practices to help establish more effective and efficient maintenance processes within the Air Force.
During Antonio's first weeks, he gained hands-on experience with a B83-1 Type 3 trainer, assisted with facilitating and training more than 500 students from all over the U.S. nuclear enterprise and took the lead to conduct nuclear stockpile orientation training for the new commander of the 377 Air Base Wing at Kirtland Air Force Base.
"Our goal is to immerse Antonio into a wide range of Sandia mission areas such as stockpile sustainment and annual assessment, as well as research and development for life extension programs here and at other locations such as Pantex and Kansas City National Security Campus," Mark said. "When he returns to the USAF after 10 months, Antonio will have a much better understanding of how his military requirements for weapons, test gear, handling gear and publications are translated into operational stockpile systems."
As a 21M Munitions Missile Maintenance leader, he will use this Education With Industry experience to enhance mission readiness and combat capability for the land-based intercontinental ballistic missiles and air delivered systems, which is two-thirds of the U.S. nuclear triad deterrent mission, Mark said.
Sandia employees wishing to help with Antonio's training can locate him through the Labs' employee directory.