Super-resolution imaging reveals minute structures visually with an imaging resolution well below the common classical imaging limit of Rayleigh diffraction (about the wavelength of the probe light). For example, Sandia proved that it is technically possible to reveal 60 nm structure features of a solid-state surface when 780 nm wavelength light is used for imaging. Such a visual inspection capability may provide a breakthrough in diagnostics and analysis of chemical processes, biological processes, and material details on various samples of interest. To realize such an unprecedented capability, Sandia invented a method that uses entangled squeezed quantum light and an associated quantum measurement scheme to maximize the information contents in limited imaging resources (i.e., the number of photons used in imaging).
Featured Projects
Sandia is currently working on experimental demonstration of quantum super-resolution imaging for materials science research and biology research.
The group filed the following TAs: SD-15532 "Quantum imaging using a multimode entangled squeezed light source", SD-15929 "Quantum sensing utilizing frequency-entangled light sources", SD-16337 "Hardware authentication using a super-resolution imaging"
The primary research group includes Daniel Soh, Eric Chatterjee, Phil Chrostoski, Scott Bisson, Joe Bartolick, and Savannah Cuozzo.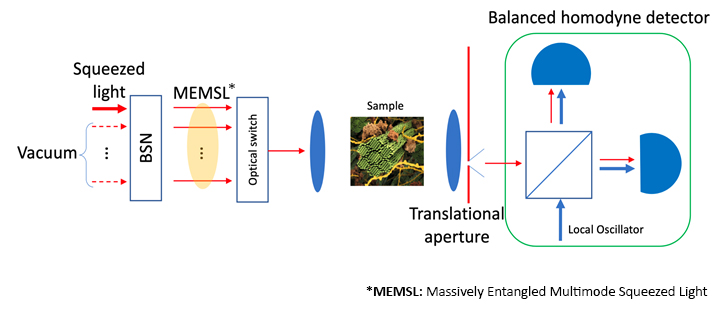 Publications
"Label-free quantum super-resolution imaging using entangled multi-mode squeezed light" Soh, Daniel. arXiv preprint arXiv:2207.10826 (2022).