Laboratory practices implemented to improve safety, energy efficiency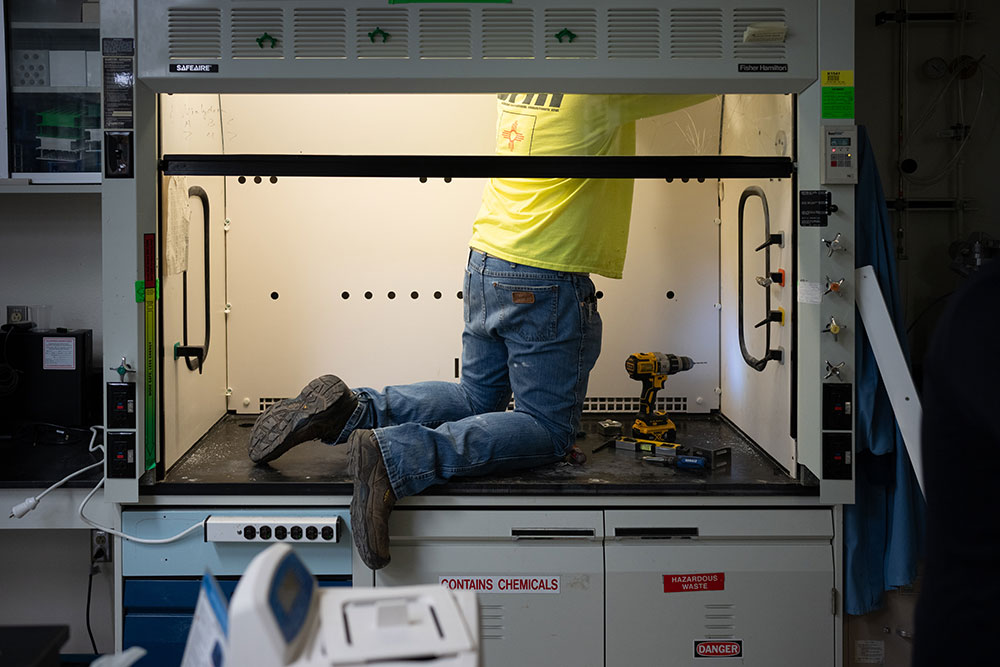 A new program at Sandia aims to increase occupant safety and make operations more energy efficient. The Sandia Smart Labs pilot has been launched in four buildings in New Mexico and California. On June 28, the team completed its first round of assessments to identify new areas that could be improved by the program.
Proven effective by institutions across the country, Smart Labs is a set of best management practices that use risk assessments to analyze and reduce ventilation risks within a laboratory setting. Ventilation is critical for maintaining environmental conditions for experiments and reducing occupant exposure to chemical hazards.
A team of industrial hygienists; systems engineers; environment, safety, and health coordinators; and ventilation consultants from the company 3Flow came together to implement the Smart Labs pilot.
"We had money to do a study, so we decided to start a pilot program to examine how Smart Labs could be applied to Sandia," said Roberto Armijo, mechanical engineer and Smart Labs project lead. "This in turn will provide a road map for future projects."
After deciding to implement a Smart Labs program, the next major step was to select buildings for the pilot. Eric Dueltgen, the industrial hygienist who oversaw the pilot program's implementation at the Sandia California site, participated in the selection process.
"The buildings we ended up choosing in New Mexico and California make extensive use of lab ventilation systems throughout the building, giving us good bang-for-the-buck potential," Eric said.
The pilot program started off with a laboratory ventilation risk assessment. In buildings with multiple labs, maintaining a complex ventilation system that optimizes efficiency and safety is challenging. Lab ventilation systems must be correctly designed and sized to mitigate risk.
Traditionally, assessments of lab activities and hazards are performed whenever a new project is started or lab work changes. However, as team member and industrial hygienist Chris Quinn-Vawter points out, these types of exposure assessments have limitations.
"While exposure assessments do assess risk, there has been no clear path on how to integrate those assessments into building performance requirements," Chris said.
This is where the Smart Labs concept comes in. The laboratory ventilation risk assessment fills some of these gaps by providing risk control bands for laboratory ventilation systems and fume hoods, enabling Sandia to set operating parameters for each control band. This gives the team greater ability to assess risks and develop better strategies for how to address them.
"The laboratory ventilation risk assessment is a systematic and reproducible way to evaluate ventilation hazards present in a laboratory environment," Chris said, "and directly correlate these risks to ventilation system operating requirements."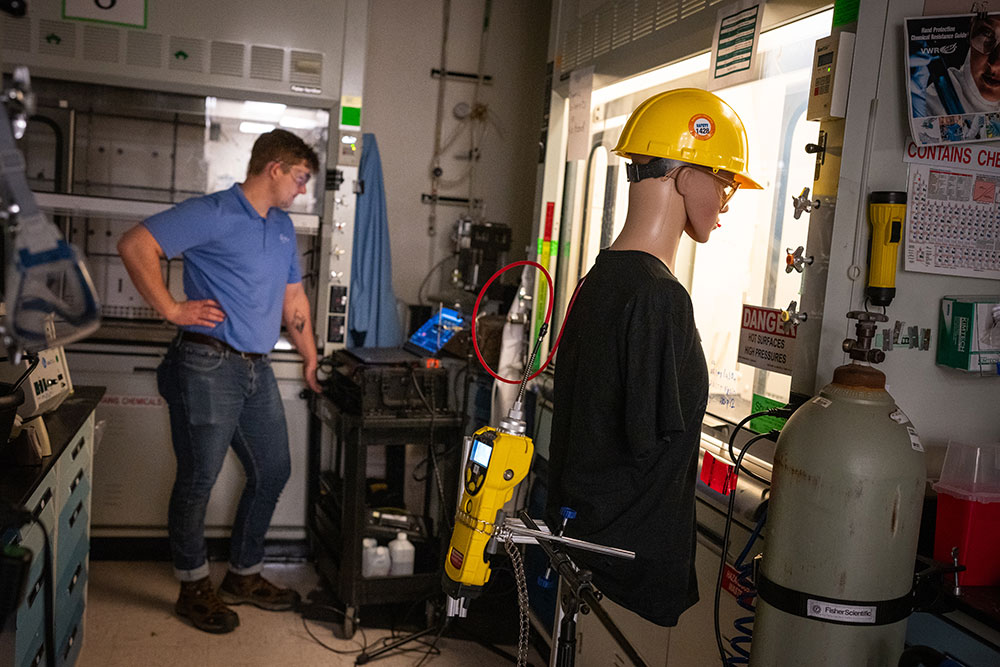 The Smart Labs team is now using the data gathered from the initial stage of the pilot program to identify recommendations for safety improvements. For instance, one recommendation the team developed for one building is to install sensors for measuring overall air handler flow. This will allow the team to identify air flow issues more quickly, an important step in increasing occupant safety.
The assessments also allowed the team to measure the current capacities of the buildings' lab ventilation system — sometimes with surprising results.
"After conducting our study, we found that another building's HVAC system does have enough capacity, but we've been wasting some of it," said Robin Jones, the senior manager who brought together the pilot program team. "By reducing these inefficiencies, we can add future capabilities to the labs without running into capacity constraints."
Smart Labs has the additional benefit of reducing energy consumption, a key component of Sandia's plan to achieve net-zero greenhouse gas emissions. Labs use three to 10 times more energy than other similar sized buildings. As demonstrated by the assessment of the building with the inefficient HVAC system, much of this energy can be wasted.
SkySpark, a fault detection program used in some of Sandia's buildings, can sense anomalies in ventilation systems, allowing the team to fix problems before they become serious issues.
Occupancy sensors are another recommended improvement that could alter the airflow depending on the lab's occupancy. "Improvements such as occupancy sensors would save on energy usage and alter the lab's environment to better meet occupant needs," Eric said.
Although Smart Labs emphasizes safety above all else, its ability to make labs more resilient and less energy-intensive is also important to meet the evolving needs of researchers.
"At the end of day, we'll have a safer environment that will enable Facilities personnel, ES&H and Industrial Hygiene to know exactly what's going on in those laboratories," Roberto said. "This allows us to have a better plan for making changes for shifting mission needs, which is also an important way that we are answering Sandia's Rally Cry."
The team describes the initial implementation for the Smart Labs program in an American Chemical Society article published in 2022.