Sandia pets offer comfort and companionship amidst challenge
The last two years have been challenging both in our personal and work lives. One bright light for many has been the welcoming love and companionship of furry friends who are happy to become the most popular coworkers in the office and champion keyboard stompers. No matter how big or small, each Sandian pet has filled our homes with antics and affection, giving us something to look forward to throughout the day.
Whether alone and isolated or taking care of a family, many Sandians have found comfort and support in their furry friends who brighten up the day. These pets have become constant companions and new family members to staff in need.
---
Nellie
Nellie is a large Labrador retriever-shepherd mix. She is about two years old and was adopted from Argos Shelter Dog Rescue in October 2020. She was originally a foster dog for Katie and her husband, but they consider themselves "foster-failures" because they fell in love with her immediately and opted for adoption. She is big and loving, and she gives nibbles on a person's neck when hugged. Nellie enjoys watching TV, such as Olympic badminton with Katie's husband. (Photo courtesy of Katie Snapp)
---
Zuko
Zuko, a.k.a. Baby Firelord, was born July 4, 2020, and was brought to his "furever" home in late September that year. After a rough start that included upper respiratory issues and a nasty case of ringworm, which resulted in a 1980s Gremlin appearance, Zuko has grown into a big, beautiful, fluffy monster. His hobbies include following his mom everywhere, biting toes and bothering his brother Leeroy. (Photo courtesy of Miranda Mundt)
---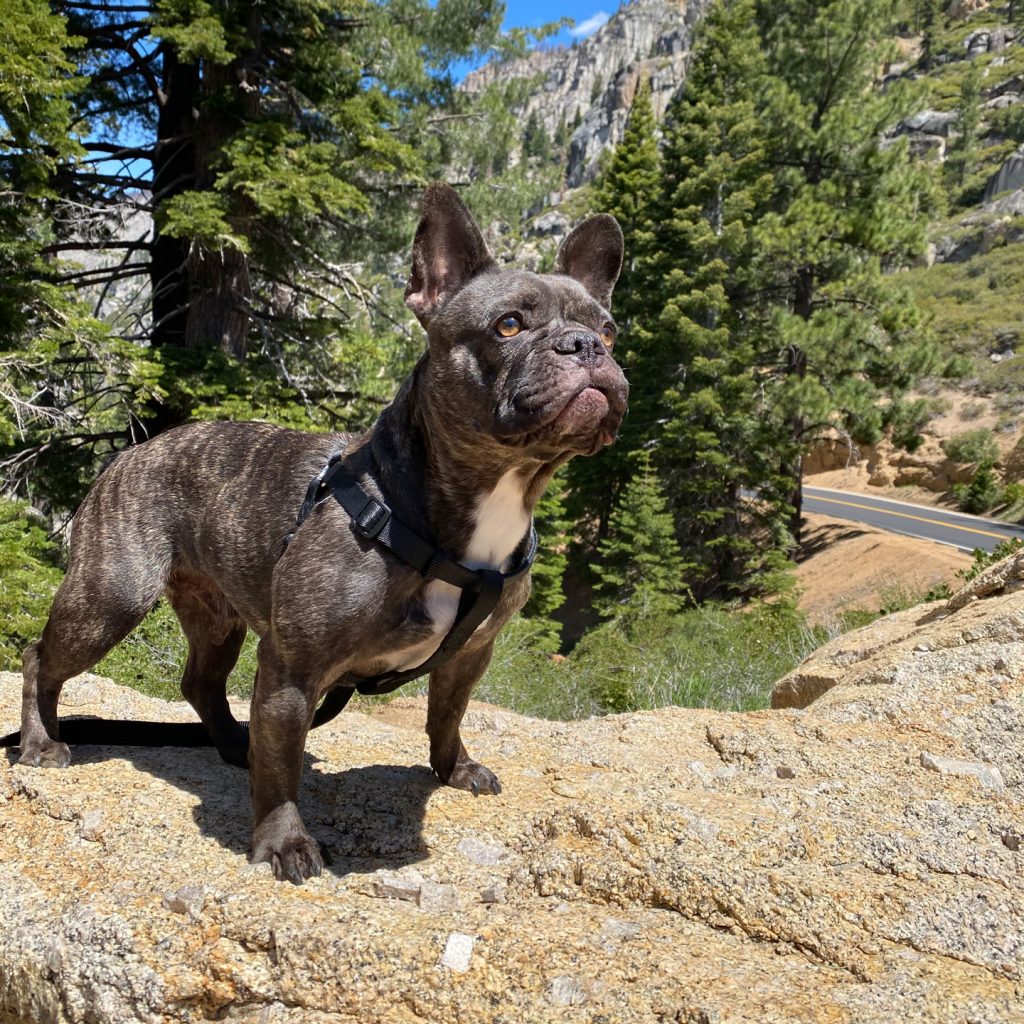 Lady Lexi
Lady Lexi Axl Rose Marshall is a three-year-old retired breeding Frenchie. Tiffany has spent a lot of time retraining her to be a "pet" and not a "tool to make money." Lady Lexi loves to run in the backyard and play with other animals. She is a "momma bear" and is very protective of her people. Tiffany rescued her in May 2021 but in reality, she was a pet Tiffany didn't even know how much she needed. As of July 2021, she is a certified emotional support animal. (Photo courtesy of Tiffany Marshall)
---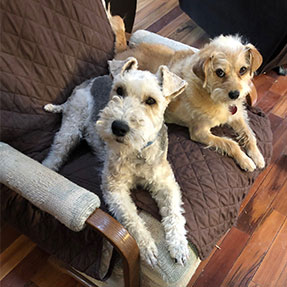 Bolt and Peanut
Bolt, left, a wirehair fox terrier, and Peanut, a cairn terrier mix with the attitude of a queen, have been an extra source of companionship during the pandemic as Elizabeth has continued to work on-site throughout the pandemic. Early on, her building was like a ghost town, which meant she worked in isolation all day, but she drew comfort from knowing that when she got home, her pups would be jumping for joy, ready to get out and hike. (Photo courtesy of Elizabeth Huffman)
---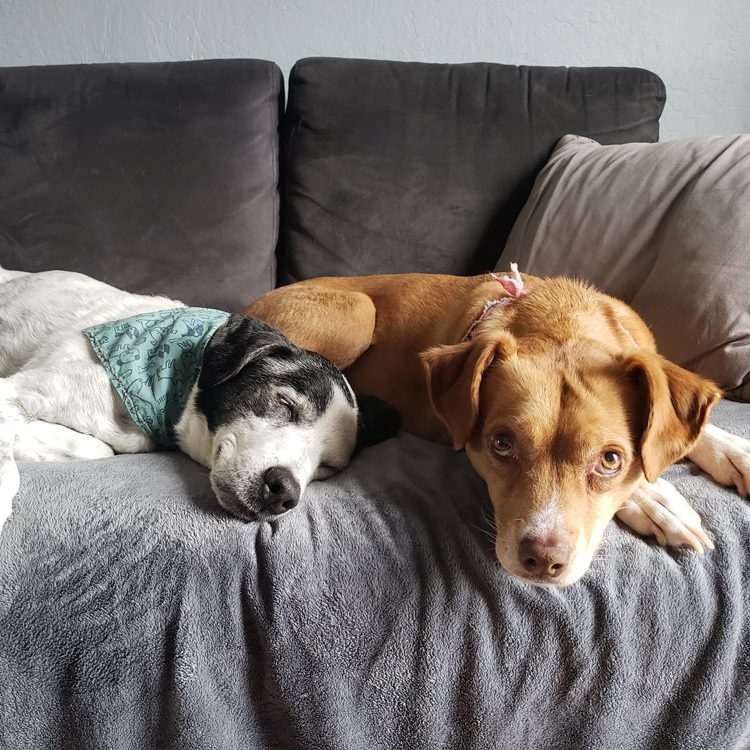 Dottie and Penny
Dottie and Penny were Lisa's beautiful fur babies until November 2021 when they both passed away the same weekend due to different forms of cancer. Dottie was a 17.5 years old, goofy, high-energy, high-jumping Dalmatian-pointer mix, and Penny was a sweet, loving, long-legged, 8-year-old dachshund mix. Despite such a huge age gap, difference in energy and personality, they quickly bonded and became "sisters." Lisa believed that when Penny went over the rainbow bridge, Dottie missed her too much and decided to leave to join her sister only three days later. They were such special creatures, and they will be in her and her family's hearts forever. (Photo Courtesy of Lisa Dong)
---
Betty
Danielle's father passed away last September, which left his beloved Betty in need of a new home. She meant so much to him, and Danielle was so glad to give her the absolute best home possible. Here, Betty is enjoying the scenery at Big Sur in the summer 2021. Her favorite pastimes include sleeping, begging for pets and watching "The Office." (Photo courtesy of Danielle Martin)
---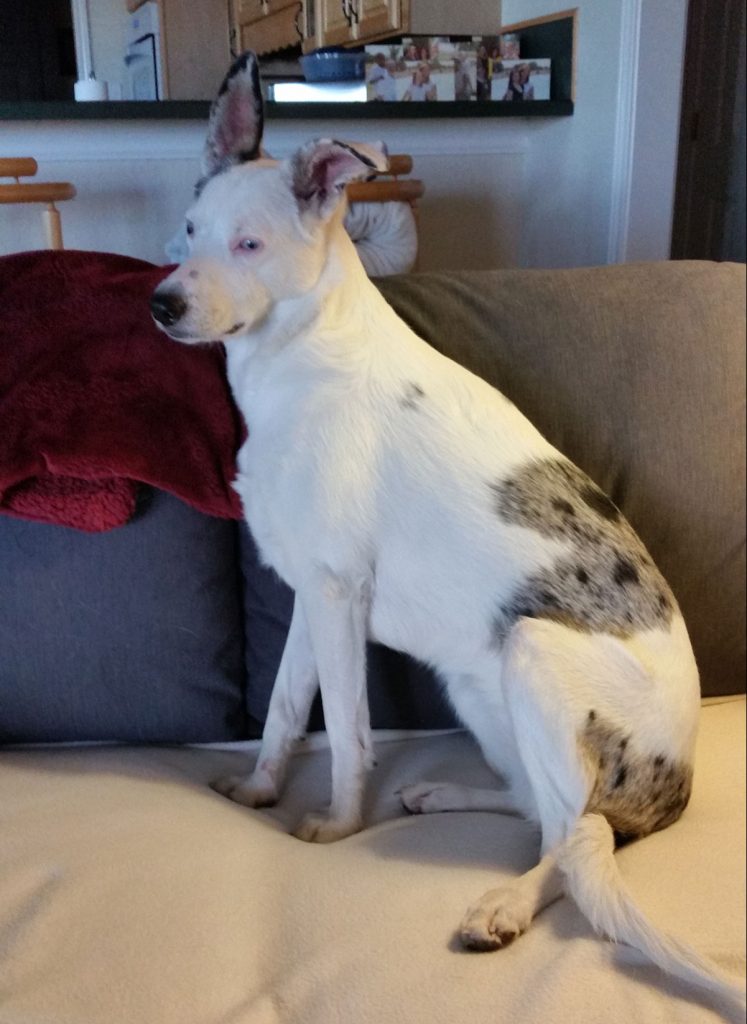 Piper
Piper came to the Shoemaker family in April 2020 at just over two years old. She is special for many reasons, one of which is that she is deaf. Especially in her early days in their home, she exhibited unbounded levels of energy and, at first, they didn't have a name for her. In introducing the dog to their neighbor, Paul explained that she was deaf and that they were considering naming her "hyper" because of her energy level. Paul's wife corrected him saying, "No, we're probably going to call her 'Piper.'" The neighbor laughed and responded, "Apparently the dog isn't the only one in the family who's hard of hearing!" For the Shoemaker family, Piper is love on four legs. (Photo courtesy of Paul Shoemaker)
---
Sydney
Sydney was adopted on Halloween 2020. The first part of her life was in a backyard breeder and hoarder situation of 20 dogs in Bernalillo County. Animal rescue confiscated the dogs, but it took almost a year to get the owner to surrender the dogs through the courts. Sydney spent the year at the shelter. She never really knew what being a part of a family was all about, but as you can see here, she is learning fast. (Photo courtesy of David Ostgulen)
---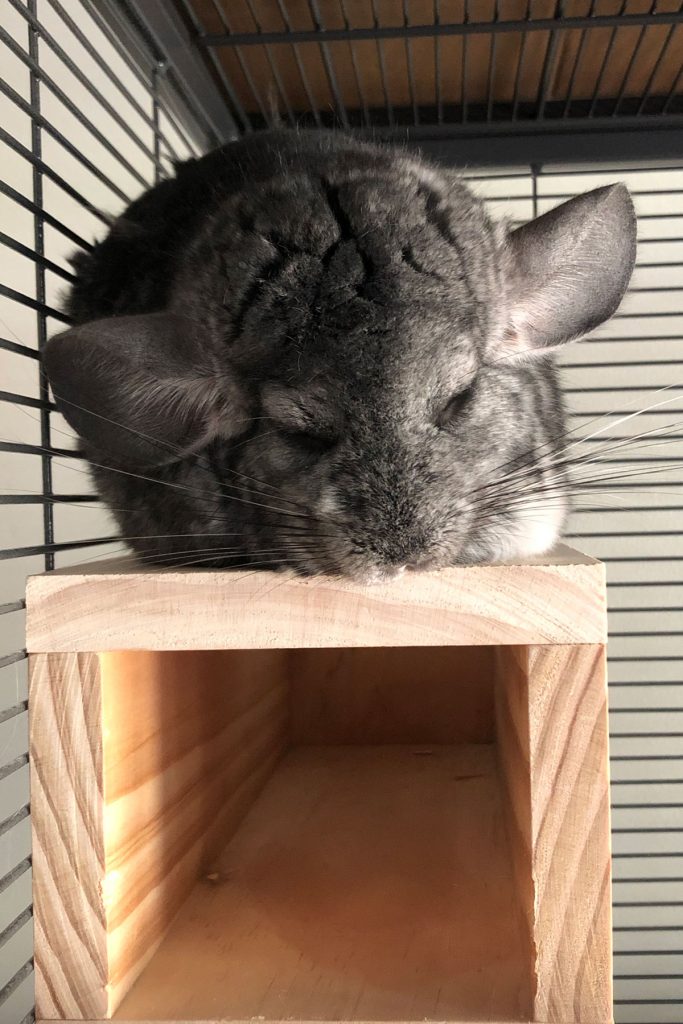 Pepper
Emmeline's family adopted their pandemic pet, Pepper, from a chinchilla rescue in August 2020. They had never had a furry pet before and their only experiences with chinchillas were from visiting the Sulphur Creek Nature Center in Hayward, California. During a visit in December 2019, both of Emmeline's daughters were entranced as they watched the chinchilla popcorn around the room and take a whirlwind dust bath. Eight months later, the girls were thrilled when they visited the rescue and brought Pepper home. Pepper lives in a large, double-level cage in the Chens' breakfast nook and kept Emmeline's older daughter company during her year of remote high school from the kitchen table. Emmeline credits Pepper for lifting the girls' spirits up during the pandemic and is thankful that they finally took the plunge to adopt a pet. (Photo courtesy of Emmeline Chen)
---
Katie
Katie is a 3-year-old English cream golden retriever and certified service dog from Honor Service Dogs in North Carolina. She joined her new family in September 2020 and enjoys the beach. She is now an Orange County dog who is loved by everyone. (Photo courtesy of Thomas Clark)
---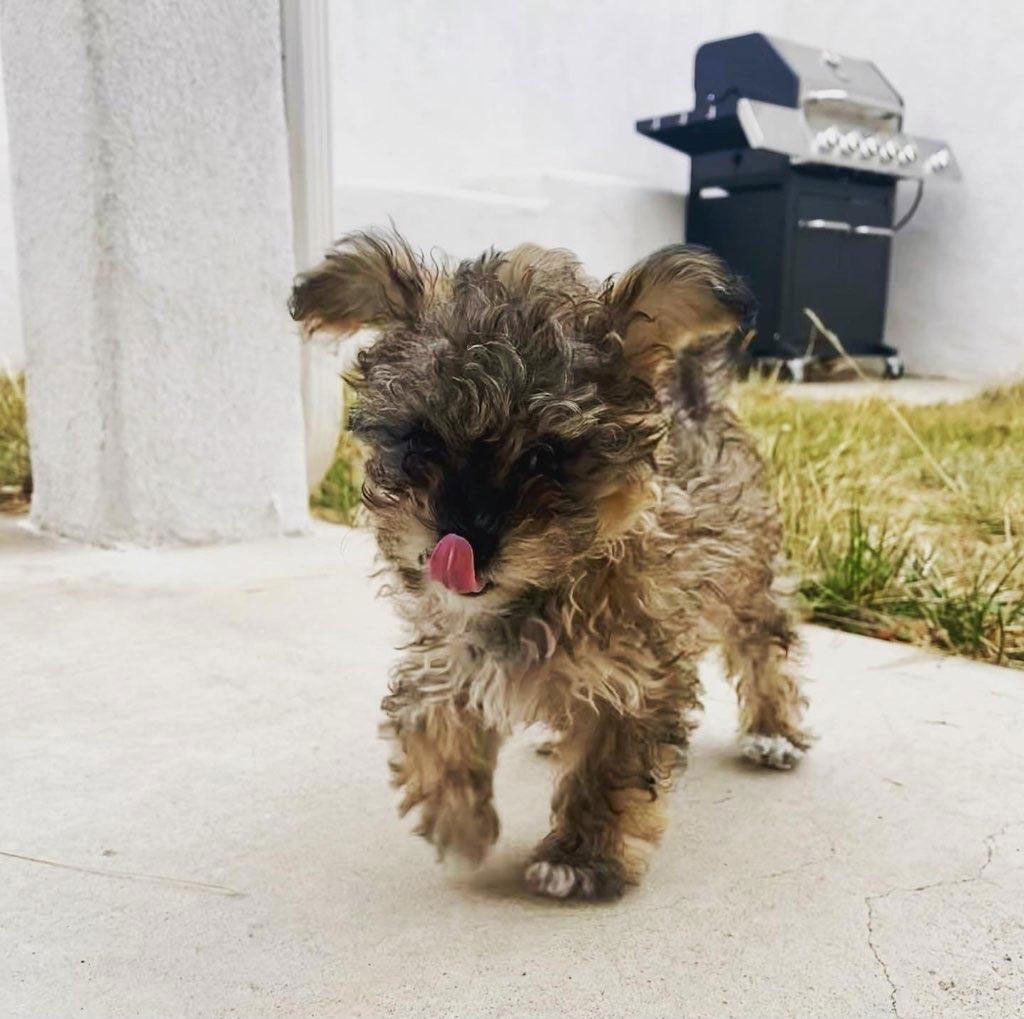 Pancake
Aundre and his fiancée recently adopted the latest addition to their family, Pancake, a baby Morkie poo, who is currently three months old and weighs three pounds. Pancake's spirit animal is half squirrel, half teddy bear. She has a fascination with strings and socks. Pancake sleeps for about 20 hours out of the day, but the few hours that she is awake are eventful — often running laps around the house and loving to play tug of war with everyone she meets. Pancake is also extremely friendly and has never barked at a stranger. (Photo courtesy of Aundre Huynh)
---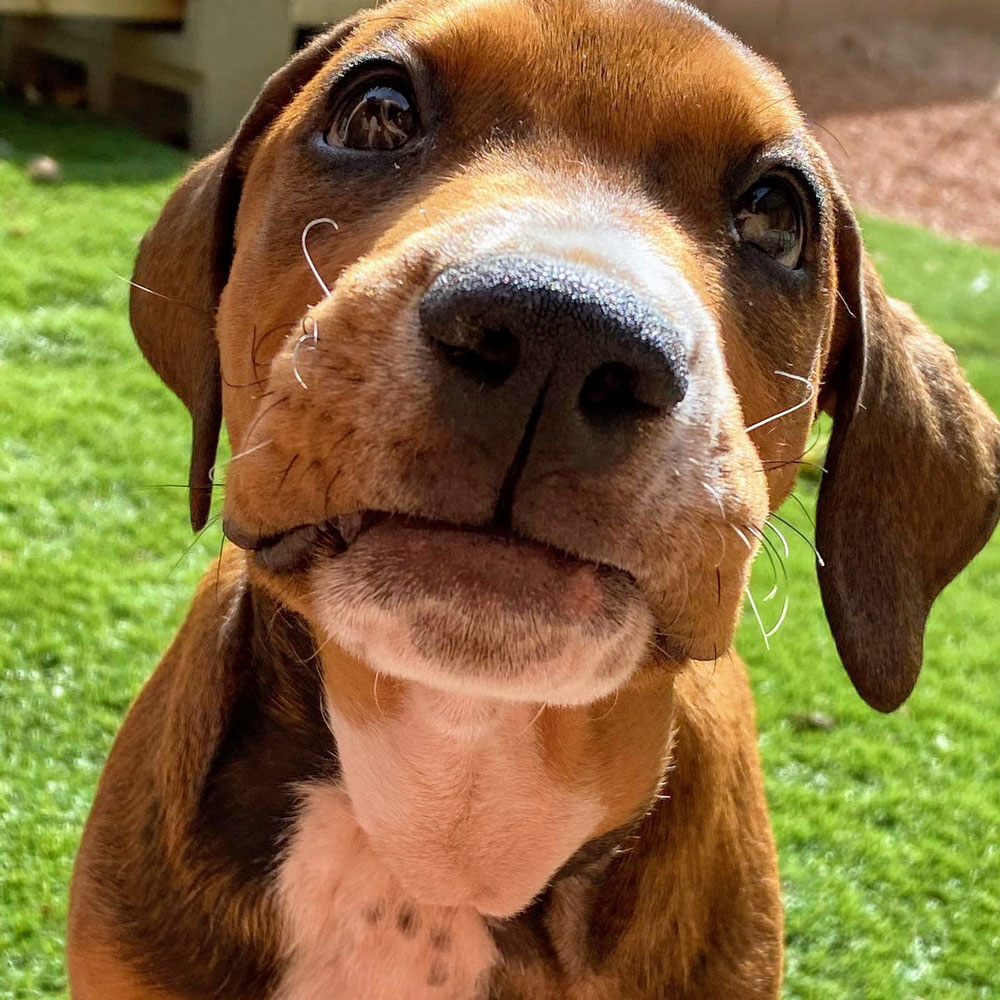 Gus
Gus is half Doberman pinscher and half English bulldog. He is a quarantine pup who now looks like an 85-pound bratwurst on four sticks. He's got a loving disposition, lives for treats and can't get enough snuggles. He's also very "talkative" and likes to wish everyone on Teams' meetings "good morning." (Photo courtesy of Ashley Fate)
---
Millie
By the end of March 2020, both of Monica's kids were asking for a puppy so their other dog could "have a friend." It took them over six weeks to find an available puppy at that time, but Millie was found on the streets of Clovis and taken in by Lap Dog Rescue. They adopted her in May 2020, and every day since has been awesome because of her. She's snuggly, playful, happy and sociable, and she truly has helped all of Monica's family get through this tough time with her little Chiweenie face equating to pure joy. (Photo courtesy of Monica Bigney)
---
Joni
Meet Joni, a.k.a. Joni Mitchell Snoozle Doozle Dog. Joni was adopted from Española Humane in March 2020 and brought her fluffy ears and floofy tail to Albuquerque, where she has settled into a life of long walks, camping, being carried in a backpack when her paws get tired, and snoozing on the couch, bed or really any moderately plush surface. She's made lots of human and animal friends along the way and been a ray of light during tough years of remote work and limited social interactions. (Photo courtesy of Michelle Pang)