Julia Phillips appointed by President Barack Obama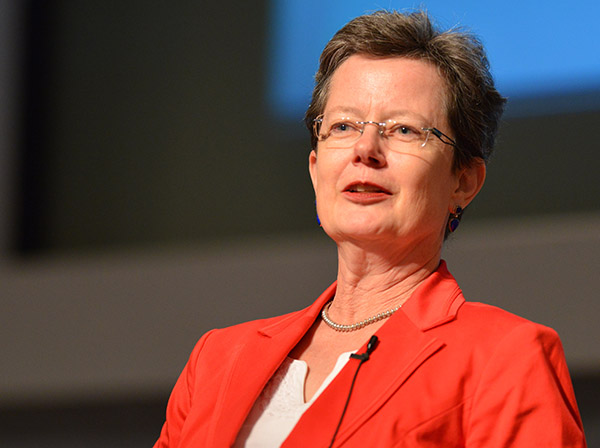 President Barack Obama has appointed former Sandia VP and Chief Technology Officer Julia Phillips to a seat on the National Science Board of the National Science Foundation.
The president said Julia and other new appointees and nominees to national boards and committees are "fine public servants who bring a depth of experience and tremendous dedication to their important roles."
"I look forward to working with them," he said.
Julia, a Sandia executive emeritus, says she was humbled by the six-year appointment. "When you look at the list of past and present members of the National Science Board, it feels like a who's who of people in science and engineering who have made contributions in personal research and in policy," she says. "I am honored to be among them."
The 25-member board supports the goals and functions of the National Science Foundation, including the duty to "recommend and encourage the pursuit of national policies for the promotion of research and education in science and engineering." It establishes the policies of the foundation by identifying issues critical to its future and approving strategic budget directions and new programs and awards. The board also serves as an independent body of advisers to the president and Congress on policy matters and education in science and engineering.
At Sandia, Julia was acting vice president and chief technology officer from 2013 to 2014, director of Laboratory Research Strategy and Partnerships Center 1900 from 2011 to 2013, director of Nuclear Weapons Science and Technology Center 1200 from 2010 to 2013, and director of the Physical, Chemical, and Nano Science Center 1100 from 2001 to 2010.
Before joining the Labs, Julia was a member of the technical staff and a manager at AT&T Bell Laboratories from 1981 to 1995. At Bell Labs, her research was in the areas of epitaxial metallic and insulating films on semiconductors, high temperature superconducting, ferroelectric and magnetic oxide thin films, and novel transparent conducing materials.
Julia was elected to the National Academy of Engineering (NAE) in 2004 and to the American Academy of Arts and Sciences in 2005. She is home secretary of the NAE, an elected position responsible for membership and running the organization's elections. She is a Fellow of the American Physical Society, the American Association for the Advancement of Science, and the Materials Research Society. She received the 2008 George E. Pake Prize of the American Physical Society for outstanding achievements in physics research combined with major success as a manager of research or development.
She has a Bachelor of Science degree from the College of William and Mary and a doctorate from Yale University in applied physics.
Julia, who retired in 2015 but continues to do technical work for Sandia and a few other DOE labs, says she was pleasantly surprised by the National Science Board appointment. "I didn't expect it," she says.
Her focus will be on keeping the US at the forefront of science and engineering. "I have a daughter in grad school in chemistry and I would like to think that she will have a great career in science research in this country," she says. "But science and engineering here are in a precarious state."
She says the US was the top dog in science from World War II until not long ago. "But now the published papers in high-profile journals are coming from all over the world," she says. "The economic competitiveness of our country depends on our continuing to be in that top group of nations in advancing science and engineering. I'm very interested in doing anything I can to try to help make that be the case. It's really important for our country."