Sandia Labs Director Jill Hruby addresses career options at nuclear issues conference
About 50 young nuclear scholars and professionals, joined by staff from Sandia and other national laboratories, came to Albuquerque from across the nation and overseas this month to discuss a broad swath of global issues and hear from President and Laboratories Director Jill Hruby and Deputy Labs Director and Executive VP for National Security Programs Steve Rottler.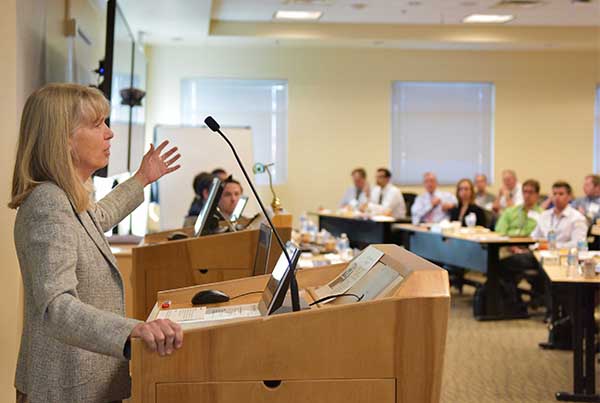 Jill welcomed attendees at the conference of the Project on Nuclear Issues outlining the breadth of Sandia's work and urging conferees to value intellectual openness, develop strength of character, and — like Sandians — "think ahead to technologies that will stand the test of time."
The policy research organization Center for Strategic and International Studies launched PONI in 2003 to develop the next generation of policy, technical, and operational nuclear professionals through outreach, mentorship, research, and debate. Sandia has hosted two previous PONI conferences.
Careers in support of the nation's nuclear weapons program are rewarding, Jill told attendees, noting that Sandia has been fortunate to see a "wave of incredibly talented young people coming through" — nearly a third of the staff over the past five years.
'It takes commitment, it takes curiosity . . .'
When she joined Sandia in 1983, Jill said,Mutually Assured Destruction and nuclear winter dominated the debate, and she soon got a chance to work on the highly sophisticated W84 warhead. Since then she's seen support for the Labs' primary mission wax and wane, leading to the current modernization program, the largest set of weapons activities for Sandia in the past 25 years.
Maintaining a viable stockpile can be frustrating for engineers, whose character is to make things happen, she said. "You have to believe that nuclear weapons are deterrents to be in this business."
Jill encouraged conferees at this early stage in their careers to develop an intellectual respect for the views of their colleagues and those outside the nuclear community, as well as strength of character, saying, "We need to be perceived as both smart and good."
"It takes commitment. It takes curiosity. It takes willingness to be open and honest in a way that very few other careers do in national security," Jill said.
Working important problems right away
In his keynote address to attendees, Steve related personal stories to illustrate the value of hands-on work on the nation's nuclear deterrent for those "dedicated to serving something bigger than oneself."
"I was part of the last generation to see underground testing," Steve said. While acknowledging the tests as remarkable instances of large-scale engineering, he emphasized that Sandia's ability to study and simulate the entire spectrum of weapon conditions goes far beyond what he ever thought possible.
"In some cases, our capabilities allow us to simulate with greater fidelity and precision than when we were testing underground," he said.
Sandia's efforts to attract its next generation have succeeded, Steve said, emphasizing the importance of providing challenging work and opportunities such as the Weapon Intern Program.
"They've been exposed to way more things than we were," Steve said, adding that he frequently praises the technical talent and initiative of newer employees to the veterans of Sandia's weapons program. "It's so important to put the new hires to work on important problems right away."
Steve expressed hope that some of the early-career PONI conference attendees might live long enough to see a world without nuclear weapons, but until then, maintaining the safety, security, and effectiveness of the stockpile will remain an excellent way to build a career based on national service.
"Each of you has an opportunity to make a profound impact on national and global security," he said. "There are many ways to serve."