Former Marine comes home to mentor Española Valley High School students
On April 28, instructional designer Tony Lona visited his hometown in northern New Mexico, taking with him a daylong cyber workshop for Española Valley High School (EVHS) students and a dedication to helping the community through educational outreach.
Thirty students — freshmen through seniors — participated in the workshop Tony and a team of Sandia cyber researchers designed and implemented. The day was filled with hands-on activities including a Python programming session, a disc and network forensics lesson, and an online capture-the-flag game.
From Marine to mentor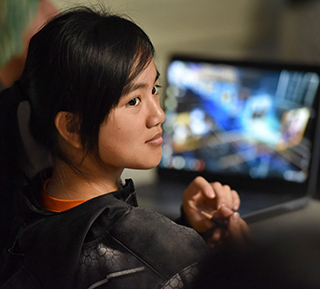 Tony joined the US Marine Corps after graduating from EVHS in 1997. When the gunnery sergeant and combat veteran retired in 2014 he knew he wanted to give back to his hometown. He joined Sandia later that year through the Wounded Warrior Career Development Program and saw an opportunity to use his instructional design skills to develop curricula that would engage New Mexico kids in STEM and put them on a path to meaningful and challenging careers.
"I wish I'd had a program like this when I was young. Growing up in Española Valley, we never heard about anything like this. I want to show these students the opportunities available to them in science, technology, engineering, and math fields and what it takes to be successful in those fields," Tony says.
Tracer FIRE for high school students
The workshop's curriculum was based on the Tracer FIRE program, a Sandia-developed cybersecurity training exercise for college students, which was scaled to a high school level.
"What we want to do is energize and motivate the students," said Kevin Nauer, Tracer FIRE founder and workshop volunteer. "We realize we can't make anyone an expert in a particular area in a day, week, or even a month, but we want them to realize they can apply what they're learning in school."
A dedicated team of volunteers
In addition to Kevin, cybersecurity researchers Seanmichael Galvin and Cedric Carter instructed the students and also shared personal stories about their career paths and what they find rewarding about their work. Tony's high school friends Jessica Montoya-Valerio, a business management professional, and Diego Lopez, a New Mexico filmmaker, spent the day at the workshop, sharing their perspectives as EVHS alumni and encouraging the students to continue their educations.
"We're hoping that this workshop will help the kids get into these fields in college, and I believe that with this foundation, they can be our next cyber warriors," Jessica says.
The school's teachers helped too. A week before the workshop, a group of EVHS math, science, and English teachers visited Sandia to become acquainted with the curriculum and the Tracer FIRE program so they could help facilitate the workshop.
"These students are 100 percent engaged," says Nenette Juarez, an EVHS math teacher. "They don't even mind not knowing the answers to the questions because they have the tools available to them to find those answers."
At the end of the workshop, Tony encouraged the students to continue the learning and collaboration they had kick-started that day, and to start a cybersecurity club at EVHS. He's already planning his next outreach project, a programming workshop for elementary students he'll take to Española this fall.