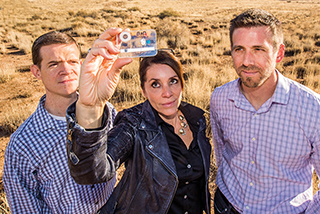 Sandia won the national Federal Laboratory Consortium's (FLC) 2015 Award for Excellence in Technology Transfer for a credit card-sized device that can detect bacteria that cause anthrax.
BaDx (Bacillus anthracis Diagnostics) works in places with no power, refrigerated storage, or laboratory equipment. It requires minimal or no training and makes anthrax testing safer, easier, faster, and cheaper.
The award recognizes employees of FLC member laboratories and non-laboratory staff who have accomplished outstanding work in the process of transferring federally developed technology. A panel of experts from industry, state and local government, academia, and the federal laboratory system judge the nominations.
A Laboratory Directed Research and Development (LDRD) project in Sandia's International Biological Threat Reduction Program led to BaDx. While a large team helped develop the detector, the FLC award recognizes Thayne Edwards (1714), Melissa Finley (6825), and Jason Harper (8631). They will receive the award April 29 at the FLC national meeting in Denver, Colo.
The technology was licensed to Aquila, a New Mexico woman-owned small business that specializes in the design and manufacture of technologies and services for nuclear security and international safeguards.
"It has been a remarkable experience to not only work with a Sandia research team in developing cool technology, but also with dedicated business partners to transfer that technology to," Thayne says. "The awards that have recognized these efforts are another reminder to me of the great people I get to work with and the reward of solving difficult problems together."
Jackie Kerby Moore, manager of Technology and Economic Development Dept. 1933 and Sandia's representative to the FLC, says the competition for this year's award was especially tough. "Sandia's BaDx technology transfer recognition was one of only three selected across all of the Department of Energy laboratories for successful technology development and deployment," she says. "It is very satisfying to be recognized by our peers."
A deadly bacteria
Bacillus anthracis, the anthrax bacteria, is found in soils worldwide and can cause serious, often fatal, illness in humans and animals. It can survive in harsh conditions for decades. Humans can be exposed through skin contact, inhalation of spores, or eating contaminated meat.
Currently, samples must be propagated in a laboratory that uses specialized tools requiring a consistent power supply not always available in the developing world, says Melissa, who helps veterinary labs in less-developed countries improve safety, security, and efficiency at diagnosing infectious diseases. "Working with dangerous samples like B. anthracis spores places laboratory staff at risk," she says. "Concentrating many positive test samples in a lab could also tempt someone to steal positive anthrax samples for nefarious uses."
Another barrier is cost. "Farmers in many developing countries don't make a lot of money, so they don't pay for diagnostic testing often," Melissa says. "When they do, they can't afford to pay a lot for it."
The most common diagnostic test for anthrax costs around $30, which is out of the reach of many farmers, perhaps discouraging them from testing animals they suspect as infected, Melissa says. The new device, which is like a pocket-sized laboratory, could cost around $5-$7 and does not require specialized tools.
Complex, sensitive, but simple to operate
BaDx needs no battery or electric power or special laboratory equipment. It's hardy against wide temperature variation and can detect very small numbers of
B. anthracis spores. A field technician puts a sample swab into the amplification chamber, which contains selective growth media. The device then uses a lateral flow assay, similar to a common pregnancy test, to detect the B. anthracis. Magnetically operated valves allow the sample to advance from stage to stage to complete the testing process. A colored line appears on the device several hours later if the test is positive for the bacteria.
The technician can then initiate a chemical process that sterilizes the device, avoiding the risk of positive samples accumulating and falling into the wrong hands. "The device amplifies the B. anthracis so it can detect as few as 100 spores instead of the typical 1-10 million required for detection," Jason says.
Jason and Thayne developed the microfluidics platform with the patent-pending magnetic valves that move the sample through the testing process. Bioscientist Bryan Carson, with technologists Jackie Murton and Bryce Ricken (all 8631), developed the selective media, and worked on building and testing the device, as well as helping to develop the decontamination strategy. Nanotechnology researchers George Bachand (1132) and Amanda Carroll-Portillo (8631) are working on improved strips for the lateral flow assay. Bill Arndt (6825), a researcher in the International Biological Threat Reduction Program, who regularly works in the developing world, provided guidance on device design.
"This is a wonderful example of where very sophisticated technology has enabled a practical solution to a very important problem" says Pete Atherton, senior manager of Industry Partnerships Dept. 1930. "Aquila has been a great partner for several years and their commercializing of this technology will help us fulfil our mission of serving the public good."
The FLC is a nationwide network of about 300 members that provides the forum to develop strategies and opportunities for linking laboratory mission technologies and expertise with the marketplace.
The FLC Awards Program annually recognizes federal laboratories and their industry partners for outstanding technology transfer efforts and has become one of the most prestigious honors in technology transfer. Since its establishment in 1984, the FLC has presented awards to more than 200 federal laboratories.