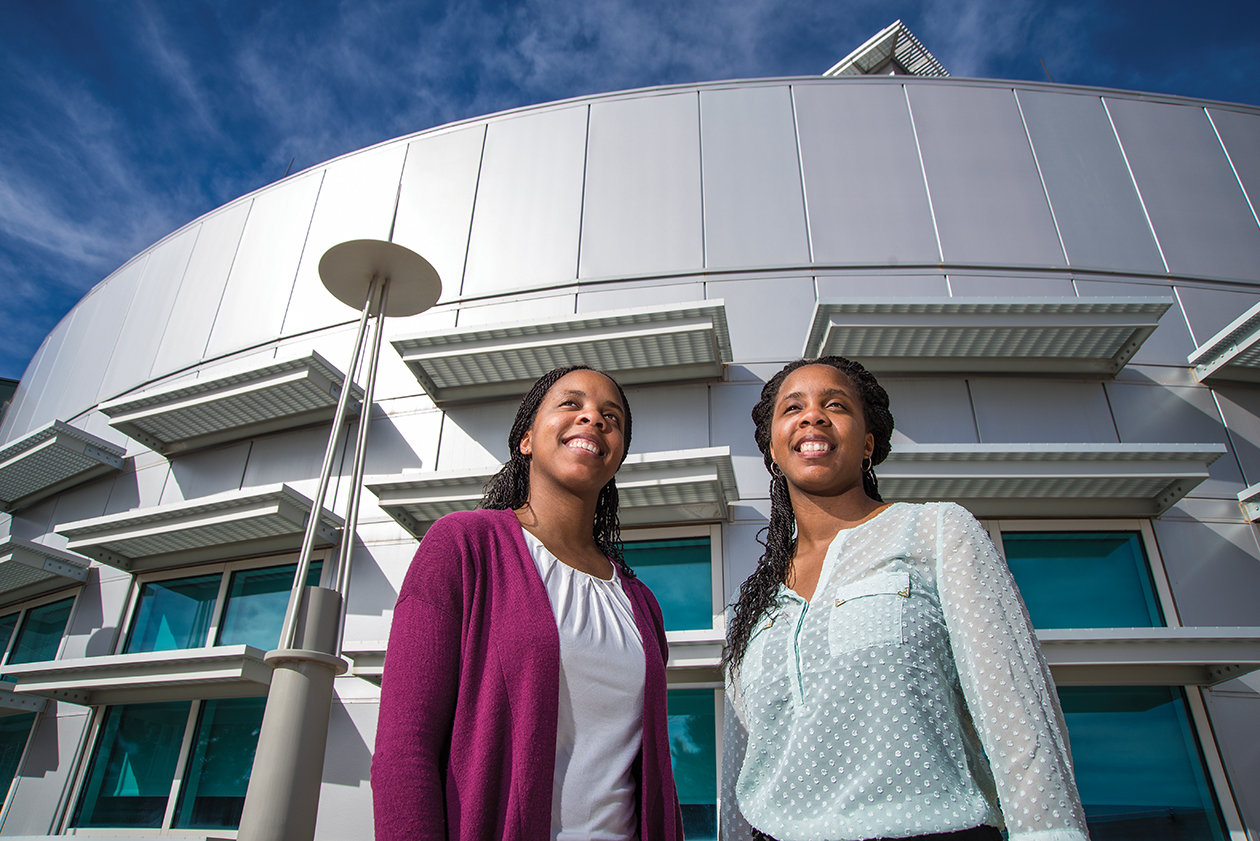 When twins Imani and Shauna Adams wrap up work as subsystem and components surety engineers at Sandia Labs, their day is hardly over. Most evenings — and weekends — they go from their jobs to their "kids," middle and high schoolers who need a nudge on the path to careers in science, technology, engineering, and mathematics (STEM).
"They see our faces a lot," says Shauna (422). "They think they can't do math, and we say, 'Why not? Here's a problem. Just try. There, you did math.' It's an awesome experience to see the light bulb come on, to see someone who thought they couldn't do math, who made all the excuses in the world, finally have a breakthrough. By the end of the day they accomplished something. They learned it's not really that hard if you just try."
Shauna and Imani (426) work with about 200 Albuquerque students a year through HMTech, sponsored by Sandia's Black Leadership Committee, competitions with the National Society of Black Engineers (NSBE), and other STEM outreach programs. HMTech exposes students to such subjects as anatomy, physics, fractals, robotics, coding, computer programming, and life skills including personal finance and resume-writing. NSBE sponsors national contests in science and math, robotics, and renewable energy.
Shauna and Imani, who are two of the advisers to the Greater Albuquerque junior chapter of NSBE, spend countless hours tutoring, organizing workshops, helping with contests, and mentoring students in engineering. They help them prep for the ACT and SAT college entrance exams. "We introduce our kids to career aspects and point out their options," Imani says. "We look at their class schedules and make sure they are on the right track. We show them where to find scholarships and push them to take advantage of summer opportunities through different STEM organizations."
In the process, they serve as powerful role models. "When they see you and hear you talk to their class, they say, 'She is an engineer. And guess what? She looks just like me,'" Shauna says. "Engineers look like all of us. When we go out and talk about engineering, it's good for students to see people who look like them and have similar backgrounds. They say, 'I can do this, too.'"
Gravitated to STEM
Shauna and Imani once stood in those shoes growing up in Hampton, Virginia, looking for a direction in life. They were latch-key kids — their father owned a business and their mother worked in community development and public housing — who came home to studies and science shows on TV like "Bill Nye the Science Guy" and "Zoom." They had been exposed to engineering by volunteers in the schools who worked at nearby research labs and companies such as Lockheed Martin Corp. and Boeing Co.
"Our parents weren't scientists, but we were always involved in science and math activities," Imani says. "You gravitate to what you're good at, and we were good at that."
In middle school, the twins were in gifted programs and part of the Cooperating Hampton Roads Organization for Minorities in Engineering, or CHROME, which supported STEM awareness and opportunities. "We hung around with like-minded people," Shauna says.
Their high school had an engineering focus, and they joined Project Lead the Way, a national nonprofit that offers resources and educational aid to K-12 students who want to enter STEM fields. Imani and Shauna took college-credit engineering courses through the program. They also did internships at NASA Langley through its Summer High School Apprenticeship Research Program, or SHARP, and attended the Hampton University Summer Transportation Institute focused on civil engineering.
"Our schools had many opportunities if you chose to take advantage of them," Shauna says. "We had a lot of positive role models."
In 11th grade, they had to decide whether to become math teachers, which they had in mind since childhood, or engineers. They didn't know which way to go. "When our pre-calculus teacher heard that he said, 'Why do you want to be a math teacher? Why not be an engineer?'" Imani says, "He said an engineer can always teach math, but a math teacher can't necessarily be an engineer. When he put it that way it made sense. Engineering allows you to do both."
Work and graduate school
The twins chose North Carolina Agricultural and Technical State University for college, majoring in mechanical engineering. North Carolina A&T is one of the country's Historically Black Colleges and Universities and a top engineering school. "We loved it," Shauna says. "It offered tremendous opportunities. It was an amazing experience."
Imani and Shauna were Thurgood Marshall and Intel Corp. scholars and attended national conferences in New York City and San Jose, California. They interned as systems engineers at Pratt & Whitney in Connecticut through the Tuskegee Airmen Golden Eagle Scholarship. One summer was spent apart, with Shauna at Proctor & Gamble in Ohio as a product engineer and Imani at Exxon Mobile in Louisiana as a technical engineer.
They heard about Sandia through their involvement with NSBE and the American Society of Mechanical Engineers, and from Labs recruiters who visited North Carolina A&T. They wanted to attend graduate school and learned of Sandia's Master's Fellowship Program, which allows people to be hired by the Labs, work summers, and attend graduate school during the academic year.
"We were introduced to the concept of working and going to school, and that sounded great," Shauna says. "You don't run across that kind of opportunity often."
They joined Sandia in 2011 and earned master's degrees in mechanical engineering two years later from Ohio State University.
Inspiring the next generation
Imani works in quality for batteries and power sources. "It allows me to understand the components and the requirements that go into the design," she says. "I work across components and weapon systems and get a good global aspect of the work at the Labs."
Shauna works on various subsystems for both the B61 and W88 programs. "We make sure that what we're building is being built according to requirements. Verification and validation methods are built into the design and testing," she says. "Surety engineers are involved every step of the process. We're one of the last signatures on the system."
They work on multiple projects and it's challenging, but they take the time to inspire the next generation, living by the NSBE code to excel academically, succeed professionally, and positively impact the community.
"I stand on the shoulders of a lot of other people," Shauna says. "They sacrificed and opened doors for me to get where I am today."
Imani says the opportunities she and her sister had growing up came from volunteers. "Someone was there to show us the way," she says. "It's our responsibility to do the same for someone else."