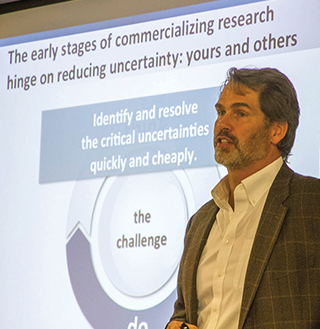 I nterest in entrepreneurship is alive and kicking in the Livermore Valley, if attendance at a recent meeting on the topic is any indication. In a Livermore Valley Open Campus room set up for 60, it was standing-room only as staff from Sandia and Lawrence Livermore national labs gathered on Jan. 21, to learn about Lab-Corps, a new DOE-funded "boot camp" on transitioning lab technologies to the market.
The two national labs, the UC Davis Graduate School of Management, and the Livermore-based
i-GATE Innovation Hub garnered a highly competitive $350,000 grant from the DOE's Office of Energy Efficiency and Renewable Energy (EERE) to help launch Lab-Corps, now in its pilot year.
"Throughout the national labs, we see an incredible commitment to our national security missions. Now, we're aiming to foster an equally deep commitment to expanding the societal impact of our results. Essentially, the Lab-Corps program will provide the tools the labs need to meet our obligation to be outstanding stewards of taxpayer-funded R&D," said Sandia/California site VP Stephen Rottler in his introduction at the meeting.
Putting experience to work
A key Lab-Corps strategy is to help the teams learn from the experiences of others. As a first taste of this strategy, meeting attendees listened to a panel of three entrepreneurs who had left the national labs to successfully market new products.
Each of the panelists encountered different ups and downs. For example, former Sandian Don Arnold, who helped found a company that was purchased by leading mass spectrometry supplier AB SCIEX, obtained funding for his venture after only one pitch. Greg Sommer, also a former Sandian, gave at least 150 pitches before finding investors for his point-of-care medical testing company, Sandstone Diagnostics.
Nonetheless, the three stressed several common themes.
"I really began to understand the importance of personal relationships," said Greg. "All of a sudden, life became a contact sport. I realized that people were not judging my idea — they were judging me and my team. Did we have the dedication to pull this off?"
Don agreed and added, "It's really important to be adaptable. After listening to potential customers, you'll probably find that you need to create a very different product than what you'd originally envisioned."
The third panelist, Lloyd Hackel, a former LLNL scientist who helped start the Metal Improvement Co., which was originally funded and then bought by advanced technology supplier Curtiss-Wright, offered this advice: "Do your homework, but don't be afraid of the unknown. You won't have all the answers when you start out — but you have to move forward anyway."
Entrepreneurial insights shared
Two others also spoke. Professor Andrew Hargadon, founder of the UC Davis Child Family Institute for Innovation and Entrepreneurship and author of "How Breakthroughs Happen: The Surprising Truth About How Companies Innovate," stated that innovation isn't about an idea, but rather about the network needed to bring an idea to the market.
Tracing the trajectory of penicillin to illustrate his point, Hargadon noted that several 19th century scientists, among them Lister and Pasteur, had isolated molds and understood their therapeutic benefits before the 1928 "discovery" of penicillin by Sir Alexander Fleming. It wasn't until Howard Florey in the early 1940s built a multi-faceted team with drug manufacturing and other expertise that penicillin came into use as a life-saving drug.
Jim Presley, managing director of Pacific Private Capital who has volunteered his time as a mentor and chair for the Lab-Corps Industrial Advisory Board, introduced attendees to the business canvas. This one-page business plan tool requires research into nine key areas — including value proposition, channels, and customer relations — with the most intense focus on listening to and understanding customers.
Tech transition boot camp
Lab-Corps will provide extensive training and resources to two teams selected competitively in late March 2015 from the Livermore Valley Site pilot program, along with two teams each from four other national labs. The objective of the pilot is to determine if training can enhance researchers' understanding of methods that would allow a wider audience to benefit from government investments in the national labs. If successful, the pilot could be expanded and funded for several years to meet the DOE goal of encouraging lab-wide entrepreneurial skills and bring a greater number of lab technologies to market.
Teams selected for Lab-Corps, will consist of a principal investigator, an entrepreneurial lead, and an industry adviser, and receive $75,000 to attend entrepreneur training and collect direct customer feedback on a potentially marketable technology in an area of interest to EERE.
At the end of 5–7 weeks of intensive training, market research, and networking over the summer, the teams will gain the information and know-how needed to complete and present the business canvas. Experience from the National Science Foundation's I-Corps program — the model for Lab-Corps — suggests that teams will need to talk to about 100 potential customers to complete their business canvas.
In essence, the teams will apply the scientific process to refine and validate their hypotheses — summarized as value propositions — about their product. The teams will gain a keen sense of their product's commercial potential and of the resources and teams needed to transition the product to the market, whether through industry partnerships, licensing agreements, startups, or other business opportunities.
Next Steps
Carrie Burchard of Sandia and Christine Hartmann of LLNL outlined steps for staff wishing to join the competition — or simply learn more about entrepreneurship.
Lab employees are invited to attend two free training programs: a series of weekly entrepreneur information sessions at the I-GATE Innovation Hub in downtown Livermore on Wednesdays at 4 p.m. and UC Davis entrepreneur training sessions held Thursday evenings. To sign up, members of the workforce can go to http://tiny.sandia.gov/Entrepreneurs and submit a request. Lab staff members who want to compete to be selected as a Lab-Corps team should contact Craig Smith (casmith@sandia.gov) to learn more.