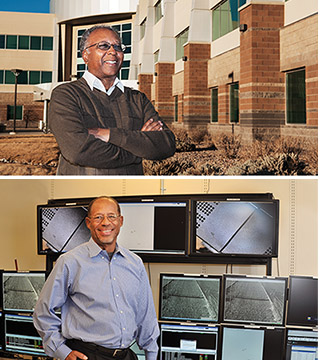 Sandia played a key role in the early years of the affirmative action and equal employment movements as one of the first organizations to sign on to the Plans for Progress (PfP), a program created by US employers to end discrimination and build job opportunities for minorities.
"Sandia has been exceptional in its efforts to recruit and hire African Americans and other minorities," says Ken Holley (35553), who joined the Labs in 1985 and devoted much of his career to recruiting. "We've been willing to hire the talent we helped produce through the early minority programs. To do what we have done to increase the number of minorities with graduate degrees in engineering and science is remarkable for a national laboratory. It was not easy, but Sandia was willing to push against the external and internal challenges. I'm very proud to have been part of it."
The earliest record of a non-discrimination policy at Sandia Corp., then operated by Western Electric Co. for the US Atomic Energy Commission (AEC), came in a Jan. 25, 1951, letter. It read, "The management of Sandia Corporation has always made a sincere effort to select the best qualified candidate for each vacancy without regard to race, color, or creed. In the future, we will certainly continue to observe this policy and will make sure that no group is treated unfairly."
A July 15, 1954, letter to Sandia holds the first reference to the policy being a requirement of AEC contractors: "The policy of the United States Government is to promote equal employment opportunity for all qualified persons seeking employment or employed in connection with government contracts." It continued that contractors will "not discriminate against any employee or applicant for employment because of race, creed, color, or national origin."
In 1961, President John F. Kennedy issued an executive order requiring that provisions of non-discrimination in employment be included in all new government contracts. The order included the first use of the term "affirmative action" to achieve non-discrimination. Around the same time, Western Electric became one of the original companies to join the PfP. Sandia moved from a policy of non-discrimination to one of affirmative action to address inequality. Sandia's Plans for Progress was signed by Labs Director Sigmund Schwartz and President Lyndon Johnson in 1964 and announced to the workforce in the Oct. 9, 1964, Lab News.
A range of programs
Sandia and other PfP companies adopted a wide range of programs covering the recruitment, hiring, training, and promotion of African Americans and other minorities. A Sandia memo read, "In the area of affirmative action it has been said that advancing basic human rights to the full potential of our nation's human resources capability even with the full cooperation of American business and industry will take many years. The problem is so great, so complex, so involved, and has been with us so long that change will be necessary for many years to come."
Sandia went on to launch a variety of equal employment — a concept that became part of the Civil Rights Act of 1964 — and affirmative action activities including opening the Labs to tours by minority leaders, attending state and national conferences, organizing youth opportunity programs, and participating in community-based vocational guidance and training. Labs officials met with representatives of Bernalillo County, Job Corps, Manpower Development Training, and minority organizations to seek job candidates.
Ivory Alexander, manager of Network Centric Security System Design Dept. 6523, says among the most successful programs was One Year on Campus (OYOC), which allowed the Labs to recruit minorities with bachelor's degrees, send them for a master's, then bring them back as members of the technical staff. Ivory was recruited from Michigan State in 1974 and earned a master's in electrical engineering from Stanford in 1975.
"OYOC, which evolved into the Master's Fellowship Program and opened to more people, was exclusively for minority candidates at that time," he says. "It was very attractive to me. I had a similar offer from Bell Labs but figured I'd give this place in the desert a try. That was 40 years ago."
He says OYOC brought a large influx of African Americans to Sandia in the 1970s. "There was a small group of African American employees in the early 1970s who met with the Lab president about increasing the opportunities for African Americans at Sandia. That occurred in parallel with affirmative action policies being put in place. I was in the right place at the right time."
Ivory recruited for Sandia the first 20 years of his career. The Labs had a list of Historically Black Colleges and Universities (HBCUs) where it focused recruiting efforts. HBCUs were established in the US in the mid-1800s to give African Americans access to higher education during the time of racial segregation. Sandia developed recruiting relationships with Prairie View A&M University in Texas, North Carolina A&T University, Howard University, and Tennessee State University.
Ivory says the Black Outreach Committee, now called the Black Leadership Committee, formed and helped recruits understand the Sandia culture. "While it wasn't always easy in the early days to build a career at Sandia as an African American, the Labs environment has changed over time and a recognition exists today that the benefits of and contributions by a diverse workforce enable Sandia to fulfill its mission," he says.
Lessons to learn
Shortly after joining Sandia, Ken became chairman of the Black Outreach Committee. He also headed up HBCU recruiting, which brought more African Americans to the Labs in the 1980s. "We hired a lot of talented students who have been here now over 20 years," he says.
But there were lessons to learn. The first was that African Americans needed more than just a primer on Sandia to form a lasting bond. "We thought all we had to do was put in a program and people would come," Ken says. "But coming to New Mexico for an African American was like going to the moon. We learned we had to develop social mentors in addition to technical mentors, or else they would come and leave and never come back."
Mentors showed the students where to live, shop, and socialize, and how to get around town. "This was right after the Civil Rights Act, so many of these kids were the first in their families to go to college, and we were grabbing them right then," Ken says. "A lot of them didn't have cars. We learned that the technical part didn't mean as much if you didn't have a life. Mentorship brought them back, and kept them coming."
Sandia was involved in other minority recruitment programs including the National Physical Sciences Consortium (NPSC), the National Consortium for Graduate Degrees for Minorities in Engineering and Science (GEM), and the Science and Technology Alliance.
"We used whatever program was necessary at the time to make it work. In the early years we were an unknown entity. The kids on campus knew about Los Alamos because of the history of the atomic bomb, but not Sandia. We had a job to do," Ken says. "About 25 Sandians recruited at the HBCUs in the early days and brought dozens of African Americans to the Labs. We were hiring into the OYOC program every year. It was a fascinating time."
Ivory says the years following the launch of affirmative action and equal opportunity were compelling at Sandia and set the stage for continuing efforts to build a diverse workforce.
"There was corporate buy-in and we built a reputation for diversity," he says. "I've been technically challenged and it's been enjoyable. If I had the chance to do it again, I would."