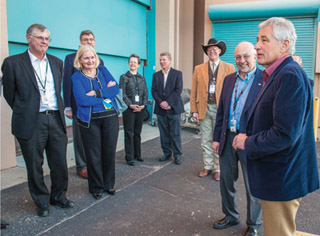 Secretary of Defense Chuck Hagel was impressed by what he saw in a recent 90-minute visit to Sandia — impressed not only by the Laboratories' technical capabilities but also by the talent of the people who work here.
"I was impressed with the kind of people I met today, what they're doing, how they're doing it, the commitment that they have made to this country and to the future of the country," Hagel told members of the national press corps who traveled with him on Jan. 8 to Sandia and the Air Force Materiel Command's Nuclear Weapons Center at Kirtland Air Force Base. "And they do it . . . because they understand the privilege of helping make this a better world."
He said he wanted to look at Sandia's work in nuclear weapons modernization and research and development because "that technological edge that we have been able to maintain is critically important, especially in the world that we're in today."
In R&D and such national security programs as weapons stewardship and nuclear monitoring, he said it's especially vital "to continue to be able to recruit and keep the cutting-edge minds in the world on our team."
Among those accompanying the defense secretary were Frank Kendall, under secretary for acquisition, technology, and logistics; Andrew Weber, assistant secretary for nuclear, chemical, and biological defense programs; Madelyn Creedon, assistant secretary for global strategic affairs; and Don Cook, NNSA's deputy administrator for defense programs.
The agenda included briefings on the modernization, safety, and security of the nuclear arsenal and proliferation assessment, along with walk-through tours of Sandia's nuclear weapons display area; the Microsystems and Engineering Sciences Applications complex, or MESA; and the Z machine facility. Sandia President and Labs Director Paul Hommert and Executive VP and Deputy Director for National Security Programs Jerry McDowell escorted Hagel, who also met with other Sandia officials and staff during his tour.
"It's very important to all of us who have some responsibility for the national security of this country to pay attention to every aspect and area of that responsibility," Hagel said as he wrapped up his day by briefing reporters at Kirtland's 377th Air Base Wing headquarters.
The nation's nuclear deterrent has prevented World War III, Hagel said. "We've had wars, but not on the scale of what we saw in the first half of the 20th century," he said.
The defense secretary noted that presidents since Richard Nixon have advocated reducing the nuclear stockpile along with corresponding Soviet/Russian reductions. However, he described himself as both a realist and an optimist. "I also understand the reality of the kind of world we live in," he said. "We can't just unilaterally cash in our nuclear chips."
"I think the reality is that we are going to continue to need nuclear deterrence for our future, but that doesn't mean it [the number of weapons in the stockpile] can't continue to come down and still protect our country and our security," he said. "It is the slogan: Peace through strength. As long as we have the strongest national security system of any nation in the world and we continue to keep that modern and strong, then we should also continue to promote that de-acceleration and bringing down the threat of nuclear weapons."
Hagel acknowledged that tight budgets will mean making choices about where resources will do the most good. "To modernize your nuclear weapons stockpile — ensure that they continue to stay secure and safe — takes resources. This country has always been willing to make that investment. I think we will continue to make it, and that Congress will be a strong partner," he said.