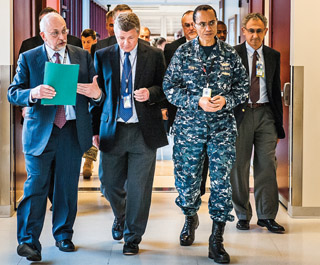 The commander of US Strategic Command (USSTRATCOM) says he has wanted to come to Sandia for years to see firsthand the Labs' nuclear weapons program work and "to connect the dots between the missions, where we are today with the capability, and where we have to be tomorrow."
Adm. Cecil Haney spent all day Jan. 10 touring Sandia, hosted by Sandia President and Labs Director Paul Hommert and Executive VP and Deputy Director for National Security Programs Jerry McDowell. Paul presented an overview of Sandia's work and briefed the admiral on the Labs' nuclear weapons mission. Haney also toured Sandia's nuclear weapons display area, heard about its work on weapon modernization programs and the advanced hypersonic weapon, participated in discussions about the nation's nuclear detonation detection system and space programs, joined a group of Sandia weapon engineers for lunch, and addressed Sandians at an all-hands meeting in the CNSAC auditorium.
Haney told the packed all-hands meeting that strategic deterrence often is framed as a discussion of the triad, with its legs of bombers, submarines, and ICBMs. "But it's more," he said. "It's the ability to detect in enough time, to process that information in enough time, to get that information moved through our command and control apparatus in enough time for the president to make a decision."
While he said he hopes that scenario never plays out, putting all the deterrence pieces together gives the strategy its credibility.
Sandia's work plays a role, Haney said in an interview with the Lab News following the all-hands session. "Just the snapshot that I got today in seeing some of the work that's being done, the chance to meet these incredible people who are behind the scenes, to me is also a part of our nation's deterrence."
"We have a mature arsenal when you look at our strategic capabilities today in terms of warheads," and it's inspirational "to know we have gotten as much life as we have out of what we have today but even more to see the talented people making sure we can sustain this capability, as we must, for some time to come," he said.
Haney was joined on the visit by Steve Callicutt, USSTRATCOM's director of capability and resource integration; Brig. Gen. Jim Dawkins, principal assistant deputy administrator for military applications in defense programs for NNSA; and Jim Colasacco, division chief of USSTRATCOM's Global Strike Capabilities Division, Global Strike.
Haney came to Sandia with strategic deterrence in mind, but said he also was impressed by the Labs' other national security work. He mentioned seeing a display of Sandia's contributions, decade by decade. "I admire that, and I'm glad to see Sandia has taken the time to post that history so it can be a reminder to all who come to visit, but also a reminder to the workforce," he said.
He was familiar with Sandia's work before his visit, but said he wanted to put "boots on the ground" to get a more personal understanding and to talk to Sandians about their work and what motivates them. "That ultimately gives me a deeper appreciation than I came with," said Haney, who said he was struck by how passionate Sandians are about their mission.
He ended the interview with a message to Sandia's workforce: "I know I can count on them to maintain the standard of excellence that Sandia was built upon. I can't thank them enough for the support they have, and will continue to provide, for the mission areas of US Strategic Command but also for their dedicated efforts for our country at large."