Project converts dairy wastes to energy, other products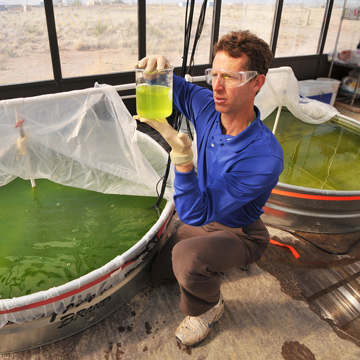 It's not easy being green. But researchers at Sandia are making green happen. Green — as in algae green.
As part of a project to create fuel out of algae, the researchers are growing green algae in a nutrient-rich liquid chemical equivalent of dairy effluent (the liquid remaining after bacterial digestion of the dairy manure). The algae are typically cultured for several days, followed by harvesting and dewatering, after which the algal oil is extracted and converted into a biofuel.
"People have been growing algae for centuries for food supplements for use by man and animals," says Cecelia Williams (6313), project lead.
Beginning in the 1950s, algae were also recognized as a potential feedstock for energy and biofuels. Between 1978 and 1996, DOE funded the Aquatic Species Program with $25 million to investigate the production of biofuel from microalgae. That program was terminated in the mid-1990s due to low petroleum prices and other priorities. It has only been in the last few years that algae have received renewed interest as a potential source of fuel.
Recently Cecelia and other Sandia researchers grew green algae in a 12-by-30-foot greenhouse. They started by developing a simulated dairy effluent, a nutrient-rich liquid. The solids from the digestion of dairy manure can potentially be used to develop fertilizer and feed, and the liquid can be a nutrient source for algae
The algae produce lipids, the most useful being neutral oil made up largely of triacyglycerides (TAG) that can be converted to biofuels. The liquid-based algae are "dewatered," followed by post-processing to extract the TAG.
Eliminating problems
Cecelia says that growing algae for biofuels eliminates many problems associated with traditional biofuels.
"The current generation of biofuels [starch-and sugar- based ethanol and oil crop-based biodiesel] rely on the use of commodity crops and therefore compete for use of food crops, primarily corn," she says. "Also, they are very farm-intensive and use a lot of good farming land, fuel and fertilizer inputs, and fresh water."
Algae ponds, on the other hand, can be put on marginal land and grown with non-fresh brackish water, water produced from energy mineral extraction (petroleum, natural gas, coal-bed methane), or nutrient-loaded wastewater from municipal and agricultural sources. The Southwest has the potential for being a leader in manufacturing this new type of biofuel because "it has lots of barren land that can't be used for anything else, lots of sunlight, and a lot of marginal water," Sandia researcher Brian Dwyer (6312) says.
Sandia scientist Ron Pate (6313) notes that Sandia is bringing into play its scientific and engineering expertise to grow and process specific types of algae for biofuels and other useful co-products. Sandia's work in this area ties into broader biofuels efforts supported by DOE's Office of Biomass Program (OBP) that focus on addressing challenges to commercially viable algal biofuels production. This includes Sandia participation in the development of the National Algal Biofuels Technology Roadmap Report, which is still in preparation, and partnering with others on proposals to establish consortia for algal biofuels and for advanced fungible biofuels with potential funding from OBP. The Algal Biofuels Consortium (ABC) specifically proposes a broad-based collaboration with Sandia and other national labs, industry, and university partners that would pursue research and development of algal biofuels as an affordable, scalable, and sustainable solution that can contribute significantly to meeting the nation's transportation fuel needs.
Potential jobs for New Mexico
Cecelia anticipates the Sandia research to have the potential to provide new jobs and economic development to New Mexico, the seventh-largest dairy producing state in the nation. It employs more than 5,000 people and has an annual impact of nearly $2.7 billion.
The 340,000 dairy cows in New Mexico produce large quantities of manure and nutrient-rich effluent water that represent a significant waste management problem and regulatory expense to the state's dairy industry. These and other agri-industrial waste streams represent a valuable and underused feedstock for recycling of energy, biofuels, reusable water, and other co-products. The DOE Algal Biofuels Technology Roadmap currently in draft suggests the use of non-freshwater sources, including agricultural effluent, for algal biomass production. Besides providing a source of non-fresh water and the recycling of needed nutrients, the use of these waste streams in an integrated biorefinery will help alleviate disposal regulatory requirements on dairies and other confined animal feeding operations (CAFOs) in New Mexico and the broader United States.
Making algal fuel competitive
Sandia's greenhouse algae project was conceived by Ron Pate and Kyle Hoodenpyle (Ag2Energy) and has been funded by the New Mexico Small Business Association (SBA) and the New Mexico Technology Research Collaborative (TRC). The SBA funds Sandia to work with the private-sector partners Ag2Energy and the Pecos Valley Dairy Producers (PVDP), one of the largest collections of dairy producers in New Mexico. TRC funding lasted one year, and the SBA funding is in its final year of a three-year funding cycle.
Future money to research dewatering algae and monitoring the health of algae ponds will come from Sandia's internal Laboratory Directed Research and Development (LDRD) program and possibly new direct-funded projects from DOE. This research will also allow the greenhouse algae ponds to support other aspects of Sandia's algae biofuel research portfolio by using the data and information generated from these experiments to evaluate or verify both systems and process models. These models are essential for understanding the economics and risk associated with both the R&D and the up-scaling that will be required to make algae an economically viable fuel source for the nation. The ultimate goal is to make algae-derived biofuels competitive with petroleum-based fuels.
Project partners
Algae project members include Sandia, University of New Mexico, and New Mexico State University. Members are collaborating with A2E and Pecos Valley Dairy Producers (PVDP) to convert dairy wastes to energy and other products.
Sandia is responsible for overall project management and reporting and provides technical leadership. As project leader, Cecelia Williams (6313) oversees and coordinates work and contributes to data analysis and assessments. Brian Dwyer (6312) is the lead field engineer to design the algae growth system and automated data collection system, as well as biological testing and field tests. Brian was assisted by Bruce Reavis (4133) on the system design, construction, and upgrading the greenhouse to a BSL1 status and Lucas McGrath (6316) assisted with the design and programming of the automated data collection system. Jackie Murton (8622) cultured the algae and provided stock algae solutions for inoculating the algae tanks in the greenhouse.
The primary role of David Hanson, UNM, was to isolate indigenous algae species and conduct growth experiments over a range of expected growth, nutrient, and environmental conditions. Shuguang Deng of NMSU provided the algae oil extraction and conversion expertise.
As the commercial partner, A2E conducted large- scale algae cultivation field tests and will work with the PVDP to lead business planning and commercialize the system. The PVDP have formed the Pecos Valley Biomass Cooperative (PVBC) to commercialize processes for converting dairy wastes to energy and other products. The PVBC is also exploring options to locate an algae plant in Roswell, N.M., close to the dairies.