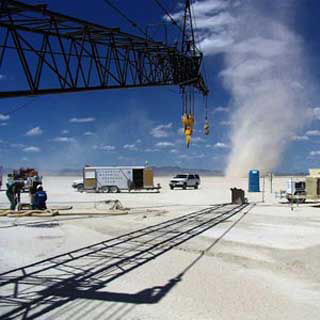 Tonopah Test Range (TTR) is the testing range of choice for all national security missions. Sandia conducts operations at TTR in support of the Department of Energy/National Nuclear Security Administration's weapons programs. Principal DOE activities at TTR include stockpile reliability testing; arming, fusing, and firing systems testing; and the testing of nuclear weapon delivery systems. The range also offers a unique test environment for use by other U.S. government agencies and their contractors.
Located about 160 miles northwest of Las Vegas, TTR is an immense area of flat terrain ideal for rockets and low-altitude, high-speed aircraft operations. Situated between two mountain ranges, TTR's remote location and restricted airspace ensure that tests can be conducted with a high degree of safety and security.
One of the primary facilities at TTR is a large airfield, consisting of a 12,000-foot (3,700-m) runway and numerous hangars. TTR offers a wide array of signal-tracking equipment, including video, high-speed cameras, and radar-tracking devices. This equipment is used to characterize ballistics, aerodynamics, and parachute performance for artillery shells, bomb drops, missiles, and rockets.
In recent years, specific test activities at TTR have included the following
Trajectory studies of simulated weapons
Air drops
Gun firings
Ground-launched rockets
Air-launched rockets
Explosives testing
Static rocket tests
Ground penetrator tests
Visit the Tonopah Test Range website for more information.