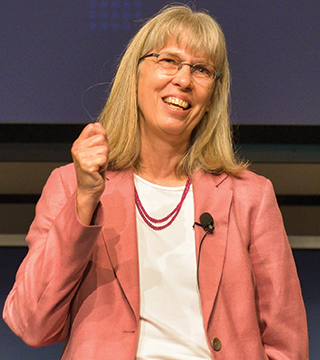 Jill M. Hruby has been named the next president and director of Sandia National Laboratories, the country's largest national lab. She will be the first woman to lead a national security laboratory when she steps into her new role July 17.
A Sandia staff member and manager for the past 32 years, Jill most recently served as VP of Energy, Nonproliferation, and High-Consequence Security Div. 6000 and head of Sandia's International, Homeland, and Nuclear Security Program Management Unit. She will be the first woman to lead any of the three DOE/NNSA national security labs — Sandia, Los Alamos, and Lawrence Livermore national laboratories. She succeeds Paul Hommert, who is retiring July 16 after serving as Sandia president and Laboratories director since 2010.
Jill's appointment was announced to the Sandia workforce Monday morning by Rick Ambrose, who chairs the Sandia Corp. board of directors and is executive vice president of Lockheed Martin Space Systems. Sandia Corp., a wholly owned subsidiary of Lockheed Martin, operates Sandia for the NNSA.
Right combination of qualities
"The board looked at a number of outstanding candidates," Ambrose said. "We saw right away that Jill has the right combination of technical expertise and strategic vision to lead Sandia into the future. With more than three decades of experience at Sandia, she understands the core national security missions and scientific foundations that are fundamental to the Labs' success."
Jill said she was at the same time honored and humbled by her selection.
"Leading Sandia is a tremendous responsibility because of its importance to the security of our nation and the phenomenal engineering and scientific talent here," Jill said. "I embrace the opportunity to maintain the US nuclear deterrent and lead Sandia in solving the difficult security challenges we face as a nation. I'm proud to be the first woman to lead an NNSA laboratory, but mostly I'm proud to represent the people and work of this great lab.
"Paul is leaving Sandia with the necessary fundamental elements in place, and it's personally gratifying to follow such a dedicated, visionary leader. I've assured him, the National Nuclear Security Administration, and the Department of Energy that we will continue to deliver on our weapons Life Extension Programs on schedule and on budget. We also will build on Paul's recent efforts to strategically advance our broad national security contributions, strengthen our basic research, and expand the transfer of Sandia innovations to the US economy."
Ambrose echoed Jill's appreciation of Paul's service to Sandia.
"During Paul's five-year tenure, he strengthened the development of Sandia's people, expanded its partnerships with universities and small businesses, and continued its longstanding focus on safety, security, and exceptional performance," Ambrose said. "We're grateful for his leadership and his contributions to Sandia and the nation."
'The ideal national lab director'
Paul called Jill the "ideal national lab director" and praised the board for selecting her.
"Jill is a person of tremendous talent, someone who will make sure Sandia is ready for expanded roles with a wide variety of new strategic customers. We have a tradition of delivering with excellence on our national security commitments, and there is no one more qualified than Jill to lead those efforts," Paul said.
In an all-hands meeting on Monday morning shortly after Jill was announced as Paul's successor, she laid out her immediate priorities:
Talent development: "We have to make sure that we provide the environment for everybody to bring to their job every day their talent and the opportunity to learn from others."
Mission delivery: "The highest priority mission [is] our nuclear weapons mission. We have to ensure a safe, secure, and effective stockpile. . . . The new way that we think about this is that we can't deliver on the nuclear weapons program unless we have a broader set of missions to attract, retain, and challenge our workforce."
Maturing of the mission areas: "We're not just a multi-program laboratory; we're a multi-mission laboratory. We deliver on many missions and over the long term we make very significant contributions in mission space. And I want to continue that. It exercises our strategic muscle; it makes us think; gets us ready; [helps us] anticipate, so we can be leaders in the nation and not just wait for sponsors to ask. We'll be ready."
'It'll be fun'
Recognizing that many members of the workforce don't yet know her well, Jill offered a few comments about her personal style: "I'm a very direct person," she said. "I am not afraid to share my opinions and I love listening to your opinions, so please share your opinions freely with me. I'm looking for that. I've been told I ask a lot of questions — is that true? — and I really enjoy humor. In fact, my husband and my daughters tell me every time I get a new job, 'You better warn them about your awful sense of humor the first thing you do.' So I'm warning you. You'll get used to it. It'll be fun."
During a news conference for local media following the all-hands meeting, Ambrose said replacing Paul Hommert was "no small feat."
"This is a unique job with a unique set of skills in such diverse areas as nuclear weapons, national security, technology development, and scientific research," he said. "We believe Jill is the right person for the job."
Regarding her appointment as the first woman to lead a large national security laboratory, Jill told reporters, "Sandia started on this path a long time ago. The Laboratory has long welcomed diversity and inclusion and has been a leader in hiring and developing diverse talent. That paid off for Sandia being the first to hire a female director. I am thankful to the leaders who gave me a chance.
"Isn't it great? In my wildest dreams, I never imagined this. Throughout my career I have worked hard and learned new things. Science and engineering are not dominated by women, so this sends a good message."
Joined Sandia in 1983
Jill joined the technical staff at Sandia's California laboratory in January 1983, working in thermal and fluid sciences, solar energy research, and nuclear weapon component research and development. During her career, she also has done research in nanoscience, hydrogen storage, mechanical-component design, and microfluidics.
She earned her first management appointment in 1989, and held technical leadership positions at the California laboratory in polymer and electrochemical technologies, materials synthesis, and inorganic and physical chemistry.
Beginning in 1997, Jill served as a senior manager in organizations responsible for weapon components, microtechnologies, and materials processing. She was named a technical director in 2003. For the next seven years at Sandia's California site, Jill led the Materials and Engineering Sciences Center and its work in hydrogen science and engineering and micro- and nanosystem science and fabrication, and then the Homeland Security and Defense Systems Center, fostering Sandia work in systems analysis, applied research, and systems engineering, primarily for homeland security and nuclear weapons missions.
Came to New Mexico site in 2010
Jill came to Sandia's New Mexico site in 2010 as vice president of Energy, Nonproliferation, and High Consequence Security Div. 6000 and of the International, Homeland Security and Nuclear Security Program Management Unit. In that capacity, she was responsible for more than 1,300 Sandia employees in such diverse areas as nuclear security and nonproliferation technologies; chemical and biological defense and security; homeland security and counterterrorism; and energy technologies.
A native of Ann Arbor, Michigan, Jill earned a bachelor's degree from Purdue University and a master's from the University of California at Berkeley, both in mechanical engineering. She has authored numerous technical publications, holds three patents in microfabrication, and won an R&D 100 Award in solid-state radiation detection. She serves on DoD's Threat Reduction Advisory Committee and the Board of Chemical Science and Technology for the National Academy of Sciences. She has served on several university advisory boards, on community boards in Livermore and Albuquerque, and as the campus executive at the Georgia Institute of Technology.