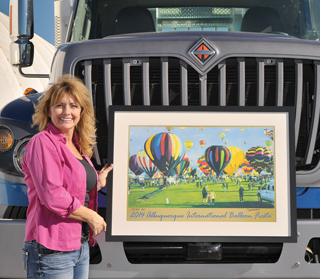 Semiramis Novak can drive a semi tractor-trailer, run a forklift, and tame a jackhammer. She has the presence of a model and a voice bred on the streets of Philadelphia.
She's tough, but beneath lives the soul of an artist.
Semiramis (pronounced Sim-merm'-mis), who drives heavy trucks for the Reapplication Team (102641), is one of New Mexico's premier watercolorists. The official poster of the 2014 Albuquerque International Balloon Fiesta opening Oct. 4 is her painting, a major recognition.
"I am psyched about it," she says. "It has given me exposure I didn't have before."
Semiramis loves to operate machinery but says her passion is painting. Her first artworks, at age 7, were car-sized drawings of Batman chalked on the streets. "I would come home and my mom would say, 'Are you chalking again?' I'd say "No, ma, not me.' And she'd say, 'You're lying, your knees and elbows are black.' So I cleaned up my knees before going home," she says. "I could draw really well."
Semiramis took art classes in Pittsburgh but when she needed a job found one operating a forklift. "I've always enjoyed driving. I drove tractors in the country, snowmobiles. Anything to drive was exciting to me," she says. "I liked equipment and learning about it."
A flyer changed everything
Semiramis got married and moved to Colorado. There her artwork took a back seat as she worked in the Coors brewery plant, divorced, got a job driving trucks for DOE at Rocky Flats, remarried, and had children.
One day a small flyer came in the mail announcing a watercolor class by artist Don Cohen at Red Rock Community College. "I signed up and ended up taking four semesters," Semiramis says. "Besides having a great teacher, there were other teachers in the class and I picked up ideas from them. They taught me a lot and I'm still friends with them today. Don Cohen is still my mentor."
The class helped Semiramis blossom as an artist. "Prior to that I was just drawing and sketching. I never tried to exhibit or sell art," she says. "I started entering shows and selling paintings. My art just boomed and from then on I was painting all the time."
Semiramis works in a small studio next to her garage. She paints in layered colors in large format, with many pieces measuring 4 feet by 6 feet, from photos she draws in graphs onto sheets of watercolor paper. "Under every great painting is a great drawing," she says.
Her subjects range from landscapes to cityscapes to close-ups of cacti and flowers. A large painting can take 100 hours to complete. She shows around the world, including exhibits of the American Watercolor Society, Rocky Mountain National Watermedia, and the MasterWorks of New Mexico. She is a member of the New Mexico Watercolor Society, and was invited to join the elite Wet Brush Group of artists who critique each other's work.
The chosen poster
She did the balloon fiesta painting in 2004 shortly after her family moved to New Mexico from Colorado. She and her husband Frank Novak (102651) both joined Sandia within a few years of arriving in Albuquerque.
"I loved being in the midst of all those people and balloons. I told my kids and husband to walk ahead and I took pictures," she says. The painting, at more than 6 feet wide, was too big for shows so it moved over the years from a hotel to a restaurant.
Last year Semiramis decided to do more to promote her artwork, and thought about the balloon fiesta poster and her big painting. She called the organizers in July and was told entries were being accepted that week. "I dropped it off and a week goes by, then two, then three, then a month. I called to see when they wanted me to pick it up and they said it had been chosen as the poster," she says.
The fiesta bought the original and sells the posters for $150 each with signature and $50 without. Semiramis will sign posters in a booth at the fiesta. It is selling well so far and is expected to sell out. "The notoriety is great," she says. "Now friends and neighbors want to buy my originals."
Semiramis paints every weekend and is grateful for her success. She gets to work early and walks in the Reapp yard to watch the sunrise. "It's my walk of thanks," she says. "I love art. My paintings are like my children. You build a relationship as you create a painting. Even when I was 7 there was something about drawing and getting it right. I put my heart and soul into it."