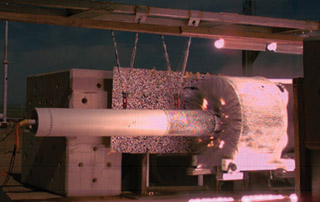 Sandia has conducted the first supersonic tests on its 10,000-foot Rocket Sled Track for the B61 modernization program since major renovations at the facility.
The two tests in late July and early August were part of a series for the B61-12 Life Extension Program that included five sled track tests this summer. The first three were conducted on Holloman Air Force Base's sled track at slower speeds than the tests performed on Sandia's track, says test director Jason Petti (1534).
Matt Brewer (2159/6512), test engineer for the B61-12 program, says the successful Sandia sled track tests mark another achievement in the revitalization of an important capability. The B61-12 Systems Org. 2150 and Validation and Qualification Org. 1530 performed the tests to characterize impact fuze performance and gather model validation data, with test conditions representing both the steepest impact angle and fastest velocities predicted for normal environments, he says.
The tests will lead to a similar series with two full B61-12 systems tests next fiscal year. The sled track plays an important role in overall weapon system design and qualification not only by verifying weapon performance, but also by validating system models generated by Solid Mechanics Dept. 1554.
Jason says it's been a long process to get a sled track team put together and trained since a 2008 accident that shut down the facility after a motor ignited prematurely while employees were preparing for a test.
Most test team members have joined in last few years
Most current Org. 1530 staff members transferred in or were hired after 2009. Separate departments had to learn to work together to coordinate activities, develop trust, and feel comfortable conducting tests at ultra-high speeds, Jason says.
Test planning emphasized safety, including procedures to ensure no one was within a defined hazard area during the tests. Several years of work also went into the firing system design for the rocket motors, with several layers of safety built in to ensure the rockets go off only when intended, Jason says.
"We've had to learn about facilities, learn how to conduct tests under the new Work Planning and
Control Criteria for Safe Design and Operations with a lot more scrutiny for safety and the rigor that we go through to prove that a test is safe, that things are going to work as intended," he says.
The supersonic test on July 22 was the third sled track test since early 2013 when significant changes to sled track operations and equipment designs were implemented at the 10,000- and 2,000-foot sled tracks. "So it's a big milestone for everybody out here that we've been able to get to this point," Jason says.
The team has taken gradual steps to resume testing in supersonic conditions, Jason says. Its first two tests last year after the track resumed normal operations were below the speed of sound. Conducting tests at supersonic speeds leads to additional challenges and considerations such as the weather, since poor weather can refocus a sonic boom, increasing the sound hazard in the test area or even potentially causing the pressure wave to break windows.
Major upgrades
At the same time the team was being reconstituted, the sled track underwent a major upgrade as part of a Test Capabilities Revitalization program. Among other things, that work replaced the wiring systems for test control and instrumentation — some 120 miles of new wire along the track.
Renovations meant the team had to test new equipment to make sure it operated as expected, as well as ensure older equipment remained in working order. "It's been an additional challenge for the team," Jason says.
"Having to pull the team together in a few years and get to the point where we could get these tests conducted says a lot about their professionalism, their ability to come together and work together to develop the infrastructure and the capabilities we needed to get the tests off," Jason says. "There are a number of people who probably doubted we could get back to this point as quickly as we have. The team takes pride in the fact that we've been able to do that and do it safely."