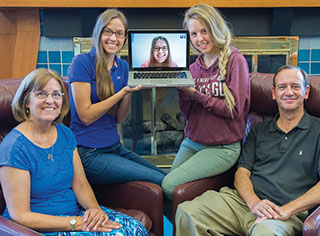 Stephanie, Alicia, and Megan Williams share more than a birthday. They each speak a second language, excel in a sport, give back to the community, and carried higher than a 4.0 grade-point average at Albuquerque Academy.
Being triplets fueled a lot of that success. "We have a competitive edge. We're tiger sisters. We push each other forward," Stephanie says. "It's always been that way. We support and are proud of each other, but we feel compelled to get on the same level."
All three Academy seniors applied for Lockheed Martin Foundation scholarships in the 2014 National Merit Scholarship program. All three got a letter back in July and all three got a yes.
"I was very proud and grateful," says their dad, Steve Williams (5954). "I know how hard they've worked and how well they've done."
The Williams family is changing fast. Steve and his wife Jayne, a former Sandian, will have an instant empty nest when their triplets leave New Mexico for colleges in California, Illinois, and New York, and the girls will live away from each other for the first time in their lives.
"I'm trying not to think about our empty nest after they're gone," Jayne says. "I'm excited for them that they're heading off and getting settled in their new lives."
Steve says he and Jayne wanted their daughters to make their own choices and go to the colleges that best fit their interests. The girls say they briefly considered attending the same school, the University of California Los Angeles, but really wanted to head in different directions.
"We talked and it was a hard decision," Alicia says. "But our interests are not the same."
Stephanie will attend the University of Chicago majoring in genetics and philosophy. Alicia is going to Cornell University in Ithaca, NY, to study statistics. And Megan is already settled in at UCLA studying computer science like her mom and dad.
An ultrasound surprise
Steve, a Virginia native, came to Sandia in 1980 with a master's degree in computer science from Purdue University. He has worked in different departments but always in computing. Jayne, of Missouri, joined the Labs in 1984 with bachelor's degrees in mathematics and computer science and a master's in computer science from the University of Missouri Rolla. They met in 1986 and married three years later. Jayne was promoted to manager of Secure Communications (SECOM) not long after.
The triplets were born in 1996. "In an early ultrasound they saw one baby, then another, then said there was a third. I said, 'Wait, let me see that screen!'" Jayne says. "We were very excited about it. I worked up to the last month, and the girls were each over 5 pounds and healthy. We were very blessed."
Jayne left Sandia to be a stay-at-home mom. She went to work in administration and community outreach at Albuquerque Academy after the girls started middle school there. They attended Albuquerque Public Schools through fifth grade.
"Raising triplets is all we know," Jayne says. "It was wonderful. They were their own little play group, and they had so much fun." Steve says when the girls were up late studying calculus or other tough subjects in high school, "we'd hear them cracking up laughing. They could enjoy themselves even under pressure."
Megan says conflicts were few. "We were very close," she says. "It was nice to have people around at all times who knew what was going on and what you were going through."
Sports, art, and music
The girls all gravitated to science and math but developed different activities. Alicia and Stephanie played club volleyball, and Megan captained varsity golf, making all-state the past two years. Megan and Alicia studied Chinese and went on a class trip to China, and Alicia is teaching herself Korean. Stephanie studied Spanish and visited Spain with Alicia. Alicia is an artist, Stephanie excels in writing, and Megan plays guitar.
They did summer internships at Sandia and the University of New Mexico in materials, biomedical engineering, and nanoparticles. They heard about the Lockheed Martin scholarship from Steve, and say they are thrilled to have won it. "We all went, 'Yes!'" Stephanie says. "We were very happy about it, and very grateful."
About a month ago, Jayne, Stephanie, and Alicia drove Megan to Los Angeles. "It was sad," Alicia says. "We spent so much time together growing up. It's been hard. We FaceTime every single night."
Steve stayed home, where he said it was "quiet and eerie." "You realize how much you will miss them," he says. "But I know the excitement that lies ahead for them."
The family is already planning reunions at Thanksgiving and Christmas. "Oh, we plan to see a lot of each other," Jayne says. "I'm already watching the airline specials. And thank goodness for Skype."