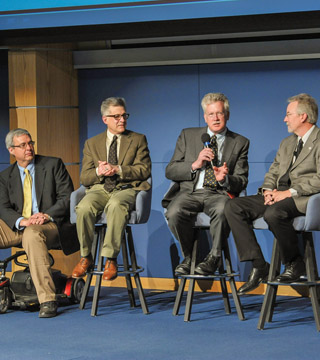 The qualities Sandia Fellows are expected to demonstrate are not for the faint-hearted, as acting Div. 7000 VP and Chief Technology Officer Julia Phillips made clear when she opened a celebration of Sandia's four extraordinary research-leaders honored as Fellows during a National Engineers Week forum, "Advancing the Frontiers of Science and Engineering."
And yet it seemed that as each Fellow — Ed Cole, John Rowe, Jerry Simmons, and Jeff Brinker — described his research, each relished the challenge.
Among the formidable requirements listed by Julia were that Fellows should "measurably shape the face of Sandia through research, influence, and model behavior, showing leadership at all levels, and strategies in key technical areas." Fellows are expected "to speak truth to power — speaking their minds respectfully of course, but firmly and with conviction" to Sandia management. They should bring in other researchers, mentor the next generation of Sandians, enhance Sandia's visibility and prestige on a high level, and have significant impact on national policy and national dialogue on matters important to Sandia.
Sandia has named only nine Fellows in its history. Five are retired: Jim Gosler, Gordon Osbourn, Gus Simmons, Wendell Weart, and Walt Herrmann.
* * *
To read about each Fellow's talk see the stories and photos below.
Sandia Fellow Ed Cole: Finding invisible defects in integrated circuits
Ed Cole demonstrates in one person the two sides of Sandia: open scientific research and "closed" research on pressing national security challenges. His pioneering work and leadership in applying failure analysis techniques to the most challenging national security problems has led to novel methods for finding hidden defects.
Ed's 12 patents have been cited in more than 500 other patents, resulting in more than 60 licenses and generating approximately $1.6 million in royalties. Despite security limitations, he is the author of 25-plus journal articles and conference presentations and has won two R&D100 awards. He joined Sandia in 1987, where he has improved and devised new nondestructive techniques to detect and locate nanometer-sized circuit failures.
"Finding defects in integrated circuits can be extremely challenging but critical," he told the audience, "because integrated circuits are in almost all our systems." Finding defects is necessary because operators need to know that devices work as expected with tens of millions of transistors and hundreds of millions of interconnections. "Just the way devices are designed and packaged make them incredibly difficult to analyze."
Imagine, he said, trying to find a defect hidden under seven layers of metal. "You can't probe through the metal, you can't 'see' through the backside because silicon is opaque to visible light, and if you take it apart, you may lose the defect. We have to find suspect sites by devising methods around the obstacles. We need to identify the root cause and mitigate it somehow, particularly for the high-reliability, low-volume production we have. Performing a field return of a spacecraft on its way to Jupiter just isn't going to happen."
Major defects he studies include local silicon malformations, open and shorted interconnections, and marginal, intermittent failures. His methods take advantage of the physical/electrical characteristics of a given defect and how it interacts with various local stimuli. Coupled with novel, high-sensitivity signal improvement discoveries, his failure analysis techniques make defects "stand out from the crowd," he said.
His methods are applicable not only to Sandia but a wide range of industries and "have allowed analysis times to go from months to minutes."
He's dealt with stress extrusion, a host of particulates, and problems arising from multiple design or process limitations. His work has helped determine reliability risks for components that haven't failed yet, and found "soft" defects of components that limit device performance under normal conditions and determine where manufacturers can push through performance barriers. Among his tools are electron and laser beam probes, the latter for charge generation and heating purposes. He showed techniques that use a physical understanding of the target and its performance to determine failure location. In the course of his discussion, he mentioned warmly numerous colleagues whom he worked with or led. — Neal Singer
Sandia Fellow John Rowe: Persistent sensing to understand what's going on
John Rowe, a recognized expert in ground- and space-based sensing, spoke on "Persistent Sensing," the ability to deploy sensors for monitoring around the clock. The broader definition covers optical sensors, radar, and other sensing techniques, as well as sensors deployed on demand, such as those on UAVs for battlefield monitoring, he told the audience.
But John's interest is "in how we can deploy sensors more globally, 24/7, covering the entire surface of the Earth, so that we can understand what's going on" in matters relevant to the national interest. Deploying persistent sensors in space, which allows "unfettered access to areas of interest," is important for treaty monitoring, he said.
But it raises significant technical challenges. Solving those demands multidisciplinary, science-based engineering involving hundreds of people across nearly every division at Sandia working on one of the Labs' longest-standing non-weapon programs, John said.
Sandia's heritage in persistent sensing began 50 years ago with the national security challenge of its time, the space-based Vela system developed by Sandia and Los Alamos national laboratories — collaborating with industry and government — to verify nuclear test ban moratoriums and finally the Limited Test Ban Treaty, John said. Ultimately, 12 Vela satellites were launched in pairs from 1963 to 1970 and they sent telemetry back until 1984.
Vela became one of the first globally deployed persistent systems, its optical sensors watching for a nuclear detonation's brief signal from very high orbit. Data from Vela "may not have been glitzy, but it was critical," he said.
Vela presented huge technical challenges for Sandia: how to develop a hands-off sensor system for space, miniaturize rooms full of equipment to a few hundred pounds, and have it all survive harsh environments, John said.
John transferred to the space sensing center four years after joining Sandia in 1978. He never worked on Vela, but worked with a team including some of its original scientists and engineers in developing nuclear detonation sensors on the Global Positioning System (GPS) constellation of satellites, still a key part of the US Nuclear Detonation Detection System (USNDS).
Sensor performance scales with proximity, so moving to GPS in medium earth orbit improved capabilities but presented new challenges — larger number of sensors/satellites, greater apparent motion of the earth below, more complex communications, and multi-sensor processing.
Subsequently, John led a team that explored the benefits and challenges of using staring focal plane array sensors. The work led to a large work for others (WFO) effort as well as improved USNDS sensors — the current generation employs thousands of detectors, plus digital electronics, packaged into a sensor array the size of your hand.
Sandia continues working to improve sensors. Researchers are developing focal plane arrays with higher densities, lower noise, and spectral diversity, including development of new materials. While focal plane arrays are a huge enabler for persistent sensing, they're not enough, he said. They require appropriate optics and stable structures, accurate pointing and stabilization, high-bandwidth processing electronics, and advanced algorithms, all of which must be understood and integrated together at a systems level.
"Bright young faces are beginning to work in these areas, embracing the challenges that await," said John, who is known for mentoring. "I appreciate the opportunity to work with them, and hopefully they will relish that and build upon what we have done previously, as I had the opportunity to build upon the work of my predecessors."
Sandia Fellow Jerry Simmons: Groundbreaking science = long-term commitment
Jerry, an internationally recognized research scientist, addressed wide bandgap (WBG) power electronics in his talk, "Novel Semiconductor Materials and Devices."
Jerry came to Sandia in 1990 to research quantum electronic devices and terahertz detectors. He eventually moved into management, where he worked on solid-state lighting through an LDRD grand challenge aimed at developing light-emitting diodes (LEDS) bright enough and with a color range useful for general lighting.
Sandia's LED work continues to this day, said Jerry, who stressed the importance of long-term research and recognized numerous researchers with whom he collaborated throughout his career.
"If you want to do ground-breaking scientific investigations, you have to commit to it for a long time," he said. ThusSandia's work on wide bandgap power electronics, aimed at reducing energy consumption, builds on its solid-state lighting expertise.
Jerry noted that electricity accounts for 40 percent of today's energy use and that will increase as more transportation becomes electric.
Electricity requires conversion — first to high voltage for transmission, then to lower voltage for homes and businesses. That's where power electronics comes in. Currently, power electronics make up 30 percent of conversion, but that's expected to rise to 80 percent by 2030 because it's more efficient, and smarter, than conventional technology, Jerry said.
WBG materials are attractive because they can handle higher temperatures and voltages. WBG power electronics raise the possibility of less complex and less costly power conversion through smaller size, higher reliability, and lower system costs compared to today's familiar transformers, Jerry said. Power electronics the size of a 100-pound briefcase potentially could replace an 8,000-pound transformer surrounded by barbed wire and warning signs in a neighborhood, he said.
And if size, weight, and power advantages are important for civilian use, imagine what they could do for military ships or aircraft, Jerry said.
Much of Sandia's WGB research focuses on two common materials, silicon carbide (SiC) and gallium nitride (GaN). SiC has the potential to outperform silicon, now widely used in semiconductor technology, by 100 times; GaN could be 1,000 times better, while another WBG material on the horizon, aluminum nitride, might perform 10,000 times better, Jerry said.
Sandia's WBG work led it to compete for a $70 million WBG manufacturing initiative. The team was disappointed in January when DOE did not choose its multidisciplinary consortium proposal, but Jerry said he expects additional DOE research and development opportunities.
In the meantime, Sandia has established strong partnerships with major industries and universities that were part of the original proposal. "We are going to be persistent," Jerry said.
Sandia Fellow Jeff Brinker: Look to biological systems for solutions
Jeff Brinker, whose work centers on the self-assembly of functional nanostructures, joined Sandia in 1979 as a ceramic engineer but works today in biology and medicine.
Jeff praised the "tremendous people and facilities at Sandia" and the sustained funding from DOE's Basic Energy Sciences and Sandia's LDRD programs "that allowed me to do things I never could have done in academia: to work in fields I know nothing about."
His book on sol-gel processing remains a worldwide resource on the processing of inorganic and hybrid nanostructured materials. (Sol-gel processing refers to the synthesis of Jello-like inorganic networks from soluble molecular precursors.) He has been awarded the DOE E.O. Lawrence Award and the Materials Research Society Medal, holds 39 patents, has won four R&D 100 awards, is a member of the National Academy of Engineering, and is also a Distinguished and Regents Professor of Chemical and Nuclear Engineering at the University of New Mexico, where he is also a member of the UNM Cancer Center.
In his talk, he said that biological systems and materials have evolved over billions of years to solve challenging engineering problems, such as energy harvesting and conversion, the creation of "hard-tough-strong materials," and the rapid transportation of pure water, he said.
"How can we emulate this?" he thought. "Living systems are inherently fantastically complex. It's hard to mimic how they sense, respond, self-replicate."
Jeff began using so-called surfactant molecules encoded with simple love-hate information. "Surfactants have hydrophilic and hydrophobic parts in one molecule," he said. Added to water they spontaneously organize (self-assemble) into periodic nanostructures.
"We are all products of self-assembly," he said. "We know it works."
By adding various molecular precursors to the self-assembling systems, he used solvent evaporation during spin- or dip-coating to fabricate porous silica membranes or seashell-like silica-polymer composites with nanometer-scale precision. Evaporation of aerosol droplets resulted in self-assembly of porous or composite nanoparticles. Further atomic layer deposition enabled the monolayer-by-monolayer modification of the pore size and chemistry needed, for example, to mimic natural water purification protein assemblies.
Working with former Truman Fellow Bryan Kaehr, he demonstrated the replication of mammalian cells in silica and then carbon. The replica preserves and captures the features of a cell to nanometer scales. The replica can be preserved at room temperature instead of cryogenic conditions, making it easy to dissect. "This allows you to reexamine biology in a way you can never do with normal imaging techniques," Jeff said. "You can take apart the replicated cells."
Jeff now is working on encapsulating a chemotherapeutic drug in a nanoparticle, called a protocell, that will deliver its cargo only to a cancer cell while leaving surrounding tissue unharmed. Such delivery systems need multiple characteristics, including an artificial cell membrane that prevents the protocell's contents from premature release.
The Defense Threat Reduction Agency is funding the protocell platform for applications in biodefense and infectious disease.
In closing, Jeff said, "As engineers, we have to think about sustainability. Nanotechnology in general is right for many of these problems."