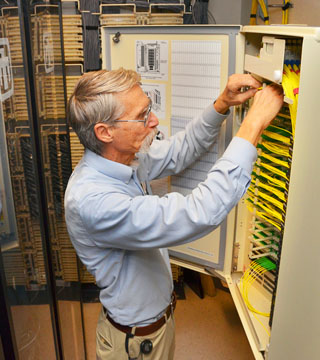 Sandia's fiber optic network won Popular Science's Grand Award for Engineering when the magazine released its Best of What's New 2013 winners. The magazine also awarded Sandia's non-detonable fertilizer a Best of What's New citation, in the security category.
Each year, the editors of Popular Science name 100 innovations in the material world that they say are reshaping the future right before our eyes. According to the magazine, "Best of What's New winners make our world and our lives safer, more efficient, and straight-up better than we thought possible."
1 gigabit per second
In the case of Sandia's fiber optic network, the system is the breakthrough, with the most obvious attribute being the scale. The Labs integrated an Internet service provider (carrier class) core with a passive optical distribution network. Sandia built the world's largest enterprise passive fiber optic local area network, with high-speed connections for 265 buildings and 13,000 end-users, each with a hookup capable of 1 gigabit per second. It replaced its conventional 4-inch copper cable
with a half-inch fiber-optic one capable of transferring voice and computer data along a single line. The network also can deploy next-generation XG-1 or XG-2 passive optical networks. As Popular Science said: "Think of it as a miniature version of the Internet as it should be."
"This award and accompanying recognition highlight how innovation can create mission value, two tenets of our IT strategy," says Sandia Chief Information Officer Mike Vahle, VP of Information Technology Services
Div. 9000. "Additionally, it marks the culmination of many years of dedicated focus on bringing the promise of fiber optics to Sandia's infrastructure. These types of innovations only become reality through the creativity and dedication of an outstanding team of people."
Sandia needs superb computing capability for the nuclear weapons and national security research it does for NNSA. The Labs began looking at fiber optics early in the technology's development because of its promise of greater communication speed at longer distances. So far, Sandia has converted more than 90 percent of its bulky copper cable because fiber offers far more capacity, is more secure and reliable, and is less expensive to maintain and operate than a traditional copper network.
In recognizing the non-detonable fertilizer, Popular Science said that in 2012 ammonium nitrate fertilizer was used in about 65 percent of the 16,300 improvised explosive devices found in Afghanistan. Sandia engineer Kevin Fleming, who retired earlier this year, developed a fertilizer that uses iron sulfite in the mixture to suppress detonation. He was assisted in the early stage research by Vicki Chavez (6633).
Sandia chose to keep the formula open-source so it could more quickly be adopted in developing countries.