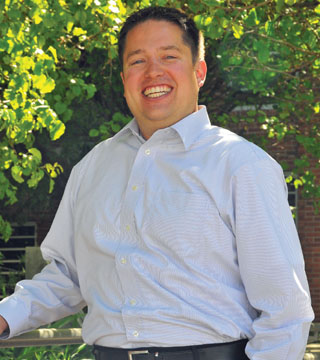 Louis Griego says a little stress can be a good thing if it means he's busy, challenged, and balancing the many activities in his life. "I really enjoy new opportunities at work, spending time with my family, and giving back to the community," he says. "We all get busy. We have to make time to fit all the pieces together."
Louis (10672) is a manager at Sandia, the father of a 2-year old, and actively involved in charitable organizations. He was recognized for his professional and community accomplishments by being named to the 2013 class of Albuquerque Business First's 40 Under Forty, a prestigious program that honors young professionals who are making an impact on the state. They will be recognized at a gala event June 28 at Sandia Casino.
Louis says he is honored to join the 40 Under Forty club, which has included some of the
state's most influential people. "I felt very excited and humbled looking through the names of the honorees, reading about their accomplishments, and knowing previous honorees and the important work they're doing professionally and in the community," he says.
Growing up with the railroad
Louis's parents are from Belen. His father worked for the BNSF Railway, starting as a clerk at age 18 and continuing through retirement. The family moved around, from Southern California to Texas to Illinois. "Every time my father was promoted it required a move," says Louis, who was born in Clovis, later lived outside Belen in Los Chaves, and went to high school in El Paso.
Louis returned to his home state in 1999 to attend the University of New Mexico in Albuquerque, where he earned a bachelor's degree in accounting in 2003.
He interned at Sandia his senior year doing financial reporting for solar programs. He was hired as a limited-term employee after graduation and worked as a financial analyst on the W76-1 Life Extension Program matrixed to Center 2100, the New Mexico Weapon Systems Engineering center. "I learned a lot about Sandia's core nuclear weapons mission," Louis says.
'It just made sense'
In 2004 he completed a master's in business administration at UNM and became a full-time Sandia employee. He also prepped for and passed the test to become a certified public accountant (CPA).
Louis says he chose accounting as a career after earlier considering law. "What I liked about accounting was it was a system laid out with certain transactions happening certain ways, and it just made sense," he says. "The numbers tell the story behind what's going on in business. I definitely made the right decision."
Louis was selected for the Lockheed Martin Financial Leadership Development Program and rotated into three jobs over three years. The first was in the W76-1 program where he had been working. He moved to the Energy Resources and Non-Proliferation SMU.
"It gave me a perspective on how money comes into the Laboratory, processing work authorizations and working project funding," Louis says. "I also worked in the Division 6000 business office on projects at the division level."
His third rotation was to Org. 10508, Indirect Financial Management, as the corporate center support analyst. He stayed in that job several years then made a move to the international group as a matrixed financial analyst and business partner to Org. 6821, International Nuclear Threat Reduction.
"I went to Qatar, Egypt, and Kenya," he says. "It was an eye-opening experience and really enjoyable working with people from different cultures and parts of the US government. It was a great job."
Helping hand to children
Louis's goal was to become a manager. In 2010 he was named business manager for Center 2500, Energetic Components. Since July he has managed the Nuclear Weapons SMU Business Office Dept. 10672.
He says he enjoys being a manager and his work at Sandia. "Leading a team is fun. I really enjoy the relationship-building and working with others,"
he says. "I've been able to do a lot in my Sandia career. I like learning and being challenged, and each assignment has been a new opportunity. Our national security mission is very important, and the people at Sandia are the smartest, brightest, and just nicest I've ever met."
Louis's senior manager, Ernie Limon (10670), says he knew he wanted Louis on his team when he first met him in 2008. "What impresses me is his willingness and ability to seek external interest as a corporate and community citizen by volunteering for various boards and charities," Ernie says. "I am extremely pleased to have him on our management team."
Louis's community involvement includes membership in the Active 20/30 Club of Albuquerque, a group of young professionals who do fundraising and hands-on work to benefit children's charities throughout central New Mexico.
He also volunteers with the adaptive ski program at the Sandia Peak Ski Area teaching disabled kids to ski, is on the supervisory committee at the Sandia Laboratory Federal Credit Union, and has sat on United Way Community Fund panels as the CPA.
"I've always been involved in charitable work outside my job. I hope that I'm doing my part to help fulfill a major need in New Mexico," says Louis, who is married to his college sweetheart and enjoys spending time with his parents, who after several moves retired to Albuquerque's South Valley. "I want to give back to the community. That's an important part of my life."