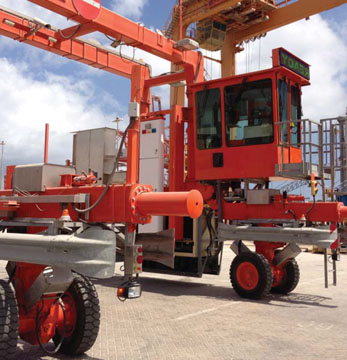 In late March, a Sandia team traveled to the Port of Salah, Oman, to conclude the acceptance testing of the Mobile Radiation Detection and Identification System (MRDIS), a technology intended to make it more difficult to sneak illicit radiological materials into a country.
Typical radiation detectors are fixed-in-place at port entrances and exits, so they aren't able to scan transshipment containers, says Greg Stihel of Systems & Mission Assurance Dept. 6813. This makes transshipment an enticing option for those who might want to bring radioactive substances into a country for terrorist activities like making dirty bombs, he says.
"In 2006 or so, NNSA recognized the need to also scan cargo that is taken off a ship and, in a short period of time, put on a second ship," Greg says.
Greg says port security is a huge international concern, but that port operators and shippers are also concerned about time delays, because they negatively impact their bottom line.
"If the system creates time delays, that costs shippers and port operators money, and the detectors won't get used," Greg says.
Based on the need to scan transshipped containers quickly, Sandia engineers developed the idea for MRDIS. Under direction by the National Nuclear Security Administration's (NNSA) Second Line of Defense Program they set about making it happen.
Two MRDIS prototypes were developed around 2006, and were field tested in Oman. Engineers worked with port operators to refine the MRDIS based on its performance.
After the prototypes proved their worth, 12 MRDIS devices were ordered, which represents a tremendous investment in the idea, Greg says. Two years later, the first production unit of the second-generation MRDIS was complete.
Engineers then created a detailed set of requirements for subsequent production models, allowing the project to move forward quickly.
The work was done in partnership with Pacific Northwest National Laboratory (PNNL), and with Cincinnati firm DRS Technologies.
Not like driving a tractor trailer
To date, eight MRDIS units have been deployed worldwide. The first set of four went to Panama in November 2012. The four in Oman arrived last summer and, after some delays, completed the final acceptance testing in late March.
Greg says driving MRDIS "feels strange because it's so big, and because the operator sits sideways, facing the trucks going through the center. The MRDIS is big enough for a truck carrying shipping containers to pass through, so it's not like driving just a tractor trailer truck."
Nonproliferation and Cooperative Threat Reduction Center 6800 Director Rodney Wilson was able to observe field testing and drive the MRDIS during an SLD visit to Oman in late March.
"It is not as intuitive as you think. Imagine being in the back seat of your car, on passenger side, facing in, and trying to drive the car using joy sticks to turn and go forward and back, all while staring at a computer screen. Oh, and you are also 15 feet off the ground," Rodney says.
James Schol of Global Security Systems & Technology Dept. 6814 says MRDIS can be moved to active quays, and then containers can pass through the MRDIS on the way to another vessel in the port.
Greg says each MRDIS can work independently or as part of a team, depending on the port's needs. Each MRDIS can also feed data into a central system, or collect data on its own. The ports in Oman and Panama are using three MRDIS units as primary scanners, with a fourth MRDIS including more detailed detection equipment serving as a secondary scanner.
Use at 'pinch points'
In addition to port facilities, the team says that MRDIS could also be used at airports and will be next year. MRDIS-like platforms could be used at any location with "pinch points" that traffic passes through.
The work was funded by NNSA's International Material Protection & Cooperation Office under the Second Line of Defense Program, which installs radiation detection equipment at land border crossings, airports, seaports, and international checkpoints all over the world.
Team members estimated that cumulatively they spent almost a full year in Oman.
Greg says working in Oman for long period of time wasn't a hardship. "Oman is interesting. It's traditional but also it's pretty and friendly and comfortable."
Nearly 90 percent of imported and exported goods worldwide travel by shipping container. Approximately 500 million 20-foot-equivalent units (a maritime shipping unit of measure) transit the globe annually through the maritime system.
Two more MRDIS' are slated to be deployed at international airport sometime next year.