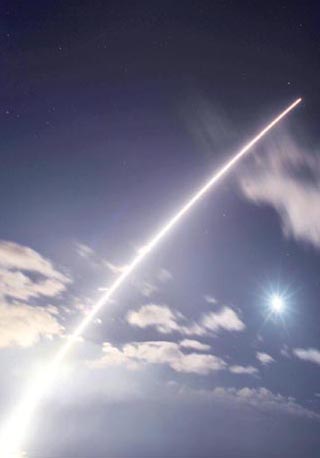 Lee Stone traveled a quarter mile beyond the paved road's end 50 years ago toward about 15 white trailers along a raised concrete platform surrounded by sand dunes on the western tip of the Hawaiian island of Kauai.
The 31-year-old telemetry and electronics specialist was bringing equipment to the newly established Barking Sands Rocket Complex, where he saw the first Kauai Test Facility launch of a Nike Apache diagnostic rocket to measure radiation from a Strypi rocket taking off from Johnston Atoll during Operation Dominic in 1962.
Lee's first recollection of Sandia's new rocket launch site was the sand dunes. "They started just bulldozing, shoving things around and pouring concrete, and they brought in 22 Nike-Ajax launchers," he says. Originally, the site was surveyed for 40 launch pads.
Fifty years later, Lee donned an honorary lei and joined dozens of Sandia employees, contractors, military personnel, customers, and political representatives to celebrate Kauai Test Facility's 50th anniversary.
KTF was established after an unwelcome Cold War surprise. On Sept. 1, 1961, the Soviet Union began full-scale atmospheric nuclear tests, conducting 45 tests in two months despite the Nuclear Testing Moratorium of 1958 that slowed rocket research.
"The United States was caught, frankly, flat footed," David Keese, director of Integrated Military Systems Center 5400, told those gathered. "We didn't have any nuclear device carriers that could launch those into the upper reaches of the atmosphere, we didn't have any sampling rockets so we could sample those effects, and we didn't have a launch facility that could do all that."
So, the then-Atomic Energy Commission created the Barking Sands Rocket Complex and in less than a year the US completed its first high-altitude nuclear test, David said. KTF's original name came from the sound underfoot of the fine coral sand nearby.
That first year, Sandia launched diagnostic rockets to measure the effects of Operation Dominic air bursts and Dominic Fishbowl high-altitude tests.
Lee recalled his early days at KTF when he worked 14 to 16 hours a day and rockets took off between midnight and 4 a.m.
"Back in those days it was still tubes, not transistors," he says. He had to warm up the equipment for about a half hour, but still "the tubes would drift in frequency, so every now and then we would tweak the receivers to make sure they were getting the best signal."
Over the past 50 years, KTF has launched more than 430 rockets. The facility supports the DoD Missile Defense Agency (MDA) Aegis Ballistic Missile Defense (BMD) Test Program, the Conventional Prompt Global Strike Program, and other Navy flight test programs.
During this period, the relationship between the Navy's Pacific Missile Range Facility (PMRF) and KTF has become intertwined.
PMRF's executive officer, Cmdr. Garron Morris, said, "KTF is more a part of the PMRF team than a tenant at PMRF."
Eric Hedlund, test director of the Aegis BMD Program, talked about the development of KTF's work on missile defense. In 1995, two Strypi missiles launched from KTF proved that Aegis could detect, track, and engage medium-range ballistic missiles. Over the past 17 years, KTF has launched more than 50 rockets to support missile defense tests, Hedlund said.
"Without the facility, the instrumentation, and especially the people and expertise here, we would not have been a successful program," Hedlund said, later adding in an interview, "When we developed the instrumentation over the past 10 years, we made sure there wasn't duplicate equipment at both facilities. It was all complementary instrumentation. If you take away PMRF, KTF can't survive and if you take away KTF, PMRF can't survive. It's a synergistic relationship."
The celebration included the Hawaiian culture. Margaret Scheffer (5419) made leis for Lee and other honored guests. And Tom Takahashi, known as Uncle Tom, blessed KTF on its anniversary.
"Sandia is celebrating 50 years on this ground . . . there are another 50 more years to go," he said. "I ask the Heavenly Father to bless this place, to bless these people."
David ended the ceremony with thanks to the two dozen Sandia employees and Kauai-based contractors who oversee KTF's daily operations.
"You can have the best building, radar, telemetry, and missile system in the world, but if you don't have the people, then you don't have much at all," David said. "I want to say thank you to our folks here on this integral team for all the good service they have done over the past years and the good service we expect them to render over the next 50 years."