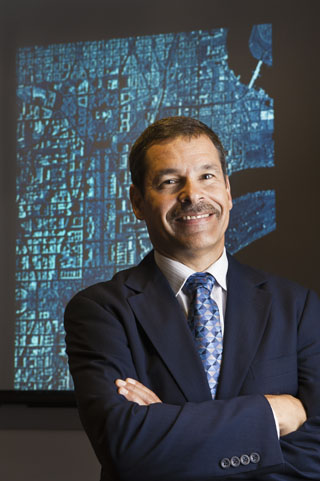 It wasn't inevitable that Steve Castillo would become an engineer. But it wasn't surprising, either, given his upbringing. It's not surprising, either, given his upbringing, that he has moved to the very top of his chosen profession. Steve has been named the HENAAC 2012 Engineer of the Year, the highest accolade presented by HENAAC, the Hispanic Engineering National Achievement Awards Conference.
Steve joined Sandia in 2011 as manager of ISR Systems Engineering & Decision Support Dept. 5346. His immediate previous job was as executive vice president of the Colorado School of Mines. Before signing on at the Labs, Steve spent most of his accomplished 24-year career in academia, in jobs of increasing responsibility. While Sandia has been a new and different professional environment for Steve, he has found he likes the change.
"I really enjoy the demanding, fast pace of the work in [Airborne ISR Systems Group] 5340, the high quality of the technical staff I get to work with, and the tremendous national security mission impact our systems have," he says.
Steve grew up in Belen, N.M., where the roots from both sides of his family reach back 300 years. For most of those centuries, his forebears made their living by farming and ranching the rich, wellwatered soil of the Middle Rio Grande Valley.
Steve's grandfather, Alejandro Castillo, was the first in that long line to go to college, graduating with a degree in education, after which he spent 30 years as a teacher in the small community of Casa Colorada, south of Belen. Alejandro passed on his love of education to his own children; it was a lesson that stuck. Alejandro's son — and Steve's father — Philip, spent a long and successful career as a PhD electrical engineer in Los Angeles and Albuquerque. Philip's influence, anchored by the support of Steve's mother, clearly rubbed off on Steve and his five siblings, all of whom have gone on to successful professional careers.
College was not optional
In the Castillo household of Steve's youth, discipline was strict but fair and education was not just valued; it was revered. In his home, Steve recalls, "going to college was not an option; it was a requirement."
It was during his senior year in high school that Steve definitively resolved to become an engineer, a decision his parents very much supported. Steve knew the academic demands would be great but he was wellprepared; his family had moved back onto a farm in Belen and all the Castillo kids had chores to do, and not easy ones either. They all learned the meaning and value of hard work.
Steve credits his parents with being the biggest positive influence in his life, but there were other influential and inspirational adults in his life, too.
"In addition to my parents," Steve says, "there were a few teachers that inspired me — my 5th grade school teacher, Leona Brown, a 7th grade civics teacher, Steven Prentice, and my high school college algebra teacher, Mr. Zamora."
In his later career, Steve would remember — and act on — how important those positive role models were at a formative age.
After graduating from Belen High School in 1977 as a National Merit Scholar finalist and a member of the National Honor Society, Steve was accepted to several good engineering schools, but it was a personal letter from a college close to home that sealed the deal for him. The dean of the engineering school at New Mexico State University in Las Cruces, John Hernandez, heard about Steve and recruited him the way big time sport schools recruit top athletes.
Steve's decision to go to Las Cruces right out of high school was the beginning of a lifelong relationship with NMSU. After earning his Bachelor of Science degree in electrical engineering at the school, he spent a year and a half at the AT&T Bell Lab facility in Denver. He subsequently moved on to earn a Master of Science degree and doctorate in electrical engineering at the University of Illinois at Urbana.
A consequential phone call
With his PhD in hand, Steve had a wide-open field of options. He interviewed for research positions at several government and private sector laboratories, but again, it was a personal intervention — a phone call this time — from Las Cruces that settled the issue for him. Steve's NMSU undergraduate mentor, professor Gerry Flachs, suggested that he consider a teaching position at the university. It was something that had never really occurred to Steve, but he became intrigued by the idea and took a tenure-track position that set the direction of his career for the next 24 years.
First as a professor, then as an administrator, Steve became a major influence at NMSU's engineering school. He taught more than 3,000 students, and graduated eight PhD and 22 MS electrical engineers, all while remaining deeply involved in research. He was lead author or contributor on scores of technical papers, focusing on the areas of his technical interests, which include electromagnetic theory, electromagnetic interference problems, numerical solution of electromagnetic problems, high performance computing, and computational linear algebra.
After years in the classroom as professor and department head, Steve became dean of the NMSU College of Engineering in 2004. In that role, he was successful in helping shape the school's program direction and in raising more than $120 million in cash and in-kind gifts. Those resources helped establish several new endowed faculty positions and increased scholarship opportunities.
Steve is the recipient of many honors and awards for his professional accomplishments and his community service. His greatest reward, he says, is the opportunity he has had to work with and be a positive influence for his students. "I am very proud of the many young people I touched throughout my career that have gone on to become outstanding professionals and citizens," Steve says. "Whether it was through a talk at a local high school, a student in a class or a student organization that I taught or mentored, or graduate students that I advised, I feel like I played at least some role in helping to shape their future. Even here at Sandia, I have run into many former students who are doing very well."
Although he has left the classroom, Steve has not left behind his desire to be a positive role model and mentor. When he meets with young people today through community service, he encourages them to consider careers in STEM — science, technology, engineering, and math.
Says Steve, "I tell any young person that a career in STEM will give them the opportunity to be involved in the creation of wealth and a better standard of living for our society or even provide for the security of our country, and at the same time, pay them well enough to enjoy a comfortable lifestyle.
"A STEM career has the potential for making their daily work lives enjoyable because of the many 'geewhiz' moments that occur on the job in engineering and science professions. I would also tell them that the keys to a successful career in STEM are the mathematics, science, and communication skills they must obtain before they go on to college."
* * *
Steve will be presented HENAAC's Engineer of the Year award at the organization's annual conference in Orlando Oct. 11-13.