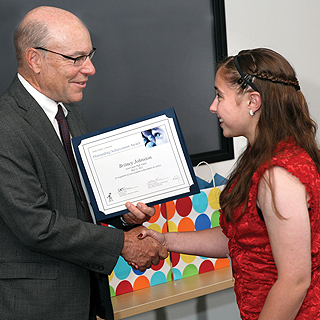 Last month, the Sandia Women's Connection (SWC) honored 18 young women from area high schools for their achievement in math and science. Now in its 21st year, the Math & Science Awards event is designed to both encourage the young women to continue studying math and science and to create mentoring opportunities.
For the second year in a row, the event was held at Sandia's Combustion Research Computation and Visualization (CRCV) building at the Livermore Valley Open Campus (LVOC).
"The world is wide open to you," said Div. 8000 VP Rick Stulen. "It may sound trite, but you will end up in places you can only imagine today. Keep up the enthusiasm and curiosity that got you here today. I can tell you that it only gets better from here. It gets harder, for sure, but it also gets better."
Teachers from nine high schools in Livermore, Dublin, Pleasanton, Tracy, and Manteca nominated two students, one for outstanding achievement in math and one for outstanding achievement in science. The award is given to young women in their junior year of high school so they can include it on their college and scholarship applications.
"Although women have made tremendous strides in math and science, there is a lack of women in very high levels of related industries, including engineering, mathematics, and physics," said Cathy Branda (8623), the event's chair. "The decisions that women make not to pursue careers in STEM [science, technology, engineering, and math] fields seem to be made very early. Our objective is to highlight for you that you can aim your sights on any career option and to give you a flavor of what some of those career options could look like."
Before the awards ceremony began, the awardees and their families met their Sandia hosts, women with careers in math and science. Donna Djordjevich (8116) explained her Ground Truth program, an interactive gaming platform used to simulate critical homeland security activities. Yanli Liu (8621) shared her research on the use of a microfluidic device to study cellular signaling at sub-cellular resolution.
"This is really wonderful and encouraging for these girls," says Elizabeth Lopez, a science teacher at Granada High School. "Even today, engineering, math, and science are still considered 'boy' subjects. Meeting all of these successful women reminds them that they can do whatever they set their minds to."
The challenge for Rachel Sowa, winner of the science award for Livermore High School, is narrowing down her interests. She's considering computer science, architecture, civil engineering, and now sound engineering, after running the sound board for her school's spring musical, "Hairspray." "She's always been a builder," says her mother, Genevieve Getman-Sowa. "She's worked hard and it's paying off."
For her father Erik, the awards ceremony was also a return to his roots – he worked at Sandia with Rick Stulen early in his career. "I couldn't be happier for Rachel to be included in this group of young women," he says. "It's important for her to be surrounded by people with the same intellectual values."
To start off the awards ceremony, computer scientist Janine Bennett (8953) and systems analyst Julie Fruetel (8114) shared their personal stories. Both women said that in high school, they could not have envisioned their current professional success.
Janine is a computer scientist who builds mathematical and computer software tools to identify, characterize, and track features of interest in large-scale data. "When I was your age, I had no idea I would end up working at a national lab as a scientist in a research group," she says. "I spent a lot of time agonizing about picking a major and a college when I didn't know what I was going to do with the rest of my life."
She shared three pieces of advice that she wished she'd known back then: make careful, thoughtful decisions and then relax and go with it; enjoy what you do; and partner well in life. Janine advised the young women to identify both professional and personal support networks.
"If you decide to pursue a PhD, make sure you have a good advisor with whom you communicate well. That can be almost as important as the actual technical work," she said. "And make sure you partner well in life. I stressed a lot about the work-life balance, but my husband and I really value each other's careers. We have a 20-month-old son and while we do make sacrifices, we are making it work together."
Julie told the students that initially she was interested in journalism and didn't consider engineering until her junior year of high school. "I went to my high school guidance counselor and we made a plan of what I needed to do to apply to colleges with the best engineering programs," she said. "His message to me was 'You can do this,' and that was very meaningful to me."
That plan included taking chemistry, physics, and calculus in her senior year. Julie earned a bachelor of science degree in chemistry from Harvey Mudd College and then went on to earn a doctorate in pharmaceutical chemistry at the University of California, San Francisco. In both cases, she aimed high, attending the best schools she could.
At Sandia, Julie first worked in microfluidics on MicroChemLab, a handheld device to bring benchtop laboratory analysis methods into the field, and then moved into systems analysis. "There is no right or wrong path," she says. "No one could have predicted the arc I took."
In closing, Cathy told the awardees to keep up the good work, but also to keep in touch. "When you excel in math and science, doors open but it may not always be obvious what those doors are. Internships are a great way to explore career options," she said. "Sandia is a wonderful place to do those internships because of the breadth and kind of work that we do."
Julie's remarks hit home with Selena Chang, the Granada High School recipient for math. "I'm reconsidering the AP classes to take next year," she says. "I think I'll probably add AP chemistry."
Award winners
Outstanding Achievement in Mathematics
Alysse Ketner, Amador High School
Alexandra Brown, Dublin High School
Alejandra Nieves, East Union High School
Selina Lao, Foothill High School
Selena Shang, Granada High School
Lynn Hao Tran, Livermore High School
Amanda Christensen, Manteca High School
Danielle Nghiem, Merrill F. West High School
Emily Spencer, Tracy High School
Outstanding Achievement in Science
Da Eun Kim, Amador High School
Nancy Zhou, Dublin High School
Britney Johnston, East Union High School
Victoria Liu, Foothill High School
Meagan White, Granada High School
Rachel Sowa, Livermore High School
Brooke Mejorado, Manteca High School
Chloe Pounds, Merrill F. West High School
Lucy Cui, Tracy High School
Special thanks to the Sandia hosts and Math & Science Awards Committee:
Sandia Hosts
Amanda Askin (8112)
Julie Fruetel (8114)
Mary Gonzales (8250)
Yalin Hu (8135)
Tammy Kolda (8966)
Jina Lee (8116)
Kirsty Leong (8651)
Kari Neely (85151)
Stacy Nelson (8259)
Jacquieline O'Connor (8632)
Committee
Glenn Kubiak (8600), director champion, SWC
Cathy Branda (8623), Chair
Donna Blevins (8953), co-chair
Marilyn Hawley (8116), co-chair
Seanna Crouch (8942)
Deneille Wiese-Smith (8128)