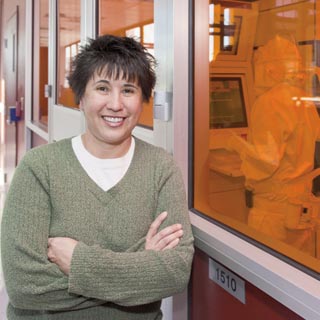 The development and production strategy Rita Gonzales (1750) and her team used in the B61 Life Extension Program (LEP) grew naturally from the way she has organized work throughout her Sandia career.
Rita has been named as an NNSA Defense Programs Employee of the Quarter for Sandia, an award that recognizes people for going beyond the call of duty in supporting NNSA missions. She says she was both honored and humbled to have received it.
"It wasn't all me; it's a team," Rita says. She says she hopes she "helped with the vision and set the standard, but the people that I work with are really the folks who get a lot of credit."
As manager of Mixed Signal Application-Specific Integrated Circuits (ASICs) and System-on-Chip Products, Rita led a multidepartment effort to develop and deliver ASICs for the B61 program.
Senior Manager Dave Sandison (1740), who nominated her, says she coordinated with weapons systems groups, radar and fireset owners, and seven departments to develop a plan for delivering packaged components.
A development and production strategy
The B61 became part of the US stockpile in the 1960s, and a number of its components are nearing the end of their design life. Modifications also are required to conform to modern Air Force equipment and aircraft.
Dave says Rita's efforts "resulted in a clear development and production strategy that is now baselined in the B61 phase 6.2/6.2a study."
"I don't know that we had a real cohesive strategy before," says Rita, who has been with Sandia for 20 years. Dave says her demonstrated ability led to her recent promotion to senior manager for the Microsystem Design/MESA Products group.
"She's one of our very best," he says.
Rita sums up the strategy in three parts: ensuring that goals, objectives, and requirements are aligned with those of the customer; making sure all the organizations involved understand the responsibilities and commitments so "we're all moving to those same goals and objectives"; and setting down an efficient way to implement the strategy.
It's a plan that will be used in the future.
"We've developed a common strategy so that everybody doesn't have to invent the wheel every single time, and use a well-defined common flow" that ensures a quality product in the end, Rita says.
She came up with the strategy and flow over several years.
"There are challenges with getting people to buy in and believe in the vision and then to use it," she says.
Now, she says, those involved challenge each other to stay on the path.
"It's not me preaching it anymore. It's not actually me doing anything other than making sure the vision is appropriate. … So I can sit back and watch it go, which is really nice," she says.
A multi-organizational effort
An ASIC by its nature is a multi-organizational effort that brings input from many customers, program management, design, packaging, fabricating, testing, and quality control into development and delivery at various stages, with the ASICs produced in Sandia's in-house MESA fab, Rita says.
"So it's like all these different customers are coming to us," she says. "For example, in the B61, all those are folks who are going to be getting ASICs from us; we had to work with each one individually to gather all their different requirements and expectations and schedules. Trying to coordinate all that is obviously challenging."
Rita says she led teams before becoming a manager, and put a structure in place for the first program she ever led.
"I just worked in a little bit more organized fashion, so I started by leading programs myself," she says. She modified her organizational structure as her responsibilities grew to require more coordination of people and efforts.
"When I became a manager, that strategy just grew to be a much bigger picture and affected multiple programs," Rita says. "And in all honesty, when I became a manager and the staff working under me took it over, they improved it. They made it way better."