Sidney Gutierrez (4100), former NASA astronaut, retired US Air Force colonel and current director of Environment, Safety, and Health and Emergency Management, was named the 2010 Notable New Mexican by the Albuquerque Museum Foundation. He was honored June 2 at the 10th annual award ceremony, where award-winning santero artist Arthur López unveiled a bulto depicting Sid and the story of his life. A bulto is a three-dimensional traditional New Mexican genre of wood carving.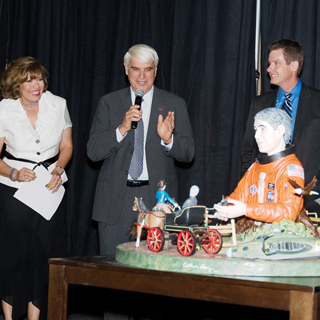 "This is way beyond my wildest expectations," Sid said as the bulto was unveiled. "It really takes my breath away, and I hope that young people who come to the museum will be encouraged to learn and explore more."
A NOTABLE MAN — Sid Gutierrez reacts to seeing the bulto in his honor at the 2010 Notable New Mexican Gala on June 2. Artist Arthur Lopez is second from right. (Photo by Jean-Paul Jager) .
The Notable New Mexican award was started as a way to preserve the state's history and to enhance the museum's art collection. Every year, the Foundation recognizes an outstanding individual with unique accomplishments and strong ties to the state. Recipients are presented with a commissioned artwork, which is then permanently displayed at the Albuquerque Museum.
"We are so pleased to present this award to such an inspirational figure in the community," says Debra Romero, executive director of the Albuquerque Museum Foundation. "Sid's life mirrors the history of Albuquerque, from having roots in agriculture to being a central part of the nation's high-tech industry. We see the opportunity to celebrate Sid as an opportunity to celebrate Albuquerque."
Sid's family heritage can be traced back through 300 years of Duke City history, but his family originally descended from people living in the area more than 30,000 years ago.
"My family and I are very excited about the art and this award," says Sid. "I look at this as what it means to my family and my friends. I look back at my ancestors, and my grandfathers in particular, and what they did to get me to where I am today. I look at my teachers who helped me out. I look at my family and friends who supported me, and I have been so fortunate in that regard. This is a great honor, and I am pleased to share it with those who have supported me over the years."
Sid was born in 1951, just four years after Chuck Yeager tore through the sound barrier, and six years before a beach-ball sized satellite named Sputnik changed the world. He grew up on the same North Valley property where his great-grandfather had farmed and raised sheep and cattle.
Like most children who grew up in the height of the US-Soviet space race, Sid was caught up in the fever of space flight and exploring the unknown. He made a commitment to become an astronaut while in fifth grade at Los Ranchos Elementary School. While his peers only dreamed of flying in space, Sid pursued his goal with fierce determination. He contacted NASA to learn the requirements of the astronaut training program and methodically made his way through the rigorous criteria.
Sid was accepted to the US Air Force Academy in 1969, the same year that two American men left the first footprints on the moon. Sid studied aeronautical engineering and was a member of the National Collegiate Championship Parachute team. He did more than 550 jumps, and rose to the ranks of master parachutist. Not surprisingly, Sid's perseverance led him to graduate at the top of his class. He became a fighter pilot and then a test pilot before being selected by NASA for astronaut training in 1984. On his first trip to space in 1991, he served as the pilot for the space shuttle Columbia, and in 1994 was the commander of the space shuttle Endeavor.
Five months after touching down at Edwards Air Force Base, Sid and his family returned to Albuquerque, where he started work at Sandia. He is currently the director of Environment, Safety, and Health and Emergency Management at Sandia.
"Sid is a great New Mexican and a great patriot," says Executive VP and Chief Operating Officer Al Romig. "I can think of few others who have done as much in their lifetimes to make this country great. Sid is surely deserving of this award."
Every year for the past 10 years, the Albuquerque Museum Foundation has presented the Notable New Mexican award to celebrate the accomplishments of an extraordinary New Mexican with strong ties to the state and exemplary service to the public good.
All past award recipients have been presented with a portrait, which is permanently displayed at the Albuquerque Museum. This year, Sid chose to be depicted in a bulto, to reflect his family's New Mexican heritage. The santero artist, Arthur López, is a native of Santa Fe, and has received numerous awards for his work and exhibits his art at shows throughout the Southwest.
A Notable Family Day event, "The Astronaut and the Artist: Storytelling, Inspiration and Craft" will take place July 10, 1-3 p.m., at the Albuquerque Museum and include presentations from Sid and López. This program is free to the public.