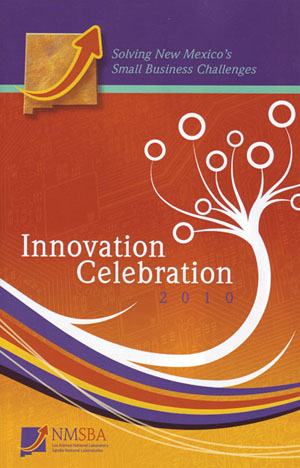 Dennis Salazar discovered a burst attic pipe had caused thousands of dollars of damage to the walls and floors of his house about a decade ago. The disaster inspired Salazar, now chief executive of ICE-LOC®, to invent a dense sponge-like tube that can be inserted into pipes to prevent them from rupturing in cold weather.
But getting customers to buy the product proved difficult, so the Bosque Farms company turned to Sandia for help. Kevin Fleming (5434), Chris Colburn, and Rosa Montoya, who all worked for Explosives Projects/Diagnostics Dept. 2554 at the time, created a video that showed ICE-LOC's elastomer core prevented ruptures in subzero temperatures, while a pipe without the core exploded.
---
For information about establishing a business relationship with Sandia, click here.
---
ICE-LOC was one of 320 small businesses in 25 New Mexico counties that received help to solve technical challenges in 2009 under the New Mexico Small Business Assistance Program (NMSBA Program).
A partnership of Sandia, Los Alamos National Laboratory, and the state of New Mexico, the program connects scientists and engineers with New Mexico businesses in exchange for a state gross receipts tax credit. In 2009, the tax credit was nearly $4.3 million — about $2.4 million for Sandia and $1.9 million for Los Alamos.
"We are proud of our partnership with Los Alamos National Laboratory and the state of New Mexico in support of small businesses throughout New Mexico," says Steve Rottler, VP and chief technology officer (1000). "Most small companies do not have access to the world-class technology and expertise available at the labs, and the NMSBA Program provides them that access."
ICE-LOC was one of nine companies honored this month at the NMSBA Program's annual Innovation Celebration, attended by more than 200 people — the largest attendance the event has had to date — at Bishop's Lodge in Tesuque. The companies lined the conference room with displays of their products or posters and computer presentations explaining their work.
ICE-LOC's product is an environmentally safe, Food and Drug Administration-approved core that is inserted into pipes. When water freezes, it expands and can form ice plugs that exert several thousand pounds of pressure per square inch on pipe walls. The core inside the pipe can compress and allow the ice inside to expand as needed, preventing the pipes from bursting. The core returns to its initial diameter when the ice thaws, ICE-LOC president Louis Herrera says.
To better demonstrate the product's effectiveness, Kevin, Chris, and Rosa tested ICE-LOC's product in a controlled environment at minus 30 degrees Fahrenheit. Using a high-speed camera, they videotaped a side-by-side comparison of two pipes. The pipe without ICE-LOC exploded, while a pipe fitted with the protective core remained intact.
ICE-LOC used the videotape to show prospective clients the product's performance under extreme cold. With the help of the tape, the company landed a state contract and is in the final stages of being approved for a federal contract so ICE-LOC can be used in schools, government buildings, military installations, municipal sprinkler systems, and a host of other structures, Herrera says.
"The visual presentation produced by Sandia has enabled us to show our product's performance to the market and find a distributor," Herrera says.
Kevin says the labs have super-talented people with good technical ideas, and outside companies know how to develop those ideas into products and market them, a combination that makes for a great partnership.
"I feel Sandia would be remiss in not trying to help those small companies, since they pay income taxes that fund us," Kevin says. "I had a feeling this company had something that potentially could be good for the country."
ICE-LOC is not the only company that has been put on a path to marketability by the NMSBA. Since the program began at Sandia in 2000, it has helped 1,597 small businesses and created or retained 1,020 small business jobs through the end of 2008 that paid an average annual salary of $39,063. The companies' revenue increased by nearly $39.7 million and operating costs fell by more than $28 million during the same nine-year period. LANL joined the program in 2007.
Companies participating in the program must be for-profit small businesses located in New Mexico. The assistance provided cannot be available in the private sector at a reasonable cost. Individual companies in urban Bernalillo County are eligible for up to $10,000 in assistance measured in lab staff hours. Companies located in rural counties are eligible for up to $20,000.
The NMSBA Program also contracts with the New Mexico Manufacturing Extension Partnership (NM MEP), the University of New Mexico, New Mexico State University, and New Mexico Tech to provide assistance to companies.
Now that Herrera can show his product's effectiveness using the video from Sandia, he's also thinking about new ways to market ICE-LOC's pipe protector.
"Thank you for believing in us," he says.
Some other businesses helped through Sandia's NMSBA program
Dr. Bob Quick and entrepreneur Bill Reeves of Allied Medical in Albuquerque wanted to better understand their device's ability to decrease healing time and reduce scarring using silver nanotechnology. Darren Branch, an electrical engineer in Biosensors and Nanomaterials Dept. 1714, conducted fundamental research to help the company understand the types of silver species released from their cloth bandage and how applied micro-currents affected the silver distribution. Branch's work will allow the company to optimize the technology's performance. With the assistance the NMSBA Program provided, Quick says Allied Medical is now one step closer to getting its product marketed to help heal animals and humans.
The Ramah-Espanola Basin Leveraged Project assisted water treatment companies by educating its target market — private well owners — about the quality of their drinking water, and by providing the companies with needed data about groundwater quality and treatment options. In the Ramah area, Malcolm Siegel, a scientist in Radiological Consequence Management and Response Technologies Dept. 6772, teamed with local businesses to evaluate water quality on and near the Navajo Reservation. The information provided is being used by the sponsoring companies in both locations to identify potential customers and offer an appropriate, inexpensive point-of-use treatment system, and develop and evaluate innovative treatment technologies.
Daniel Barela, a flight paramedic who founded Trinity Medical Corp. in Albuquerque, invented a medical device that applies pressure to a patient's throat to prevent passive regurgitation and pulmonary aspiration while paramedics perform cardiopulmonary resuscitation. Barela says he got the idea after noticing that there sometimes are not enough hands to place pressure on a patient's throat in emergency situations. Barela turned to Sandia's Organic Materials Department to help choose materials and design the mechanics. Bob Winters (1833), a specialist in innovative prototype fabrication, materials technology, and engineering design, helped develop a device that looks partly like a water faucet and uses spring action precision to maintain appropriate pressure, but has a mechanism to stop the user from turning the handle too far and placing too much pressure on the throat. Barela says he is now seeking an addendum to his patent for the revised prototype.