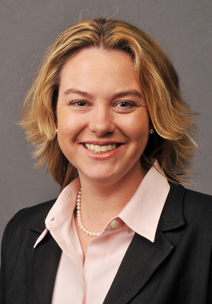 Robin Jones (4826) is president of the Albuquerque chapter of the New Mexico Society of Professional Engineers. She joined Sandia National Laboratories in 2009 and is project lead in Building Operations — Area 1 North at Sandia.
A California native, Robin earned a BS in environmental engineering at New Mexico Tech and received her MS in civil and environmental engineering from Stanford. From 1999 to 2001, Robin worked for the Los Angeles, Calif., County Sanitation Districts in a field office based out of Compton. Her area of responsibility was the California coastline from Redondo Beach to Long Beach. Robin moved to Albuquerque in 2001 and worked for Daniel B. Stephens & Associates for a year before joining the international environmental engineering company CDM. While there, she designed, constructed, and operated groundwater remediation systems in New Mexico and California.
Robin is a licensed professional engineer in New Mexico and California. She wrote the following essay at the request of the Lab News.
While having lunch with a friend, who I hadn't seen since high school, she asked me a question that made me reflect on my career. At the time she was working in the marketing department of a law firm. She was not enjoying the job. She asked me if I found my work personally fulfilling, was I proud of what I did.
At age 25 I found myself crawling on hands and knees, up to my elbows in sewage, through a 27-inch sewer line to determine if an opening in a join between the pipe sections was within tolerances. Though not my most glamorous day as an engineer, the task was necessary because not only is a leaking sewer pipe a risk to human health, but because this sewer pipe traversed an active landslide area, excess soil moisture could activate the landslide causing millions of dollars in property damage. I was doing my part to protect human health and welfare. Several years later I was working in groundwater remediation, designing treatment systems that removed carcinogenic chemicals and made the water suitable for human consumption. I was one of a large team providing people with an essential element of life: drinking water. I now find myself working in Facilities Building Operations for Sandia National Laboratories. I am part of a team that ensures our nation's top scientists and engineers have the laboratories and facilities necessary to perform cutting edge research to advance technology and provide a secure future for our nation.
Has my choice of career provided personal fulfillment? Am I proud of the work I have done as an engineer? YES!
I think most engineers will have stories similar to mine about why they are proud of the work they do and why they find it personally gratifying. This is because the nature of engineering work is to help people. The car, the road, the traffic lights, the drainage system are all provided by engineers to get people safely to where they need to go. The heavy equipment that clears the rubble, the ships, helicopters, and trucks that bring supplies, and the knowledge to rebuild stronger are all the work of engineers helping after a disaster. Whether people realize it or not everyone is surrounded by engineering everyday and for the most part they take it for granted
Engineering is not a highly publicized profession. It has been called the "invisible" or "stealth" profession. We don't have hit TV shows dramatizing the work of engineers. This may be because when engineering is done right it can be invisible. In the sanitary sewer business we knew we were doing a good job when people were unaware of their sewer system. However, potable water and sanitary sewers probably do more for public health than the public health profession (which has lots of hit TV shows).
National Engineers Week (Feb. 14-20) is celebrated during the third week in February in honor of "America's first engineer," George Washington, whose birthday is Feb. 22. The purpose of Engineers Week is to promote awareness of engineering as a profession and the contributions of engineers. Would you like to see engineering get the recognition it deserves? Consider joining and actively participating in one of the many engineering professional societies. These societies work to raise awareness and preserve the integrity and professionalism of engineering. Are you a licensed professional engineer? Though you may never be called on to "stamp" anything, licensure is the mark of your dedication and skill as professional. Would you trust an unlicensed doctor or lawyer? Licensed engineers assure the public and remind them that engineering is a profession to be respected. The National Society of Professional Engineers (NSPE) adopted the following creed in 1954:
As a Professional Engineer, I dedicate my professional knowledge and skill to the advancement and betterment of human welfare. I pledge: To give the utmost of performance; To participate in none but honest enterprise; To live and work according to the laws of man and the highest standards of professional conduct; To place service before profit, the honor and standing of the profession before personal advantage, and the public welfare above all other considerations. In humility and with the need for Divine Guidance, I make this pledge.
Celebrate being an engineer this week! Congratulate yourself for the work you do every day for the betterment of humanity and be proud. Then take that pride and share it with a young person. Show them how they can make a difference in the world and give them the gift of knowing in their hearts, "I helped humankind today." – Robin M. Jones, P.E.