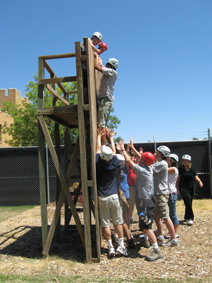 Leadership demands many things depending on the circumstances: strength, intelligence, persuasiveness, perseverance. High school students attending the second annual Homeland Security Workshop in Roswell this summer learned a bit about leadership and those other qualities in the week-long camp — and perhaps a lot about themselves.
John Taylor (0303), director of the program, says the objective of the workshop, held in late June at the New Mexico Military Institute (NMMI), is to enhance student leadership and complex thinking skills using homeland security and emergency response as a content vehicle.
Last year, the first conference was held over a weekend in Albuquerque. During the weekend, students shared their experiences, visited various homeland security-related projects at Sandia, and worked on problem solving.
"There was little or no formal instruction," says John.
The 2008 workshop built on the experiences students gained in programs they completed at their own schools over the past year. John says the Roswell experience provided a sequential process of learning and applying lessons, both hands-on and in-classroom. In addition, John says, "We built in opportunities to apply the lessons directly in the complex problem-solving, ethics, and tabletop exercises."
Lori Parrott, who led the discussion on complexity in problem-solving, says, "I wanted to introduce students to the idea that complex systems problems are different than just big and hard problems."
During the complexity workshop, students were given fact sheets on complex social and environmental issues and were asked to discuss them. Lori says the nation's educational system, its professional rewards system, and sometimes even our political processes "all drive us to try to jump into solutions too quickly."
"I wanted students to understand that with really complex problems, like those in homeland security," Lori says, "it takes discipline to learn to approach the problems with the right mental framework and get the right people, representing diverse areas of expertise, engaged. And it's vital to identify the right tools that will help you understand the dynamics of a problem before you decide on overly simplistic — and thus usually less than fully effective — solutions."
Lori says she wanted students to walk away from this camp experience as more intelligent consumers of information about homeland security. She also says she hopes the students will understand the kind of infrastructure the country has in place to prevent or deal with problems. In addition, she says she thinks some of the students may even decide to pursue further study in homeland security-related fields.
Anita Romero, Sandia's Emergency Public Information program manager, assisted in the emergency scenario where students took the roles of various local and state groups that would be involved in a large-scale emergency incident. Anita says the workshop's homeland security drill is similar to those done by city officials all over the country.
"They experienced firsthand what it's like to delve into complex problems that defy simple solution," Anita says.
"In this day and age," Anita adds, "it is extremely important that the public becomes aware of emergency preparedness — the sooner the better." As a result of the workshop, she says, the participating students "are more aware of the dangerous possibilities and as a result will be vigilant members in their communities."
In addition to intellectual challenges, students were also challenged to solve problems on the ropes course and leadership reaction course at NMMI. The instructors, who typically deal with cadets in these team-building and problem-solving activities, demand each student look past discomfort and shyness and focus on the problem at hand.
Eric Davidson, director of NMMI's ropes course, says it helps students look beyond their limitations and attempt to solve problems using what they are given. He points to his own childhood as "a skinny guy" as an example of how people have to look for solutions that match their skills and abilities. "I am a skinny guy and a mountain climber. The solutions that a football player might use wouldn't work for me."
John says the students came away with a better understanding of themselves as leaders and an appreciation of the complexity of leadership and problem-solving challenges entailed by national security/homeland security problems.
In the future, John says he hopes to accommodate more students and offer a greater variety of experiences.