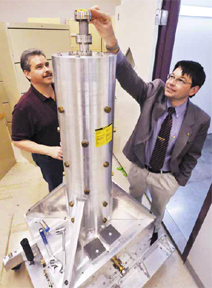 After more than three and a half years of discussion, paperwork, and careful planning, a manometer containing 200 pounds of mercury in a 500-pound vessel was recently moved from Sandia to the National Institute of Standards and Technology (NIST) in Gaithersburg, Md.
The mercury manometer or ultrasonic interferometer manometer (UIM), created to make extremely accurate pressure measurements, had been housed at Sandia's Primary Standards Laboratory since 1989 but had never been used.
NIST originally provided the instrument to Sandia, a near-twin of an instrument at NIST's Gaithersburg facility, to have a redundant capability at a different site. Since it wasn't being used at Sandia, NIST expressed an interest in getting it back.
Sandia's decision to return the manometer to NIST is just the latest in a long history of cooperation between the two organizations. Over the years, Sandia and NIST have exchanged equipment to assist each other in their respective missions, and the two organizations have collaborated routinely on a wide range of calibration and standards-related issues (see "Sandia has close relationship with NIST" on page 4).
David Sanchez (2541) says the primary reasons why the manometer had not been in use are cost, lack of staff resources, and ES&H concerns. In particular, David says, the instrument's 200 pounds of mercury — a toxic substance that requires special handling — pose a standing safety concern. Since Sandia had no plans to use the instrument, David says, it made sense to return it to NIST where it could be put to use.
"We attempted to bring the instrument on line several times over the years," David says. "But the system was too labor-intensive for Sandia to absorb the cost."
He notes that at NIST a full-time PhD staff member and technical assistants are needed to run and maintain the UIM. Sandia was never able to devote that level of resources to its instrument.
There were a couple of options in removing the manometer from Sandia's inventory. One was to get the proper permission to dispose of it. This would have cost more than $90,000 in disposal costs, not including a $25,000 decontamination fee that Sandia would have had to pay. Another option was to return the device to NIST, which turned out to be economically the most beneficial option.
"We were able to avoid the costs of disposal by transferring ownership to NIST," says Jim. "They will actually use the instrument to provide certification of standards on a national scale."
Jay Hendricks, a physical chemist and low-pressure manometry project leader at NIST, was instrumental in moving the manometer from Sandia to NIST. He says NIST has one mercury manometer (160 kPa UIM) currently in service as the national pressure standard covering the pressure range of 1 Pa to 160 kPa (1.6 atmospheres of pressure).
"NIST will recondition, test, and eventually put the recovered Sandia UIM into service," he says.
The Sandia UIM is slightly different from the NIST UIM. The transducer disks mounted at the bottom of the columns of mercury in the instrument are made of quartz instead of beryllium, Hendricks says.
"This difference may be important to the performance of the standard, because ultrasound diffracts differently in quartz than it does in beryllium," he says. "Having the Sandia UIM will enable NIST to replace its beryllium transducer disk UIM with the improved quartz disk UIM."
The UIM is a "primary standard" because it is based upon units that are regarded as dimensionally independent. The NIST UIM is essential to its customers because it is how the US realizes the International System of Units (SI) standard for pressure, the pascal (Pa).
Other national laboratories, including Sandia, government agencies such as NASA, and industrial customers send gauges to NIST to be calibrated against the NIST 160 kPa UIM. The 160 kPa UIM has the benefit of having the very lowest possible uncertainties for an important pressure range of 1 Pa to 160 kPa.
The NIST 160 kPa UIM is one of the lowest uncertainty pressure measurement devices in the world, Hendricks says.
"Having this capability means that NIST can ensure the highest quality calibration service for our customers," he says.
David says that even though the entire process to move the manometer from Sandia to NIST took quite a while to complete, one thing he observed was that Sandians definitely know their jobs in the property, shipping/receiving, hazardous waste, ES&H, and industrial hygiene departments.
Labs has close relationship with NIST
Sandia has a long-standing working relationship with the National Institute of Standards and Technology (NIST). In the 1960s, Sandia developed the first primary leak standards in response to demands from the Atomic Energy Commission for precision measurement of leaks. This technology was transferred to NIST.
Sandia also teamed with NIST to develop leak comparison calibration methods. More recently, Sandia transferred ownership of a highly accurate coordinate measuring machine (CMM) to NIST. This CMM was nearly identical to one NIST owns, providing redundancy. In exchange, NIST provided funding for Sandia to procure a new state-of-the-art CMM to replace it. Also, NIST recently transferred its pulse high-voltage standard to Sandia. There is very little demand for these calibrations outside the nuclear weapons complex.
Sandia has had a long and mutually beneficial relationship with the NIST lab in Boulder, Colo. While the lab is the primary standard bearer for the US, Sandia has primary responsibility for implementing traceable calibration programs for the NNSA lab complex. The two organizations have worked together over the years on methods of establishing new standards, new ways of verifying measurement accuracy, and other such collaborations. One other major area of collaboration is in maintaining the ability to cross-calibrate measurements many times, meaning that both organizations retain such capabilities. Each organization also works with the other to keep old equipment operational because of the unique function the equipment performs.
Sandia sends items to NIST to be calibrated. From time to time Sandia sends unneeded items to NIST. In turn, NIST has sent items to Sandia to meet current Sandia needs.
Collaborations include:
Bob Graham (2542) works with a NIST colleague to teach a timer/stopwatch calibration tutorial.
David Sanchez (2541) works with NIST colleagues on a committee for intrinsic standards in pressure calibration, and worked with a NIST group to transfer an accurate pressure system that no longer meets Sandia needs.
Hy Tran (2541) serves on a committee on dimensional metrology at NIST.