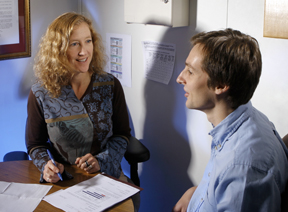 Sandia/California has met the gold standard, at least according to the California Fit Business Award. Earlier this month, the site's Preventive Health and Life Design Center (LDC) received the highest level of recognition in the program, which seeks and recognizes business models that promote a healthier workplace.
In a letter to site health promotion coordinator and educator Morgan Edwinson (8527), state Sen. Tom Torlakson, D-Dist. 7, wrote that "your company is being recognized as a leader in California for the steps you have taken to ensure employee health."
The Fit Business Award focuses on four main areas: "Eat Better," "Move More," "Promote Healthy Lifestyles," and "Create a Culture."
Morgan says providing better nutrition on the site has been a recent focus in response to negative feedback about the lack of healthy food choices. The LDC team partnered with Health, Benefits, and Employee Services to set about improving choices at the on-site grab-and-go deli, vending machines, and catering. The goal is to stock vending machines with at least 50 percent healthy, balanced choices. A further step is to increase the price of less healthy options.
Large posters at the on-site deli provide complete nutrition information for some of the popular items sold and advice on how to make meals healthier. Site dietitian Deja Chornenky (8527) is working with approved caterers to create healthier menus. She is also working to have preferred caterers make at least 50 percent of their menus offerings healthy. Recently best practice standards for healthy food choices have been incorporated in the request for proposal process for food vendors.
Deja leads a Healthy Eating, Healthy Heart class designed to help participants lose weight through healthy eating, exercise, and healthy lifestyle habits. The LDC offers plenty of opportunities for employees to move more. Exercise classes include tai chi, yoga, circuit training, and outdoor, mentor-led walking groups. Health risk assessments are a key part of the program.
Emily Thompson (8527), the LDC fitness specialist, organizes a variety of fitness programs and services for the site. Among those services are fitness challenges offered throughout the year. The "Maintain No Gain" program is currently under way, which challenges participants not to gain any weight during the holiday season. (For more information contact Emily at 925-294-3703.)
Nearly 2,000 health risk assessments have been conducted to date. In the five years that the LDC has been open, there have been 730 active participants. About 70 people use the LDC each work day.
Site management received high marks for the broad acceptance and support of healthy lifestyle and preventative health programming. The Managers' Peak Performance Program was created to engage and encourage managers to shift perspectives and begin creating balance in their work and personal lives. Managers participate for six months, during which they identify a personal breakthrough that they would like to create in the work-life balance.
Engineering Services Manager Howard Royer (8207) credits the Managers' Peak Performance Program with helping him achieve his goal of cholesterol reduction. "The program helped me emphasize diet, stress reduction, and work/life balance, wherein I got my cholesterol down to a healthy level by the end of the program," says Howard. "I encourage my staff to take advantage of the LDC and Health Benefits programs because I feel strongly that healthy people are the best contributors to Sandia and the community."
Tim Shepodd, manager of Materials Chemistry Dept. 8778, was looking for peace when he participated in Managers' Peak Performance. "This happened at a time when there was a lot of change and resulting stress," he recalls. "My goal was to be at peace and set an example for my staff."
He found value in being able to examine his management style and performance in a nonthreatening environment. "Ordinarily, there's not a real venue to do that," says Tim. "The hardest thing to do is set aside the time, but when I can, it is spectacularly valuable."
While Morgan is pleased with the Fit Business Award, she's not resting on her laurels. "We want to continue following up on health risk assessments and improving nutrition on site," she says. "We've seen good results from our followups, but we'll have a better picture in a couple of years. The next step is to link illness, attendance, and productivity with participation in LDC programs."