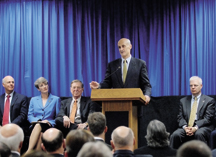 Department of Homeland Security Secretary Michael Chertoff dedicated the National Infrastructure Simulation and Analysis Center (NISAC) at Sandia on Sept. 18. NISAC is a program that integrates the laboratories' expertise in modeling and simulation of complex systems to examine both natural and manmade infrastructure national security issues.
The center is a partnership between Sandia and Los Alamos national labs and is managed by the Department of Homeland Security's Preparedness Directorate.
Secretary Chertoff affirmed the need for NISAC, insisting that "people who have to make decisions need accessible and reliable information." He praised the "willingness of the Labs to adapt to 21st-century challenges and step forward" to address the types of problems that may someday face our nation.
Chertoff was joined by Sen. Pete Domenici, R-N.M, Rep. Heather Wilson, R-N.M., and Rep. Steve Pearce, R-N.M., as they dedicated the first DHS-funded facility at Sandia. They received an overview of NISAC's technical contributions to the nation's homeland security efforts and demonstrations of several technologies.
Proposal predates 9/11, Katrina
Domenici proposed NISAC in 1999, before policymakers fully appreciated the need for such a facility. "I was a salesman selling NISAC to a country that didn't want to accept NISAC," Domenici said.
John Mitchiner, manager of System Engineering and Analysis Business Area Dept. 6320 says NISAC's mission is "to help make US infrastructures more resilient to disruption."
Before 9/11 and before Hurricane Katrina, the idea of having some of the nation's best and brightest examine bad things that hadn't happened yet seemed odd. Domenici found initial funding for the program. When it began to bear fruit, Homeland Security provided additional funding.
In remarks at the ribbon-cutting, Sandia Senior VP and Deputy Labs Director for Integrated Technologies and Systems Al Romig took note of the increasing importance of Sandia's relationship with DHS. He said the Labs is "energized" by the opportunity to continue the tradition of exceptional service to the nation as it confronts the security challenges of the 21st century.
Al said the NISAC facility is evidence of an evolving partnership between NNSA and DHS, adding that it is especially gratifying for the national laboratories to see the interagency cooperation blossom and bear fruit.
Building has collaborative workspaces
The $7 million, 24,000-square-foot building provides facilities for individuals, teams, and distributed collaboration for some 110 people, and includes a visualization space where modeling results and simulations can be displayed for cooperative analysis and technical development. The building was designed with significant input from its occupants and has incorporated collaborative workspaces to encourage groups to interact more frequently.
NISAC employs experts from a variety of disciplines; it includes computer modelers, economists, and civil engineers. They examine scenarios of disruption from a variety of viewpoints, offering their results to those who may respond to future real events.
Theresa Brown at Sandia and her LANL counterpart Jim Smith serve as program managers at their respective labs.
NISAC aids decision makers in preparedness, consequence and risk analysis, policy analysis, investment and mitigation planning, education and training, and provides near real-time assistance to crisis-response organizations.
Because the US supports one of the world's highest standards of living, it relies heavily on interconnected systems for distribution of energy, transportation of food and other goods, and information. When this flow is disrupted in one area of the country, surprising consequences can result. NISAC provides multidisciplinary consequence analysis of infrastructure disruption, which allows decision makers to have more robust information before they make critical infrastructure decisions during natural disasters or after a terrorist event.