'Operation America' brings technology primer to San Diego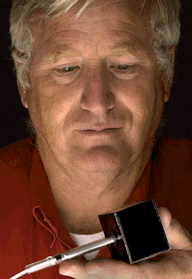 Back in 1994 Chris Cherry (5932) never would have guessed his experimental training workshop for bomb squad members, called Operation Albuquerque, would one day attract the international pedigree of bomb disabler it does today.
That first year 24 bomb technicians, many from New Mexico, agreed to a week of classroom instruction, hands-on demonstrations, and lifelike training scenarios focusing on emerging bomb-disablement techniques and technologies.
In 1995 the invitation-only crowd grew to 30, then to 64 in 1997, and by 1999, the year the City of Riverside, Calif., hosted the fourth conference, the list of 100 attendees had to be pared down from more than 250 who wanted to participate.
Many of the world's top disablers were there — representing bomb squads from several large US cities, federal law enforcement agencies, and antiterrorism organizations from some of the world's terrorism hot spots.
As more bomb techs heard about the training, more had to be turned away from the chance to learn how new technology could help them stay out of harm's way. As the workshop's organizer, Chris was in a position he didn't enjoy.
"This is technology that saves lives," he says. "It should be made available to anyone who needs it." So he took the show on the road. With funding support from the National Institute of Justice, Chris taught a scaled-down version of the workshop this week in San Diego to about 50 civilian and military bomb techs, most from the Southern California area.
The five-day workshop, Sept. 18-22, is the first of what Chris hopes will be a series of smaller-scale, regional workshops called "Operation America."
Already four more Operation Americas are planned for FY2001: in Salem, Ore., Orlando, Fla., possibly Virginia Beach, Va., and a yet-unnamed New England city.
Chris, described in a Popular Science article as the "Dean of Bomb Disablement," provides the classroom instruction and the demos, with help from Sid Gutierrez, Jeff Bobbe, Frank Lucero (all 5932), Rod Owenby, Jerry Mercer, and Mike Olbin (all 15322).
The scaled-down workshops involve fewer and less complicated bomb-threat response scenarios. The host city invites and selects the participants from law enforcement agencies in surrounding areas. But the workshop still teaches bomb techs how to use the world's most advanced "render-safe" techniques and technologies that keep them safe as they protect the public from criminals and terrorists whose devices grow more sophisticated and dangerous every day.
"This is the gifted program," said Operation America participant Stewart Blackton, bomb commander from Orange County, Fla., on Monday after several hours of classroom instruction. "It's already cleared up a lot of misconceptions I've held for years about explosives. The bottom line is you're saving lives. I'm thankful to be a part of it."
Last modified: Oct. 4, 2000