NM Appleseed kicks off new season of Community Engagement Speakers Series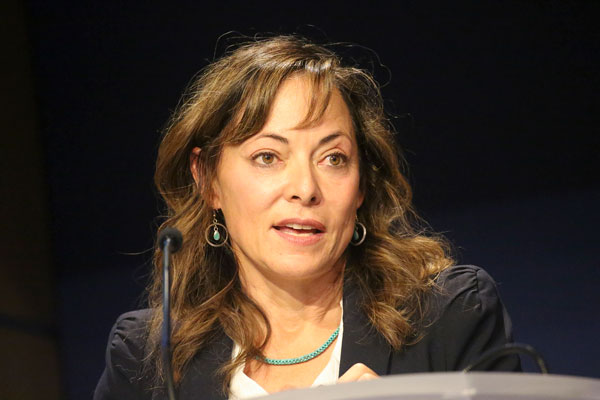 Community Involvement kicked off this fiscal year's Community Engagement Speakers Series with a talk by NM Appleseed Executive Director and Founder Jennifer Ramo.
Ramo said NM Appleseed is a nonpartisan organization dedicated to ending poverty through systemic solutions to complex issues like hunger, education and homelessness. The organization seeks to be a bridge between policy and community reality, working toward data-informed systemic change that yields permanent or long-term improvement for the poor and underserved in New Mexico.
Anyone who follows news in New Mexico knows that most news about children in the state is not good.
"Basically we're the worst in everything," Ramo said. "The silver lining about being 50th in everything is that we can design and test poverty solutions that are scalable and replicable everywhere."
NM Appleseed is best known for writing the 2017 Hunger-Free Students' Bill of Rights, the first in the nation to prohibit lunch shaming of children whose parents owe school meal debt. The bill, signed by then New Mexico Governor Susana Martinez, arose from NM Appleseed's observations, over many years, of the shame and embarrassment faced by students denied a lunch because their families could not afford their cafeteria fees.
The organization also worked on the 2011 Breakfast After the Bell law, which requires all high-poverty elementary schools to serve breakfast during the school day; the law has been replicated in more than a dozen states and districts. The organization also assisted with the 2015 Food Access Navigator project for the Navajo Nation and were awarded a USDA innovation demonstration grant.
Poverty solutions need data
A barrier to solving poverty is the lack of data around the problem and little analysis of what efforts are effective. Ramo discussed her organization's work based on multisystem families research conducted by Robert Goerge at the University of Chicago.
An informal analysis identified about 16,000 families in New Mexico interfacing with public services like child welfare, mental health and substance abuse services, as well as adult and juvenile incarcerations. The state spent about $56,000 per family on services, with no outcomes documented.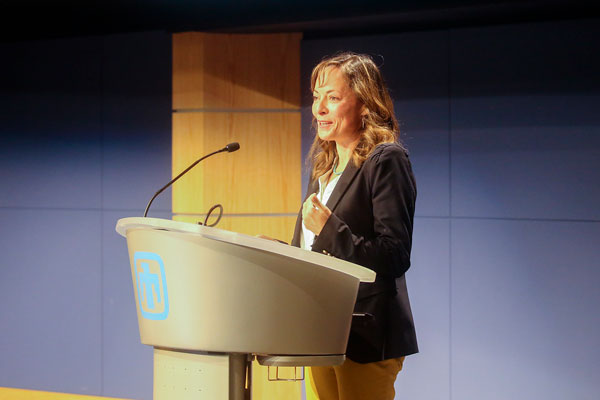 "The reality is that we don't really know what is working and what isn't," Ramo said.
That lack of granular data analysis means that the state spends money on programs and services based on "hunches."
"If poverty is this big and this expensive … why aren't we using science to make things better?" she said.
Even before finding answers to complex questions, the lack of data analysis is so profound that the state doesn't know who needs services, no clearing house identifies what services an individual family is getting, and it's not clear whether the services families are getting are effective.
The NM Appleseed approach is to use scientific rigor to look at results rather than judging effectiveness based on how many people are serviced. Along the way, the analysis could unearth unexpected opportunities to improve outcomes by focusing on specific populations and improvements, as it has when the method was deployed in other states. The organization's Family Success Lab has been working on this.
Family Success Lab
The Family Success Lab pilot is a secure, integrated data bank that allows analysis to identify risk and protective factors that help predict and prevent problems, expand evidence-based programs and interventions to high-risk groups and evaluate programs, policies and interventions for effectiveness.
"If you talk to people doing this analysis, they are surprised by the findings from granular-level analysis," Roma said.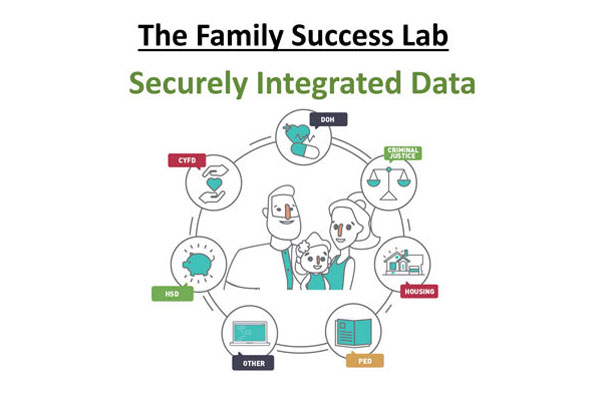 This type of analysis can identify ways to target policies to better identify groups needing services and clarify the types of services most likely to be effective.
People can help by donating funding to the program and to organizations that fight problems in the state. NM Appleseed does not take state dollars, and grant funding for this type of fundamental research is scarce.
"Everybody wants the fancy dishwasher (the randomized controlled trials), but nobody wants to put the plumbing in. New Mexico needs to put the plumbing in," Roma said.
As part of its corporate giving, Sandia provided a $10,000 grant in 2018 for the Food and Housing Security Project.
Down the line, Roma and her team will be looking for help with data analytics. Those interested can contact NM Appleseed to volunteer.
Employees who missed Roma's presentation can watch the video on the internal Community Engagement Speaker Series SharePoint site.