Several Sandia events honored this year's National Disability Employment Awareness Month. The annual campaign, held each October and spearheaded by the Department of Labor's Office of Disability Employment Policy, raises awareness about disability employment issues and celebrates the many and varied contributions of America's workers with disabilities.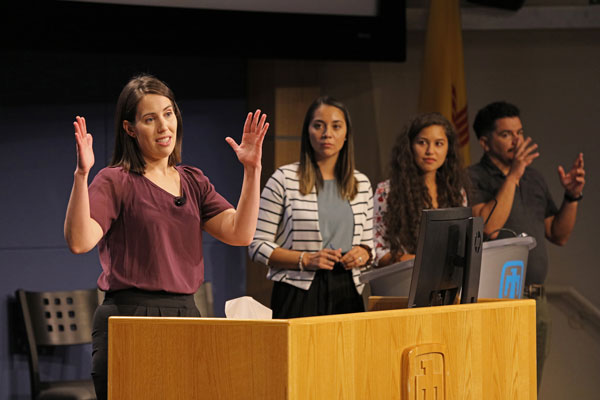 Sandia's Disability Awareness Committee and the Inclusion, Diversity, EEO & AA organization hosted a Diversity Cinema on "Invisible Identities," moderated by Esther Frederick, Victoria Newton and Venessa Martinez.
Using disability as the springboard, the group held conversations around the intersectionality of invisible identities. After watching Heather Evans' Ted Talk, "Uncovering: An Empowering Pathway to Disability Identity," the group explored how the environment creates disability, the impact of invisibility on the disability identity and what actions we can take to instill a diverse culture.
"Everyone is going through things that aren't apparent to the casual passerby, colleagues or potentially even to good friends: whether that be an invisible disability, a stigmatized minority identity or an experience or struggle we are going through that we haven't shared," Esther said. "Empathizing through the shared understanding of our own invisible experiences, even when we are not privy to someone's invisible identities or have not been through their specific experience, promotes an environment where diversity becomes the norm."
In another event, Jeralyn Kabigting started the conversation on anxiety by providing a TED-Talk-like presentation and leading a discussion on negative stigma, coping and reaching out for support.
"Anxiety impacts 30% of adults at some point in their lives, and it is of utmost importance for individuals to recognize they don't need to suffer in silence and that resources exist," Jeralyn said.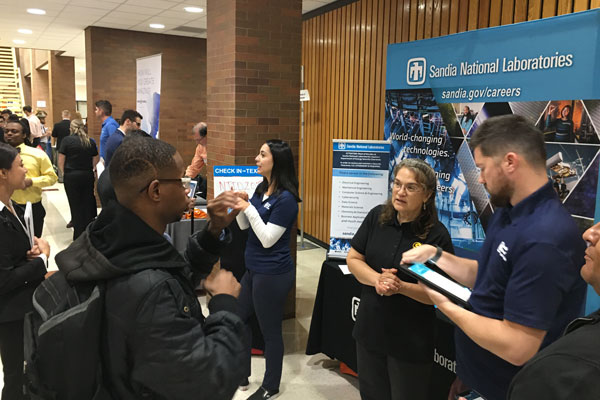 Disability Awareness Committee members participated in the National Labs Day at Rochester Institute of Technology and the National Technical Institute for the Deaf Career Fair where they met with professors, deans and administrative leadership to cultivate a strong network within this talent channel.
"The team attended a meaningful briefing and initiated dialogue associated with best practices for hiring individuals with disabilities," said Tony Lona, Sandia's veteran and disability recruiter.
The team hosted a roadshow for staff and management to spread awareness around disability, diversity and inclusion through training and exercises designed to help people understand various perspectives. They also participated in Lawrence Livermore National Laboratory's Neurodiversity Celebration to begin discourse regarding hiring and providing support for neurodivergent individuals.
Employees can visit the Diversity Awareness Committee's internal website for additional resources and guidance on promoting diversity.