The tobacco products system is composed of highly connected subsystems with complex technical, social and economic ties
Curbing the significant adverse consequences of tobacco use is one of the most important public health goals of our time.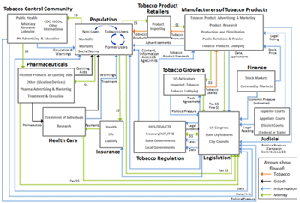 The tobacco products system is a composed of highly connected and interdependent subsystems, comprising industry, consumers, government, health care, and both public and government interest groups. These subsystems are connected by complex technical, social and economic ties. The system as a whole exhibits properties associated with complex adaptive system behavior.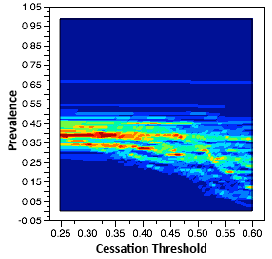 Initiated in May 2010, this work is part of a 5-year program. Definition of a conceptual model of the components of tobacco product manufacture, marketing, and use has led to development of a computational framework for analyzing impacts of changes in tobacco use on population health over long periods of time. This includes a theoretical and computational framework for analyzing individual tobacco-use behaviors as influenced by a social network. Uncertainty quantification techniques and sensitivity analyses are used to assess the robustness of modeling results.
Journal Articles
An opinion-driven behavioral dynamics model for addictive behaviors pre-publication draft [PDF] , European Physical Journal B, 88 (4) April 2015. (online publication)
Modeling Education and Advertising with Opinion Dynamics, Journal of Artificial Societies and Social Simulation, 18 (2) 7 March 2015.
Modeling the Potential Effects of New Tobacco Products and Policies: A Dynamic Population Model for Multiple Product Use and Harm, PLOS One. March 2015.
Reports/Symposia Papers
Analyzing Social Media Content for Security Informatics, European Intelligence and Security Informatics Conference, August 2013, Uppsala, Sweden [PDF]
Extending Opinion Dynamics to Model Public Health Problems and Analyze Public Policy Interventions, 29th International Conference of the System Dynamics Society, July 2011, Washington, DC [PDF]
Developing a theory of the societal lifecycle of cigarette smoking: Explaining and anticipating trends using information feedback, 29th International Conference of the System Dynamics Society, July 2011, Washington, DC [PDF]
Extending Opinion Dynamics to Model Public Health Problems and the Evaluation of Policy Interventions, 8th International Conference on Complex Systems, June 2011, Quincy, MA [PDF]
Application of a Complex Adaptive Systems of Systems Analysis Approach to Tobacco Products, 8th International Conference on Complex Systems, June 2011, Quincy, MA [PDF]
Developing a theory of the societal lifecycle of cigarette smoking: Explaining and anticipating trends using information feedback, 2010 Conference on Modeling for Public Health Action: From Epidemiology to Operations, Centers for Disease Control & Preparedness, December 2010, Atlanta, GA [PDF]
Presentations
Opinion-Driven Behavioral Dynamics Model of Tobacco Product Use: Results and Validation, 2014 Joint Statistical Meeting, August 2014, Boston, MA [PDF]
Dynamic Public Health Modeling for Multi-Product Tobacco Environment, Tobacco Products Scientific Advisory Committee board meeting, April 2014, Rockville, MD [PDF]
SnapDragon: A Social-Network Behavioral Dynamics Model of Tobacco Product Use, Tobacco Products Scientific Advisory Committee board meeting, April 2014, Rockville, MD [PDF]
An Opinion-Driven Behavioral Dynamics Model for Addictive Behaviors, NIH Complex Systems, Health Disparities & Population Health: Building Bridges Conference, February 2014, Bethesda, MD [PDF]
Dynamic, Multi-Product Population Health Modeling for Tobacco Policy Analysis, Modeling and Statistical Methods for the Regulatory Assessment of Tobacco Products: A Public Workshop, December 2013, Rockville MD [PDF]
Opinion Dynamics Modeling in Tobacco Control Policy, Modeling and Statistical Methods for the Regulatory Assessment of Tobacco Products: A Public Workshop, December 2013, Rockville MD [PDF]
Analyzing Social Media Content for Security Informatics, European Intelligence and Security Informatics Conference, August 2013, Uppsala, Sweden [PDF]
Opinion Dynamics Modeling in Tobacco Control Policy, 2013 Joint Statistical Meeting, Montreal, Canada, August 2013 [PDF]
Population Structure Modeling to Evaluate Substitution and Dual Use of Tobacco Products in Response to Changing Policies, 2013 Joint Statistical Meeting, Montreal, Canada, August 2013 [PDF]
Social Network Analysis of Peer Influence on Adolescent Smoking, 2013 Joint Statistical Meeting, Montreal, Canada, August 2013 [PDF]
Extending Opinion Dynamics to Model Public Health Problems and Analyze Public Policy Interventions, 29th International Conference of the System Dynamics Society, July 2011, Washington, DC [PDF]
The Role of Community Structure in Opinion Cluster Formation, 2nd International Conference on Complex Sciences: Theory and Applications, December 2012, Santa Fe, NM [PDF]
Extending Opinion Dynamics to Model Public Health Problems and Analyze Public Policy Interventions, 8th International Conference on Complex Systems, June 2011, Quincy, MA [PDF]
Application of a Complex Adaptive Systems of Systems Analysis Approach to Tobacco Products, 8th International Conference on Complex Systems, June 2011, Quincy, MA