In Sandia's first distinguished visit done virtually, DOE secretary connects with staff, programs and the workforce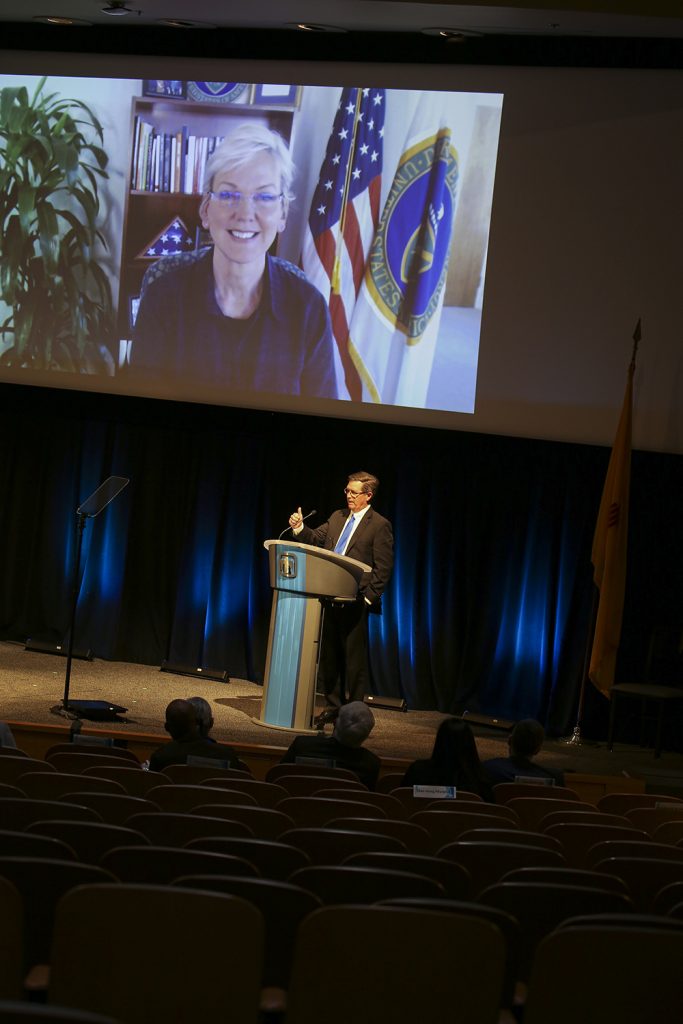 DOE Secretary Jennifer M. Granholm says a highlight of her job has been meeting the nation's brightest scientific minds and learning about projects at Sandia and other national labs.
"Since its founding nearly 75 years ago, Sandia has made innumerable, immeasurable contributions, not only to America's physical safety, but our economic security, too," Granholm told the workforce during a Feb. 16 virtual visit to the Labs.
"Your tech transfer activity alone created over $95 billion in value since the year 2000 — including an all-time high of $3.9 billion last year," she said at the Town Hall. "Those are simply astounding numbers. And it's all possible thanks to the people behind the science and engineering."
Granholm said Sandians as a team have earned her trust and support and that of President Joe Biden. "We — and everyone in our leadership ranks — are fully invested in your success," she said.
During the virtual visit, Granholm was introduced to the Senior Leadership Team and received briefings on key Labs programs including the Microsystems Engineering, Science and Applications Complex, climate initiatives focusing on concentrating solar power, the Combustion Research Facility and ducted-fuel injection, quantum computing, Z machine, nuclear deterrence innovations, the Hypersonic Control Testbed and space technologies.
"I know this is just a small slice of Sandia's sprawling portfolio," Granholm said.
She said the president's proposed 2022 budget requested a significant increase in funding for science programs and national labs. She said the administration's plan for Building a Better America calls for substantial investment in the labs to support critical research and development to cement America's role as a global leader in science and innovation. Science, she said, holds the key to making the country more competitive and the world more safe and secure.
"We're betting big on R&D. We're betting big on the power of American ingenuity," she said. "That means we're betting big on each and every one of you."
Granholm said the work being done across DOE every day will help the country address current and future challenges. "Your efforts give me all the confidence in the world that we can, and we will, overcome the challenges ahead," she said.
She complimented Sandia on its response to the COVID-19 pandemic saying the Labs never lost focus on health and safety. "Whether you have had to find ways to accomplish your mission from home or to fulfill your duties on-site due to the nature of our national security needs, the circumstances around the last two years haven't been easy," she said.
Granholm also praised Sandians' generosity. "I was blown away hearing you have contributed nearly $5 million to nonprofits in Albuquerque and Livermore. Simply incredible," she said. "So, I thank you for acting to protect yourself, your family and your coworkers, for stepping up to serve your communities and for all you continue to do to keep America safe. You've set a high bar for service to this country and, believe me, that hasn't gone unnoticed."
Labs Director James Peery thanked Granholm on behalf of the Labs and invited her back for an in-person visit. "You're looking at the largest and most diverse lab you have in terms of mission and people," he said. "Our work spans not only DOE and NNSA but the Department of Homeland Security, Department of Defense, intelligence community and other federal agencies. You're seeing just one-tenth of what you would see on a live visit. We have much more to show you in the future."
DOE Secretary Jennifer Granholm's address to the Sandia workforce can be viewed online in the Digital Media Library.