Ronnie Thomson has reestablished a place where Sandians can talk through work-related concerns informally, confidentially and impartially.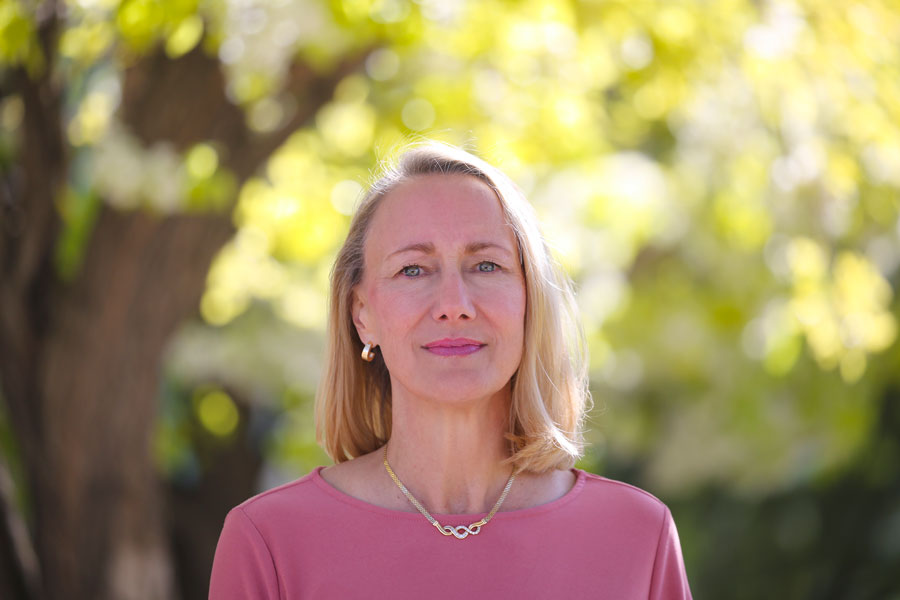 Ronnie Thomson loves her job. When uncomfortable issues arise in the workplace, she's there to lend an ear, and sometimes that's what people need most. "I'm not part of management, I'm not an attorney, and I'm not an investigator. I have no authority," she said. "I listen. I ask questions, and I help people organize and identify what they are feeling. I'm listening for their story, their experience."
Ronnie recently reestablished an office with a 30-year history at Sandia. The corporate ombuds was launched in 1992 by Wendell Jones, who served in the role 11 years in Albuquerque, and by Mike Birnbaum in Livermore. The program grew to two ombuds in New Mexico and one in California but temporarily closed in 2018.
Based on feedback from Sandia leadership and staff, Labs Director James Peery decided in 2020 to reestablish the office and launched a nationwide search for an ombuds. Ronnie was hired in 2021 and set about bringing the program back to life. "It's important to have a place to discuss the undiscussable," she said. "What I want to provide to anyone who visits the ombuds is a sense of honoring their dignity and their story. Their perspective matters, and I consider it their truth."
"I consider myself a trusted guide, someone with whom to discuss issues providing you a space to hear your own thoughts without judgment."
—Sandia Ombuds Ronnie Thomson
The Ombuds Office provides conflict and early dispute resolution adhering to principles of fairness and equity and remaining independent, impartial, informal and confidential. All employees have the right to consult the ombuds without fear of retaliation or reprisal. The office does not handle formal complaints and personally identifiable data is not retained. "I consider myself a trusted guide, someone with whom to discuss issues providing you a space to hear your own thoughts without judgment," Ronnie said. "With an ombuds, you are empowered to unpack, talk, reframe and attend to issues in a positive, professional way to minimize damage."
College grad determined to find a job
Ronnie, an ombuds since 2001, came to her profession on a winding road. Born in Delaware, her family moved frequently, settling in Mississippi where Ronnie went to high school and college. She earned a bachelor's degree in sociology from the University of Southern Mississippi and then moved to Corpus Christi, Texas, with a friend. "It was the mid-1980s when the oil fields bottomed out, and the economy was terrible. Billboards leaving Houston read 'Last one out turn off the lights,'" she said. "We were two college grads from Mississippi determined to find jobs."
Ronnie, whose minor was in human resources, found an HR job with a gas compressor manufacturer being readied for sale and owned by a prominent Texan. As her work intensified, she got engaged to a man who was moving to Houston. "I didn't want to leave them," she said. "I had built a strong relationship with the company and they were willing to give me an office in their Houston field location. Instead of seeing it as an end, I saw it as an opportunity, and we negotiated a way that I could stay."
Several sales, mergers and moves later in the volatile oilfield energy sector found Ronnie learning of the ombuds concept at Halliburton. It struck a chord. "I could see that in all the employee relations issues I had worked on the HR side, win-lose was actually lose-lose. There were no good outcomes for employees with significant issues, and the company most often had a mindset focused on defending themselves," she said. "Generally, at that time, the only people benefiting from employment disputes were the attorneys."
Building on a legacy
Ronnie learned from experienced ombuds at Halliburton and stayed with the company seven years until COVID-19 hit the oilfield services industry, and the ombuds office was closed. During those years she became active in the International Ombuds Association, the premier training organization for the profession, and now sits on the board of directors. While the association has grown from 200 to more than 1,000 members and now includes mediators, employee relations, ethics and compliance, ombuds have their own niche. "The key nuances in the practice include confidentiality and informality," Ronnie said. "In most professional roles, interactions are documented. We do not document. Privacy and informality make the ombuds unique."
The move to Sandia has special meaning to Ronnie, who was a student of Wendell Jones and Don Noack, another former Labs ombuds. "I am beyond honored to relaunch the office in the spirit of the Sandia ombuds of the past who I hold in such high regard," she said. "It's a huge privilege to continue what they began. I feel a connection to the legacy the original ombuds left. I feel at home."